How Chlorine Affects Your Skin + 4 Expert Tips For Post-Swim Care
Assistant Beauty & Health Editor
By Hannah Frye
Assistant Beauty & Health Editor
Hannah Frye is the Assistant Beauty Editor at mindbodygreen. She has a B.S. in journalism and a minor in women's, gender, and queer studies from California Polytechnic State University, San Luis Obispo. Hannah has written across lifestyle sections including health, wellness, sustainability, personal development, and more.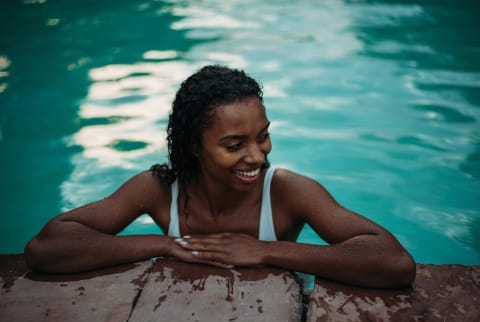 Image by David Prado / Stocksy
May 31, 2022
We carefully vet all products and services featured on mindbodygreen using our
commerce guidelines.
Our selections are never influenced by the commissions earned from our links.
The best feeling in the summertime is arguably the post-swim shower. But the cool rinse doesn't just feel lovely: After you've been in the sun all day, it's important to rinse off the residual sunscreen and any chlorine or salt buildup on your skin. Whether you're going for a dip in the ocean, a chlorinated pool, or fresh water, post-swim shower care is the key to keeping your skin happy.
How chlorine affects your skin. 
You're probably familiar with the dry, itchy feeling on your skin that comes with swimming in a chlorinated pool. But why does that happen? "Pool water tends to have a pH of 7 to 8, which is higher than the skin's natural pH of around 5," Libby says. "This means that after your swim, your skin barrier is in a slightly disrupted state and needs ingredients and moisturizers to soothe and repair the skin barrier."
Your skin's pH has the ability to bounce back from disrupting influences (like chlorine), but it can't necessarily keep up when it happens repeatedly. "Chlorine magnifies the drying effect of water," Chung explains. So if your summer plans consist of day after day in the pool, you may want to call in some assistance to combat the dryness (more on that in a bit).
Products to avoid post-swim. 
"Avoid harsh cleansers and alcohol-based products because they will dry your skin out further," Chung says. Instead, look for hydrating face cleansers and body washes. While it may be tempting to skip these products altogether when your skin is feeling dry, you do need to cleanse the skin to wash away any residual SPF, chlorine, salt, or sweat.
It's best to avoid any exfoliators after you've been in the water all day long as well. Your skin is likely already incredibly dry, so you don't want to risk irritating your moisture barrier further. This means body scrubs, chemical exfoliant serums and lotions, retinol body lotions, and dry brushing is all a no-no (for now).
Best products to use after swimming. 
Here, a step-by-step post-swim skin care routine for the face and body:
Reach for a hydrating body wash and face cleanser to use post-swim. If you have makeup on, double-cleansing will help wash all of that residue away even better. Oil cleansers are a great option in general but especially post-swim because of their ability to hydrate the skin while simultaneously infusing it with moisture.
For this step, look for formulas with hyaluronic acid (be sure to apply it to damp skin), B5, niacinamide, and ceramides. This will give your skin an extra boost and help repair a compromised barrier from the sun and chlorine or saltwater.
3.
Follow up with a moisturizer.
When it comes to body lotions, it's all about personal preference—so long as you're using something to trap in all that precious hydration. If your skin is on the oily side, reach for a lightweight moisturizer. If you tend to dry out easily, then a creamier product may fare better. These rules apply to both the face and the body.
When looking for a body moisturizer, formulas with soothing ingredients like aloe vera will help to combat irritation and help repair the skin from sun exposure, to boot. Keep an eye out for ceramides, botanical oils (like squalene or moringa seed oil), and shea butter as well. Biotic ingredients—like the ones found in mbg's postbiotic body lotion—can further soothe inflammation and nurture the skin microbiome.
4.
Reapply SPF if you're going out again.
If you're heading out in the sun again, reapply SPF to your face and body. A good rule of thumb is to reapply every two hours, or even more frequently if you're going in and out of the water.
The takeaway. 
Nothing feels better than rinsing off after a long day in the pool, but you should be mindful of how you go about it. Chlorine and saltwater can irritate your skin and rob it of moisture. You should reach for gentle cleansers, hydrating serums, and soothing moisturizers to help your skin bounce back. And remember: Always reapply SPF if you'll be heading out again. If you're in the market for a new sunscreen, here's a list of our favorite clean and natural options.
Hannah Frye
Assistant Beauty & Health Editor
Hannah Frye is the Assistant Beauty & Health Editor at mindbodygreen. She has a B.S. in journalism and a minor in women's, gender, and queer studies from California Polytechnic State University, San Luis Obispo. Hannah has written across lifestyle sections including skin care, women's health, mental health, sustainability, social media trends, and more. She previously interned for Almost 30, a top-rated health and wellness podcast. In her current role, Hannah reports on the latest beauty trends and innovations, women's health research, brain health news, and plenty more.