Beauty Pros Swear By These High Maintenance Tips To Stay Low Maintenance

mbg Beauty & Wellness Editor
By Jamie Schneider
mbg Beauty & Wellness Editor
Jamie Schneider is the Beauty & Wellness Editor at mindbodygreen. She has a B.A. in Organizational Studies and English from the University of Michigan, and her work has appeared in Coveteur, The Chill Times, and Wyld Skincare.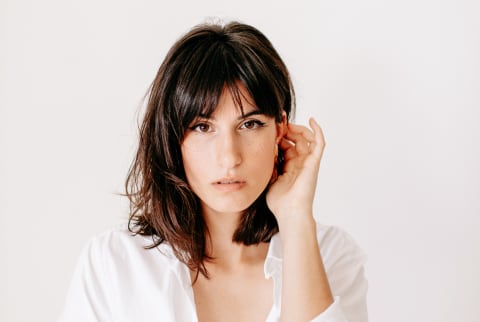 Image by Marc Bordons / Stocksy
April 17, 2023
Our editors have independently chosen the products listed on this page. If you purchase something mentioned in this article, we may
earn a small commission
.
Honestly, I'm loving the whole "high maintenance to be low maintenance" trend on TikTok. In case it hasn't yet crossed your For You Page, it essentially involves users detailing various high-effort treatments, products, and services that make their everyday routines way more low-lift.
This trend acknowledges what we in the beauty industry have been trying to convey for a very long while: "Effortless" beauty looks often take the most amount of energy. And people are done keeping the process behind the curtain—no longer are they pretending to simply wake up with baby-smooth skin or spending hours styling their bangs just to make them look effortlessly wispy. (As someone who recently hopped aboard the curtain bang train, let me tell you: They are not at all effortless.)
Advertisement
This ad is displayed using third party content and we do not control its accessibility features.
Maybe their day-to-day seems pretty low-lift, but every so often they might opt for a laser hair removal session to achieve that soft complexion, or they'll gather their hair in a silk bonnet before bed to avoid pesky cowlicks. High maintenance habits on occasion to stay low maintenance on the regular. Get it?
Here, find some more worthy beauty investments that will make your everyday routine such a breeze:
For those with thin, sparse brows, eyebrow tinting can be a game changer: "It maximizes your brow potential by making every hair count," brow expert Joey Healy says about the service. Meaning, those light baby hairs above your brows you never really knew existed finally show up to the party, making your arches way more full and fluffy.
It's a semi-permanent procedure, meaning you won't have to spend ample time in the mirror with a brow pencil in hand (talk about a low maintenance daily routine!), yet you won't feel the pressure of a pigmented tattoo.
I personally swear by a brow tint every four to six weeks (expertly dyed by Healy himself), and it really transforms my eyebrow shape. Once those blonde, vellus hairs spring to life, my face framers appear five times fuller—without a dab of brow powder. Just a swipe of brow gel, and I'm set.
If your skin just won't stay moisturized—no matter how many hyaluronic acid serums you slather on—it may be time to prioritize an internal approach. Enter, collagen supplements: Collagen powders (specifically hydrolyzed collagen peptides) have been clinically shown to support skin elasticity and dermal density1 and even promote the skin's hydration levels. Meaning, they can improve the thickness and texture of your skin long term. Think less sagging, more supple.
Considering your collagen production starts to decline by an average of 1% each year2 starting in your mid-20s, copping a collagen powder is a solid investment for skin health. Sure, scooping collagen into your coffee or smoothie does require an extra morning step, but the glowy results are so worth it. After all, it takes way more effort to smooth fine lines and wrinkles after they've already cropped up—wouldn't it be easier in the long run to address those concerns early on?
If you're ready to start a daily collagen ritual, see here for our favorite options, all backed by a nutrition Ph.D.
Advertisement
This ad is displayed using third party content and we do not control its accessibility features.
Yes, applying self-tanner does take some effort (it has a bit of a learning curve), but trust me, it's a game changer for dull skin. Especially as the weather warms up, I'll self-tan every 10 days or so for a faux glow. In addition to making me look like I just returned from a beach vacation, I find it helps balance and brighten my complexion, sort of like a full-body color corrector. That doesn't mean I'll skimp on my daily lotion, but self-tanner makes my skin appear much smoother, tighter, and more even-toned.
For the sake of saving time, I'll apply a few drops of the Medium Self-Tanning Body Drops from Isle Of Paradise into my body lotion. While the clear formula makes it difficult to see where you applied, it takes way less effort than a whole mitt and mousse situation.
The takeaway
I'd argue that none of these tips above make you "high maintenance," but they do require putting in some extra time and effort to see results. And if you commit to a regular schedule, chances are your day-to-day routine will become way more streamlined. Of course, there are plenty more treatments to consider than this list of three—how about a facial?
Advertisement
This ad is displayed using third party content and we do not control its accessibility features.