Does Black Seed Oil Really Work For Hair Growth? Here's What Experts Say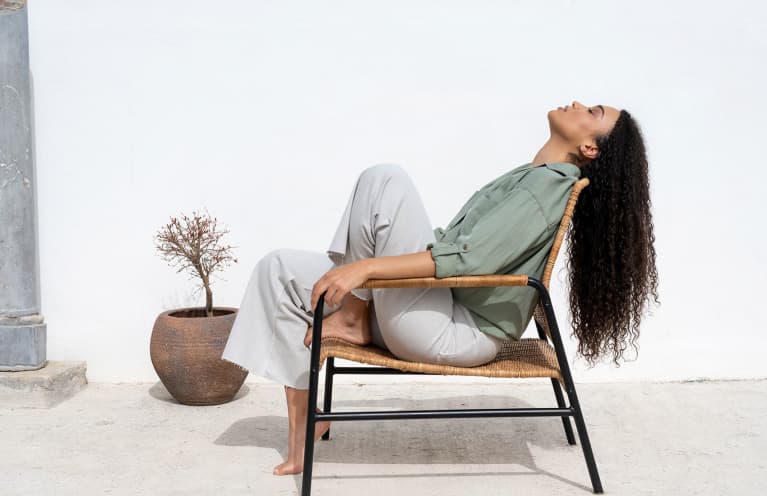 Our editors have independently chosen the products listed on this page. If you purchase something mentioned in this article, we may
earn a small commission
.
Who doesn't want long, luscious hair that people can't help but compliment? With so many people sharing in this daydream, it's no wonder there seems to be a never-ending list of products and ingredients people simply "swear by" to promote hair growth. One of these said ingredients is black seed oil.
The ingredient has been around for thousands of years, relevant in many cultures, so it at the very least has ample anecdotal evidence. But can it actually stimulate hair growth at the hair follicle? Well, that might not be as straightforward as it seems—however, that doesn't mean it's not a valuable addition to your hair care routine.
Keep scrolling to learn more about black seed oil, its link to hair growth, and other ways to use it in your regular regimen.
Black seed oil is an herbal ingredient extracted from seeds of the flowering plant Nigella Sativa. Also known as Nigella Sativa oil, black cumin, or Kalo jeera, the oil from these seeds has been used for its medicinal properties in Eastern cultures for generations.
Along with unsaturated fatty acids like linoleic acid, the key to black seed oil's impressive benefits is mostly thanks to the chemical compound thymoquinone. "Most of its therapeutic properties are attributed to thymoquinone (TQ), a major active chemical component that possesses antioxidant, anti-inflammatory, and hepatoprotective properties," Krupa Koestline, clean cosmetic chemist and founder of KKT Consultants, explains. She also says the seeds have natural antimicrobial and antifungal properties.
Founder and lead formulator of JBK Wellness Labs Jenelle Kim, master herbologist and doctor of Chinese medicine, also notes that thymoquinone is an antihistamine, which has been "known to help promote new hair growth for thicker hair or regrowth in areas where hair may have been lost."
With all these beneficial components, Koestline says that the oil was often used to treat a wide variety of health conditions such as bronchitis, asthma, rheumatism, hypertension, eczema, and influenza. Beyond this, though, black seed oil has also been used for thousands of years to promote hair growth. But does it actually work?
Does black seed oil work for hair growth?
"It should be noted that while black seed oil has been used for thousands of years to promote a healthy scalp and hair growth, there are still no clinical studies to support the anecdotal claims," Koestline says.
Just because there's no clear-cut evidence that says black seed oil doesn't generate hair growth doesn't mean it can't encourage a healthy environment for hair to grow. "It also has omega fatty acids, which help improve circulation, which is essential for healthy hair growth," Koestline points out. "These have not been tested yet and are just theories to how it can help promote hair growth."
A 2014 study found that a mixture of coconut oil and black seed oil applied to a shaved scalp three times a day was more effective for hair growth than a combination of coconut oil and aleurites moluccana (also known as the Indian walnut). Though this small study wasn't conclusive enough to make a larger statement, it was enough to justify looking into black seed oil's effectiveness further.
What are the benefits of black seed oil?
Just because the oil hasn't been thoroughly proven to promote hair growth doesn't mean that it doesn't have lots of other great hair care perks. Thanks to the essential fatty acids, black seed oil can hydrate and strengthen strands for healthier, happier hair. Meanwhile, the ingredient's antifungal and anti-inflammatory properties can potentially reduce dandruff and improve scalp health.
How to use black seed oil for hair.
With so many notable benefits to offer, black seed oil might not be such a bad ingredient to add to your regular hair care routine. So how exactly can you do this? Well, you might be surprised by the variety of ways you can use black seed oil in your hair. But first, you need to find a hair-specific option. To be honest, it doesn't show up in a wide variety of hair oils—like argan or jojoba oil might—but it makes an appearance in Carol's Daughter Goddess Strength Scalp Oil and Hair Oil Deep Treatment, an oil with a devoted following of fans.
1.
A pre-shampoo treatment.
Since black seed oil is rich in fatty acids, Koestline says that it makes for a great pre-shampoo moisturizing oil. All you have to do is apply the oil to dry hair before hopping in the shower and rinsing out with water and shampoo. You can leave it on for as long as you'd like—or more like however much time you have before you have to run out the door!
The moisturizing benefits combined with the soothing abilities of the antioxidant and anti-inflammatory thymoquinone, black seed oil makes for a great addition to a scalp massage. After all, scalp massages alone have been shown to promote hair growth, improving the thickness of participants' hair in a 2019 study. So why not give this duo a try?
Just dab a bit of the oil into dry strands and use the pads of your fingers to apply medium-firm pressure, moving them in circular motions. You can get a little fancier with scalp-massaging tools like the Mount Lai Jade Massaging Gua Sha Comb or Ceremonia Scalp Masajeador. But sometimes it's nice to just keep it simple.
3.
Apply to ends to hide split ends.
To continue to use black seed oil's hydrating abilities to enhance hair's appearance and health, you can apply a small bit to the ends of your hair to help hide and repair split ends. Along with sealing and softening strands, it also eliminates any frizz.
Even though black seed oil cannot be proven to deliver guaranteed longer, thicker hair at this time, that doesn't mean that it should be completely forgotten. Far from that! It's actually a great ingredient for anyone to add to their regimen if they want healthier hair. "It's a fairly gentle and moisturizing ingredient that's suitable for all scalps and hair," Koestline says. And at the end of the day, isn't healthy hair really what we actually want?
So whether you're using it as a pre-shampooing treatment or applying it to the ends of your strands to soften split ends, don't ignore the impressive benefits of black seed oil for healthy, shiny, beautiful hair. Now if you're on the hunt for other hair growth tips, might we suggest a hair growth supplement?