The 6 Best Meal Delivery Services For New Parents

Certified holistic nutrition consultant
By Lindsay Boyers
Certified holistic nutrition consultant
Lindsay Boyers is a nutrition consultant specializing in elimination diets, gut health, and food sensitivities. Lindsay earned a degree in food & nutrition from Framingham State University, and she holds a Certificate in Holistic Nutrition Consulting from the American College of Healthcare Sciences.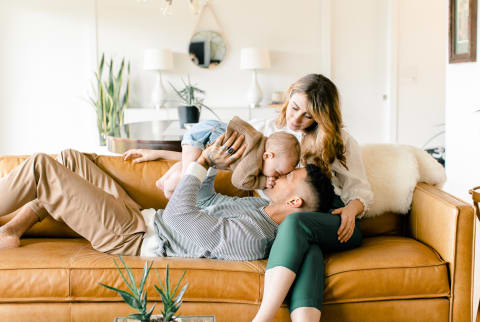 Image by Kayla Snell / Stocksy
September 1, 2022
Our editors have independently chosen the products listed on this page. If you purchase something mentioned in this article, we may
earn a small commission
.
Between regular feedings, diaper changes, and middle-of-the-night wake-up calls, new parents have enough to do; who has extra time to cook? But there are still mouths to feed, including yours, and when you're tending to a new member of your family, it's more important than ever to make sure you're getting the proper sustenance to fuel your day. Luckily, the best meal delivery services for new parents drastically reduce the time it takes to get a healthy meal on the table—so you can still get the nutrition your body needs when other factors like poor sleep and stress are negatively affecting your overall well-being.
Depending on your needs, there are two main types of meal delivery services: prepared entrées and meal kits. Heat-and-eat options are perfect for those times when you only have a few minutes to spare for your next meal, while a meal kit is a great pick for those who want to feel some semblance of normalcy but don't have the time to prep (let alone shop for) ingredients. Regardless of your preference, there are plenty of reliable options that make it easy for new parents to scarf down a nutrient-packed meal during nap time.
How to choose the right meal delivery service.
Convenience
When you're a new parent, free time becomes pretty elusive. Choose a meal delivery service that can help you optimize the time you do have. Prepared meals can be ready in as little as three minutes; meal kits require more prep and cleanup time, so you'll likely have to set aside 30 minutes to an hour for the entire process, depending on what you're cooking.
One isn't necessarily better for new parents than the other; it just depends on how much time you have and whether or not you have someone to help you take care of the baby while you're preparing a meal.
Meal quality
Proper nutrition is important for any new parents, but it's especially vital for new moms that are recovering from the birthing process.
"Anti-inflammatory, nutrient-rich foods help inhibit the release of pro-inflammatory cytokines―molecules that regulate inflammation levels. Since your goals are to heal your body, rebuild your tissues, protect your mental health (inflammation is indicated in PPD), produce nutrient-rich breast milk (for those who breastfeed), and restore your nutrient levels, anti-inflammatory foods should be the cornerstone of your diet," integrative and functional medicine physician Alejandra Carrasco, M.D., previously told mbg.
That means choosing meal delivery that includes plenty of vegetables, fruits and berries, fatty fish, and high-quality proteins. All the options on this list check all of these boxes.
Budget
Meal delivery will likely cost a little more than going to the store and preparing all your meals yourself, but the extra time to catch up on sleep is priceless. That being said, make sure you're considering the price per meal and staying within your budget.
How we picked.
New parents don't have a ton of time to spend in the kitchen. We prioritized meal kits that come together in 30 minutes or less, and/or prepared meals that are ready to heat in minutes.
Food boredom can creep up on you fast if you're constantly eating the same meals. We chose meal delivery services that have plenty of variety and regular rotating menus to keep you happy.
Budgeting becomes more important than ever when you have more mouths to feed; all the meal delivery services on this list are reasonably priced at less than $15 per meal.
Quality ingredients and sustainable packaging are always a factor in our decision-making process.
Our picks for the best meal delivery services for new parents:
FAQ:
What is the average cost for a meal delivery service?

Meal delivery services are probably more affordable than you think. Prices can vary depending on the quality and sourcing of ingredients, but you can expect to pay around $8 to $15 per meal. Premade meals offer more convenience, but they're typically a bit more expensive than meal kits.
What is the easiest home meal delivery?

The easiest home delivery is one that offers prepared meals, or if you prefer to cook, one that has easy-to-throw-together meals. We recommend Trifecta or Fresh N' Lean for ready-to-heat meals and Home Fresh for meal kits that can be on the table in as little as 10 to 15 minutes.
What is the most affordable meal delivery service?

HelloFresh is one of our favorite affordable options. While it's not the cheapest meal delivery service out there, it's an excellent intersection of quality and value. HelloFresh uses locally sourced, seasonal ingredients whenever possible, and the meals start at just $7.94 per serving. If you want an even more curated plan, Freshly is a great prepared option with servings starting at just $8.99 per serving.
The takeaway.
Being a new parent comes with enough challenges—and figuring out how to get a healthy, nutrient-dense meal with whole foods shouldn't be one of them. Luckily, there are many meal delivery services for new parents that simplify the process. Whether you're looking for prepared meals or quick-and-easy meal kits, the options on this list have you covered. If you're looking for a more specialized plan, you can also check out our guides to the best keto meal delivery or best Mediterranean meal delivery.
Reset Your Gut
Sign up for our FREE doctor-approved gut health guide featuring shopping lists, recipes, and tips

Lindsay Boyers
Certified holistic nutrition consultant
Lindsay Boyers is a holistic nutritionist specializing in gut health, mood disorders, and functional nutrition. Lindsay earned a degree in food & nutrition from Framingham State University, and she holds a Certificate in Holistic Nutrition Consulting from the American College of Healthcare Sciences.
She has written twelve books and has had more than 2,000 articles published across various websites. Lindsay currently works full time as a freelance health writer. She truly believes that you can transform your life through food, proper mindset and shared experiences. That's why it's her goal to educate others, while also being open and vulnerable to create real connections with her clients and readers.