Close Banner
Advertisement
This ad is displayed using third party content and we do not control its accessibility features.
The Best International Dating Apps For Every Type Of Dater
Commerce Writer
By Neha Tandon
Commerce Writer
Neha Tandon is an editor whose work has appeared in Harper's Bazaar, New York Magazine, Cosmopolitan, Women's Health, Brides, and more

Expert review by
Myisha Battle, M.S.
Sexologist & Dating Coach
Myisha Battle, M.S., is a certified clinical sexologist and sex and dating coach, educator, and speaker. She has a master's in Psychology from The New School in New York City.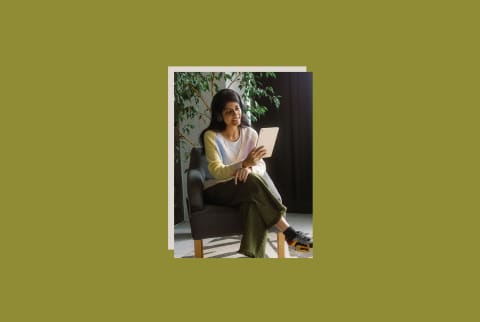 We carefully vet all products and services featured on mindbodygreen using our
commerce guidelines.
Our selections are never influenced by the commissions earned from our links.
Whether you travel frequently for work or pleasure, the best international dating apps are a great way to build connections while you're on the go. Opening yourself up to dating internationally can make for some rich life experiences and romantic connections.
"[International dating sites] are perfect for adventurous souls who are open to exploring diverse cultures, learning new languages, and forming connections no matter the geographical location of their prospective partner," says therapist LaTonya Washington, LICSW.
Washington has helpful insight on how to date while traveling and which apps are best for international dating. Keep reading to learn our experience testing them for ourselves.
The best international dating sites of 2023

| Site | Main age demo | Known for | App store rating |
| --- | --- | --- | --- |
| eharmony | 30-49 years old | Long-term commitments & compatibility scores | 4.0/5.0 |
| Match | 30-49 years old | Detailed profiles & fast-growing user base of seniors | 3.8/5.0 |
| OkCupid | 30-49 years old | Great free app with loads of features | 4.3/5.0 |
| Bumble | 18-30 years old | Women always start the chat | 4.3/5.0 |
| Hinge | 18-30 years old | Created for relationships & offers limited likes | 4.5/5.0 |
| Tinder | 18-30 years old | O.G. swipe-based app for hookups | 3.8/5.0 |
| The League | 30-49 years old | Exclusive app for working professionals | 4.1/5.0 |

How we picked

Security: We looked for apps with strong security features to protect data, keeping dating app safety top of mind.
User base: Each site on our list has a large user base with representation from diverse backgrounds.
Expert insight: We've interviewed dozens of dating experts and kept their insight top of mind when selecting the best international dating sites.
Testing: To truly know which sites are best for international dating, you have to try them for yourself. We tested every international dating site to evaluate the sign up process, app interface, and overall user experience.
Best for marriage
eHarmony
Image by mbg creative

Image by mbg creative
scroll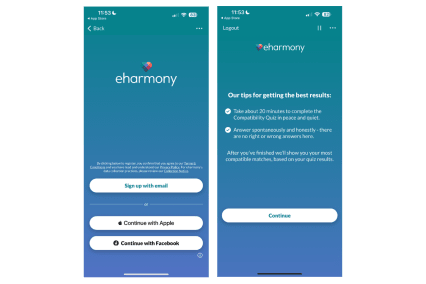 Image by mbg creative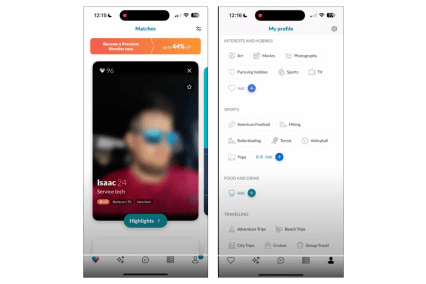 Image by mbg creative
There's a reason this dating site has been around for so long. Your experience begins with a comprehensive 80-question quiz, which gets into the nitty gritty and helps the app provide more relevant matches.
While some users don't love that you really have to pay to get any real benefits from eHarmony, it's a great way to weed out anyone who isn't serious. One of the best dating apps for serious relationships, eHarmony comes recommended by Washington for those seeking marriage.
After filling out your profile, eHarmony takes over the heavy lifting by using an algorithm to pair you with matches and provide a compatibility score. You'll know lots about someone before even contacting them, which is particularly great when you're considering meeting someone in another country.
Pros & cons

Pros

Profiles are comprehensive
Personality test is detailed
Ability to see who viewed your profile

Con

Takes time to set up
Very limited capabilities with free membership
Cost

eHarmony premium

6 months: $359 ($59.84 per month)
One year: $388 ($32.25 per month)
2 years: $699 ($29.13 per month)
Best for introverts
Match.com
Image by mbg creative

Image by mbg creative

Image by mbg creative
scroll
Image by mbg creative
Image by mbg creative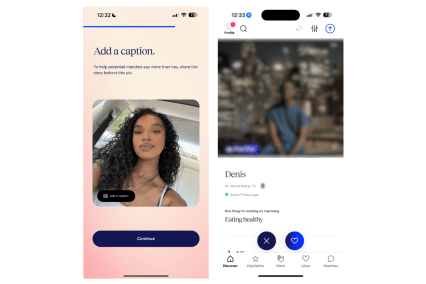 Image by mbg creative
About
Website & app with detailed profiles and fastest-growing user base for seniors
Meeting someone online can be an intimidating experience (especially if you're shy or introverted)—and dating internationally is even more nerve-wracking for many. Match asks users to fill out in-depth personality quizzes and profiles, helping users really get to know potential matches before even starting a chat with them.
What's more, you have the option to be paired with a dating expert, have one-on-ones with them, and take advantage of their advice to ease into online dating. You can even attend live online events if that makes you feel more comfortable than jumping into one-on-one dates.
Pros & cons

Pros

One-on-ones with dating experts
Live online events
Detailed profiles

Cons

Expensive if you want all the features
Profile takes time to set up
Our tester's experience

Our testers found even more unique features when testing Match.com, such as the ability to see everyone who has liked you. There's even a little sidebar called "You're their type" which will show you users who the algorithm feels you would be good with.
Cost

Standard Membership

One month: $44.99
6 months: $118.99 ($19.84/month)

Premium Membership

3 months: $116.99 ($39/month)
6 months: $129.99 ($21.67/month)
Best for women dating men
Bumble
Image by mbg creative

Image by mbg creative
scroll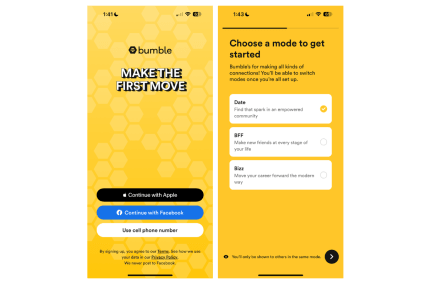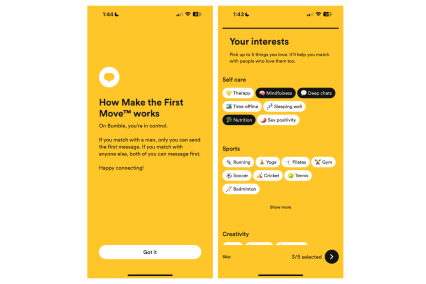 Image by mbg creative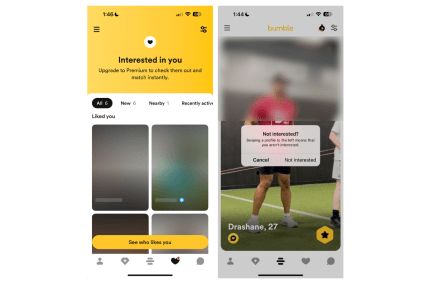 Image by mbg creative
About
A swipe-based app where women always start that chat
If you're open-minded when it comes to the kind of relationship you are looking for (a safe bet, if you're curious about international dating!), Bumble is a great fit. There's a wide range of people using this dating app for hookups, casual dating, serious relationships, marriage, and even friendships.
Most Bumble users are quite straightforward about what they are looking for exactly, since it's one of the questions you answer when setting up your profile. This is a huge plus when it comes to international dating, since it's best to go into it knowing your (and the other person's) intentions.
Bumble is largely known for the fact that in heterosexual dating, women must message men first. The app enables and empowers women to initiate conversations, so that they can be the ones to set the tone of the chat.
Pros & cons

Pros

Great for making friends when traveling
Many free features
Large user base
One week membership option

Cons

Some may not like that women have to start the conversation
Free version doesn't allow backtracking
Our tester's experience

I (the writer!) have had great experiences dating internationally and at home on Bumble, whether I've been in New York City or traveling in Asia or Europe. I've tested this dating app and it's carried me through different phases of my dating life.

I've tried Bumble when looking for something serious, just a hookup, and even to connect with new friends—and something about messaging first (as the female) makes me feel more safe and in control, since it allows me to set the tone of our conversation.
Cost

Bumble Premium

One week: $24.99
One month: $49.99 ($11.66 per week)
6 months: $99.99 ($7.78 per week)
Unlimited: $249.99
Best for professionals
The League
Image by mbg creative

Image by mbg creative

Image by mbg creative

Image by mbg creative
scroll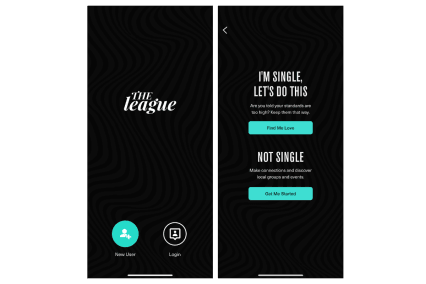 Image by mbg creative
Image by mbg creative
Image by mbg creative
Image by mbg creative
About
An exclusive app curating just 5 potential matches per day
When dating internationally, you're setting a wide, large net. If you want to be a bit more choosy, The League is a great option that's available in 155 countries across six continents. Designed for ambitious people seeking equally ambitious people, the app is marketed towards people looking for more serious connections—that's why we've chosen it as one of the best dating apps for working professionals.
When signing up for The League, you're presented with an application process in which you submit your profile that's connected to LinkedIn. You'll be put on a waiting list, vetted by one of The League's administrators, and then presented with a small handful of prospects daily.
The app is designed to encourage users to talk and then meet up in person. Matches expire after 30 days, so you're more inclined to forge a real connection outside of the app.
Pros & cons

Pros

Filters out work colleagues
Meant for ambitious people seeking other ambitious people
Verifies users through LinkedIn

Cons

Limited prospects every day
Paid options are pricey
Our tester's experience

Finding a serious connection with someone who is as ambitious as I am, is super important to me. Living in New York City, I meet tons of successful people organically—but I recently started a job that's almost completely remote and I really wanted to meet more diverse people outside of the country.

While apps like Bumble and Hinge have larger user bases, I appreciate that The League presents me with more curated options.
Cost

Member subscription: $299.99 per month
Owner subscription: $399.99 per month
Investor subscription: $999.99 per month
Largest user base
Tinder
Image by mbg creative

Image by mbg creative

Image by mbg creative

Image by mbg creative
scroll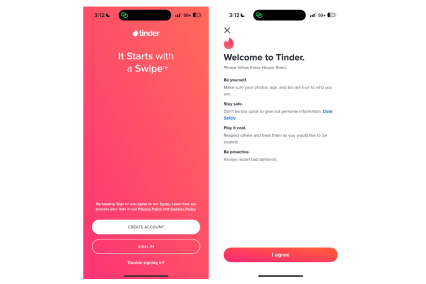 Image by mbg creative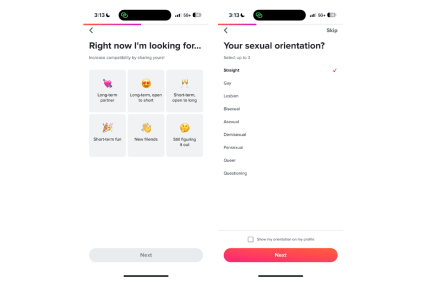 Image by mbg creative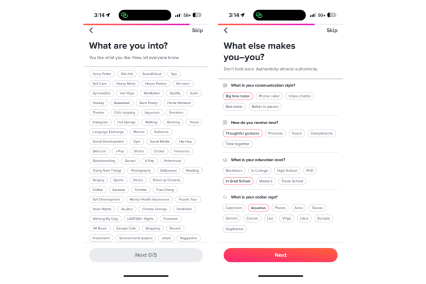 Image by mbg creative
Image by mbg creative
About
The original swipe-based app focused on quick hookups
Whatever your opinions on Tinder, you can't change the fact that it has 75 million monthly active users all over the world. It's the best option for anyone who wants a wide range—international daters included.
The cool thing with Tinder is that it's all about ease. Profile setup doesn't involve any detailed questionnaire or quiz. Instead, you'll just upload (up to nine) pictures of yourself and add a bio of (500 characters or less).
You'll be asked about your job title, company, school, location, and sexual orientation before you simply get to swiping—but this information is optional to fill out. Tinder even has a "smart photos" feature that puts your top-liked pictures at the top of your profile, so you don't have to worry about rearranging.
Pros & cons

Pros

Good for casual relationships and different types of connections
Available in 197 countries and you can see location of users
Free version is excellent

Cons

Not all people have descriptive profiles
Can be superficial due to swiping process
Our tester's experience

While there is a stigma about Tinder being only for hookups, we tried the app and loved it for meeting people casually. No, it's likely not the best app for serious relationships and there are no compatibility scores, but if you have an open mind it could be a great way to meet new people.
Cost

Tinder Plus

One month: $8
6 months: $24 ($6 per month)
12 months: $32 ($2.60 per month)

Tinder Gold

One month: $24 per month
6 months: $75 ($12.50 per month)
12 months: $96 ($8 per month)

Tinder Platinum

One month: $30 per month
6 months: $90 ($15 per month)
12 months: $120 ($10 per month)
Best for serious relationships
Hinge
Image by mbg creative

Image by mbg creative

Image by mbg creative
scroll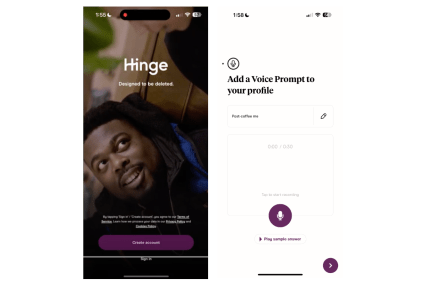 Image by mbg creative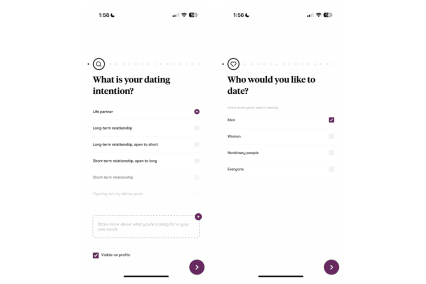 Image by mbg creative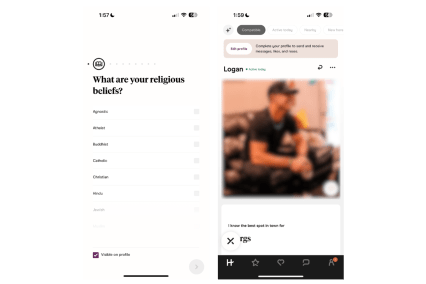 Image by mbg creative
About
An app designed for relationships with limited likes (but has evolved for hookups)
Hinge has tons of options that really cater towards people trying to have more in-depth conversations that can lead to more serious, meaningful connections and relationships. The app really aims to match people based on shared interests and hobbies.
With a free membership, you can get access to nearly the entire range of app features, but the paid version offers the ability to get more choosy with your filters. In that version, you can filter by political beliefs, height, level of education, and much more.
Pros & cons

Pros

Large user base for people looking for something serious
Prompts can be answered with text or audio
Queer-friendly

Cons

Paid version is kind of pricey
Limited options for indicating political beliefs
Our tester's experience

Our tester used Hinge to connect with people internationally before going on trips. It the app is a lot of fun to use in Europe—what better way to see a city than to go on dates with locals? We also appreciate that since Hinge has audio prompts, you can listen to a person's voice before meeting IRL. Our tester was connecting with people from different cultures and felt closer to them by hearing their voice before meeting.
Cost

Hinge X

One week: $24.99 per week
One month: $49.99 per month
3 months: $99.99 ($33.33/month)
6 months: $149.99 ($24.99/month)
Best queer-friendly
OkCupid
Image by mbg creative

Image by mbg creative

Image by mbg creative
scroll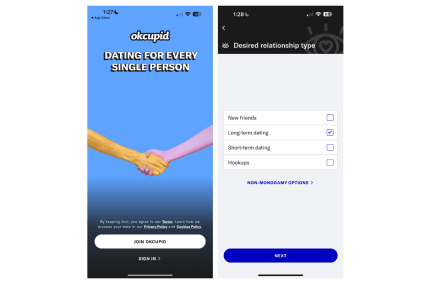 Image by mbg creative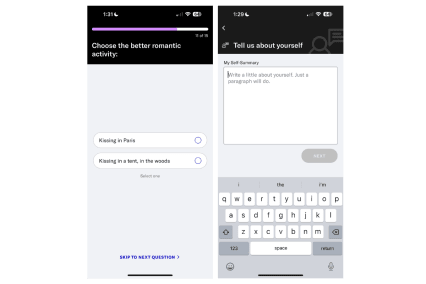 Image by mbg creative
Image by mbg creative
About
Swipe, backtrack, and sort potential matches with a free app
OkCupid has changed quite a bit since the dating site first hit the scene over a decade ago. It's now one of the most inclusive dating apps out there.
OkCupid offers a large selection of LGBTQ-friendly gender and sexual orientation options to identify with and is also supportive of non-monogamous relationships.
After answering a super in-depth personality quiz, OkCupid's super smart algorithm will pair you with someone, but it goes even further than that.
When users are shown options for matches, you'll also see a compatibility score based on the app's algorithm and how you both answered the questionnaire.
Our tester's take

One of our writers tried OkCupid, and said it was the most successful app they'd tried, saying it was the one on which they were able to build the most meaningful connections based upon shared beliefs and connections. The detailed profiles really offer the ability to understand a person before even having your first conversation with them.
Cost

OkCupid Basic

One month: $29.99
3 months: $59.99 ($19.99 per month)
6 months: $89.99 ($14.99 per month)

OkCupid Premium

One month: $39.99
3 months: $79.99 ($26.66 per month)
6 months: $119.99 ($19.99 per month)
What is an international dating site?
Simply put, an international dating site is one on which people from countries all over the world can connect and form romantic relationships.
While some apps and sites have limitations on the distance/range of partners you can look at, others offer extremely wide ranges. A few are specifically designed for international dating, rather than just offering it as a feature.
How to choose the best international dating site
When choosing which international dating site to use, there are a number of factors to consider.
Large, diverse user base
The best international dating app should have diverse users from several countries. After all, isn't that the point of getting to know people from all over the globe?
Translation tools
If you're dating in a country whose language you don't speak, you'll definitely want to prioritize platforms that offer translation tools to reduce language barriers.
Safety features
Washington recommends looking for an app or site with safety features to protect users against scams and fraud.
Phone and messaging capabilities
Of course, audio messaging and video or voice call capabilities are all key if you're considering dating someone in a different country. "These options are cost-effective [compared to booking frequent flights], but they'll also be safer for you," says Washington.
Tips for international online dating
International online dating can be a great experience for anyone who is open-minded and willing to be patient with the process. Washington adds that navigating cultural differences requires care, compassion, and patience.
"While you may get excited about wanting to visit someone, consider the use of regular video calls to build an authentic connection and healthy foundation for developing a relationship first," she says.
Approach learning about your potential partner's culture with curiosity, kindness, and sincere interest. Of course dating is all about having fun, but Washginton adds that it's important to be cautious of scams. Be sure to never send money to someone you've never met in person.
How dating impacts longevity
You likely already know that dating can bring joy, connection, and a sense of fulfillment. Washington adds that positive relationships can also do even more than that.
"[Relationships] can boost self-esteem, reduce stress, improve mental health, and physical health," she says.
Just make sure to always prioritize self-care, even while getting to know your potential partner. Pace yourself and ensure that you're not rushing into anything you aren't ready for.
FAQ:
Does Bumble work internationally?

Bumble has great international reach, and Washginton supports it since it has an emphasis on empowering women to make the first move. "It can be a great choice for those seeking more control over their interactions," she says.
Is there an international Tinder?

There isn't a separate app that you need to download to use Tinder internationally, so you can use the same app for international dating. Simply change your mile range.

Washington says since it's known for its vast user base, Tinder can be a good option depending on your personal preferences.
What is the most private dating site?

If privacy is your top concern, Washington says to consider platforms that prioritize privacy, like OkCupid and eHarmony. For any other sites, she simply says to carefully review their privacy policies.
The takeaway
Whether you're planning ahead for an upcoming trip or you're simply interested in pursuing a relationship with someone in another country, the best international dating sites make that connection possible. When trying these dating apps for yourself, make sure to stay mindful of dating app safety.
Neha Tandon
Commerce Writer
Neha Tandon is an editor in New York City with a passion for writing about beauty, style, dating, wellness, and travel. She holds a master's degree in journalism from Syracuse University, and has written for Harper's Bazaar, New York Magazine, Cosmopolitan, Women's Health, Brides, and more. When she's not grilling dermatologists or testing out new trends, she's doing candlelit yoga, watching old black and white movies, or hosting vegan dinner parties.