Close Banner
Advertisement
This ad is displayed using third party content and we do not control its accessibility features.
A Dating Expert & Psychotherapist's Dating App Safety Tips + Common Scams To Avoid
Commerce Writer
By Neha Tandon
Commerce Writer
Neha Tandon is an editor whose work has appeared in Harper's Bazaar, New York Magazine, Cosmopolitan, Women's Health, Brides, and more

Expert review by
Myisha Battle, M.S.
Sexologist & Dating Coach
Myisha Battle, M.S., is a certified clinical sexologist and sex and dating coach, educator, and speaker. She has a master's in Psychology from The New School in New York City.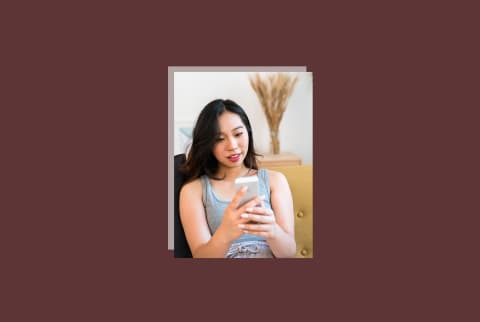 We carefully vet all products and services featured on mindbodygreen using our
commerce guidelines.
Our selections are never influenced by the commissions earned from our links.
Dating apps are an unmatched (pun intended) resource to meet people you might not come across in "real life." They can be fun, exciting, and extremely beneficial to your dating life. To maximize your experience, it's crucial to be mindful of dating app safety.
Psychotherapist Kelly Scott, LMHC, points out that dating in itself opens you up to vulnerability. "There's a lot of physical and emotional vulnerability in dating," she says. "When we are making decisions that make us vulnerable, we need to also be thinking about safety."
Many of the best dating apps have safety features in place, but there are also online dating safety precautions you can take on your own—and there are specific ways to identify red flags for online dating, too.
Why is dating app safety important?
Online dating opens you to many unique people with diverse backgrounds and perspectives. And, while this is great, it inevitably opens you up to people who may not have the best of intentions.
Pure consultant and dating expert Anna Hintsyak stresses that catfishing, blackmailing, and scams are something you'll obviously be opening yourself up to with online dating—but being aware of these things and arming yourself with knowledge keeps you empowered and confident.
How do you stay safe while dating online?
Scott and Hintsyak shared a few key dating app safety tips to keep in mind during your online dating journey.
Get familiar with your own comfort and discomfort levels.
If you're feeling uncomfortable with an interaction you're having with someone, or how their profile makes you feel, investigate that feeling. Discomfort may not be a deal-breaker, but it's a feeling worth exploring.
Don't give people passes.
Try a video call.
Many dating apps have the option to do a video call right within the platform itself. These video calls allow you to vet the person and avoid being catfished. They're also a great way to take some pressure off that first face-to-face conversation!
Don't follow each other on social media or share phone numbers immediately.
Wait until you've had a proper chat on the app before you give out your phone number on dating apps or give access to your social media profiles. This maintains a safe and healthy boundary while you get to know the person better.
We also recommend against connecting your social media with your profile—and this could help encourage meeting in real life sooner rather than getting stuck in the "pen pal" stage.
Be careful about the pictures you share.
It's important to build trust before you share intimate pictures with someone. These people are essentially strangers, and you never know how your own photos could be used against you.
To be extra safe, try dating apps that don't allow screenshots, such as Raya, Badoo, or Pure.
Never share financial information.
This one is as cut and dried as they get: Do not give sensitive information to a stranger online. No matter what a person says, there is never a reason to share your private financial information.
If someone does ask for this information, report them and unmatch.
A few dating apps to consider:
How to stay safe when meeting in person
Once you've connected with someone on a dating app and scheduled a date, there are some extra safety precautions to consider. Here's what our experts recommend.
Always meet in public places.
Go to a cafe, bar, or park where you'll be around a lot of other people. Avoid going on a hike or anywhere secluded for an early date.
Tell at least one close family member or friend where you're going.
Before going on your date, let another person know where you'll be. Even better, enable location sharing to be extra cautious. You'll feel safer knowing someone else knows where you are—so you can just relax and enjoy the date!
Stick to your alcohol limits.
It's always best not to drink too much on a first date. Doing so may put you in a compromised position in which your judgment may be impaired.
Know what your limits are, and then stick to it. If you aren't comfortable drinking, suggest another activity!
Arrange your own transportation.
Getting picked up for a date can feel romantic and all, but save that for once you know them better. You'll be comforted knowing you can leave anytime, and you won't be alone with the person while they're still a stranger.
Pay attention.
Scott emphasizes the age-old advice that people will show you who they are. In the beginning stages of getting to know someone, pay close attention to their actions, not just their words.
Common online dating scams
Online dating generally offers more good than bad. Still, Hintsyak notes that it's an easy place for scammers to surface—and they can sometimes pop back up by creating fake profiles.
Sextortion
As noted, it's extremely important to be careful about the images you choose to share online. Some scammers will ask for explicit pictures and then demand money in exchange for not sharing them.
Catfishing
Perhaps the most common online scam, catfishing is when an individual assumes a false identity to pursue a romantic or emotional relationship. These scammers typically take time to build trust with you to extract personal information.
Because of this, Scott says it's important to meet someone in person sooner rather than later. It's far more difficult for someone to hide who they truly are in real life.
Military Romance
In a military romance scam, someone will pose as a soldier with an entirely fake profile. They take their time talking on a dating site or app and claim that they've been deployed before there is time to meet in person.
Once they feel they've built trust, they'll ask for money for a flight home, or something more. Some military romance scams are so elaborate that they will work with groups of people who pose as military doctors or lawyers as accomplices.
Again, be wary of people who avoid wanting to meet you in real life—and never send someone money online.
Third-Party Links
This scam doesn't actually involve a specific person you're connecting with on an app. It may come through as a text from someone posing to be a dating app, such as Bumble or Hinge.
The text may say they're asking you to verify your information, prompting you to click on the link. It's best to avoid clicking that link to begin with.
If you do accidentally click, you may be prompted to enter personal details including your Social Security number or even bank account details. Do not share this information.
If you're unsure whether this is a scam or not, simply contact customer support at the app in question.
What personal information should you not share online?
While we like to think most users have good intentions, it's best to err on the side of caution with online dating. To do so, keep conversations on dating apps light.
Avoid sharing financial information, your Social Security number, bank account details, or intimate images of yourself.
Our experts also recommended waiting to exchange phone numbers or social media accounts before you meet in real life.
FAQ:
How do you stay safe while dating online?

Scott says it's important to know your limits, boundaries, and comfort levels. Don't be afraid to investigate your feelings if you sense discomfort. Remember, you never need to do anything you don't feel comfortable with.
What are the red flags for online dating?

There are many red flags in online dating, but Scott says any kind of aggression is one of the biggest. "Watch out for passive aggression, mean-spirited sarcasm, being critical early on, or being unkind to strangers," she warns.

Hintsyak adds that you'll want to look out for people with sparse profiles who don't share many pictures or information about themselves.
What are the risks of using dating apps?

According to psychotherapist Kelly Scott, LMHC, "People's hope clouds their judgment." Enthusiasm may mean that you won't protect yourself, and it could cause you to overlook things that should not be overlooked.

Be sure to pay attention to the red flags mentioned above to ensure your financial, personal, and emotional privacy is protected.

Scott warns that it's easier to hide online, so dating apps can delay finding out who someone really is. That's why she always recommends that her clients meet in person as soon as possible.

Prolonged contact online can also create a false sense of intimacy. You may think messaging someone online for three weeks is equivalent to spending that amount of time with them, but it's really not the same thing.
How do you stay safe on a blind date?

Think of a blind date the same as a first date with someone you met on a dating app. You'll want to meet in a public place and ensure that people know where you are.

Whoever is setting you up should be someone you trust. "Essentially, they're your insurance policy," Scott says.
How do I stay safe on Tinder?

As with all dating apps, you'll want to avoid people who have very sparse profiles. Tinder has the ability to verify profiles, so it's always a good idea to stick to those that have a verified badge.

"More is more," Scott says about Tinder. "Pay attention to people who took the time to put together a thoughtful profile with thoughtful pictures that seem chosen."

Thoughtfulness in general indicates that someone is taking dating seriously and is more likely to be on Tinder with honest and clear intentions.
The takeaway
Online dating is an amazing way to find your ideal match based upon what exactly you're looking for. To maximize your chances of having the most fun possible, it's good to be mindful of dating app safety. If you're looking for a commitment, check out our guide to the best dating apps for serious relationships.
Neha Tandon
Commerce Writer
Neha Tandon is an editor in New York City with a passion for writing about beauty, style, dating, wellness, and travel. She holds a master's degree in journalism from Syracuse University, and has written for Harper's Bazaar, New York Magazine, Cosmopolitan, Women's Health, Brides, and more. When she's not grilling dermatologists or testing out new trends, she's doing candlelit yoga, watching old black and white movies, or hosting vegan dinner parties.