The Best Herbs & Spices For A Younger Brain, From A Science Journalist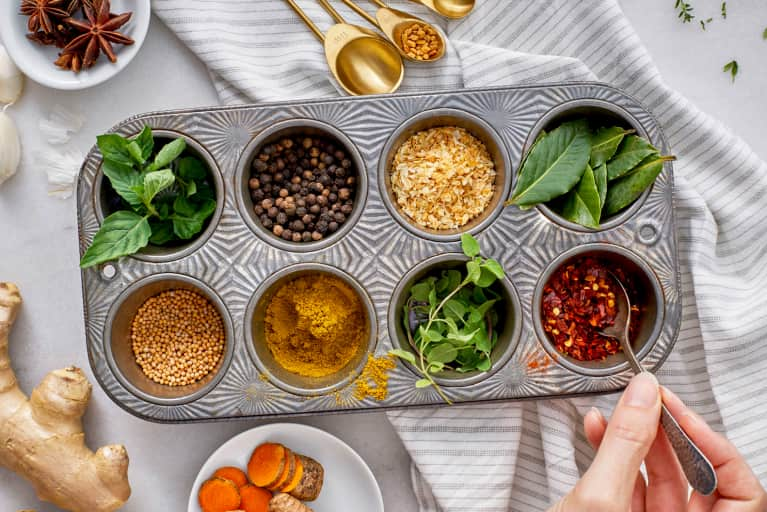 When it comes to eating for brain health, star players like avocado, salmon, and eggs may immediately come to mind, as these are brimming with brain-healthy nutrients and healthy fats. What might be less obvious, however, is the power of certain herbs and spices to positively affect the brain.
When health and science journalist and New York Times bestselling author Max Lugavere joined us on the mindbodygreen podcast, he explained why he's particularly enthusiastic about herbs and spices, especially when it comes to supporting cognition. Below, find his top three herbs and spices for a younger brain:
First up on Lugavere's quick list is parsley: "Herbs tend to be very concentrated sources of polyphenols, plant compounds that are generated as a defense mechanism. That's why herbs tend to have very strong, bitter flavors, owing to these organic volatile compounds that seem to be beneficial to health."
One example of the powerful compounds in herbs like parsley is apigenin, "which supports sleep and has been shown to strengthen synaptic connections [or when your neurons communicate with one another]." According to Lugavere, "You find it in its most concentrated source in herbs." In addition to apigenin, parsley contains a flavonoid called myricetin, which has been associated with balanced blood sugar, a healthy insulin response, and enhanced cognitive support.
Lastly, parsley is a source of antioxidants, including vitamins C, A, and K, which support the body's ability to fight free radicals.
If you're looking to support your brain through herbs and spices, consider reaching for parsley, rosemary, and turmeric. And for more of Lugavere's brain health tips, make sure to tune in to the full episode on Apple Podcasts or Spotify, or check out the video below!