Close Banner
Advertisement
This ad is displayed using third party content and we do not control its accessibility features.
I Tried Droplette's Micro-Infuser & Even Estheticians Can't Believe My Results

Beauty & Health Editor
By Jamie Schneider
Beauty & Health Editor
Jamie Schneider is the Beauty Editor at mindbodygreen. She has a B.A. in Organizational Studies and English from the University of Michigan, and her work has appeared in Coveteur, The Chill Times, and Wyld Skincare.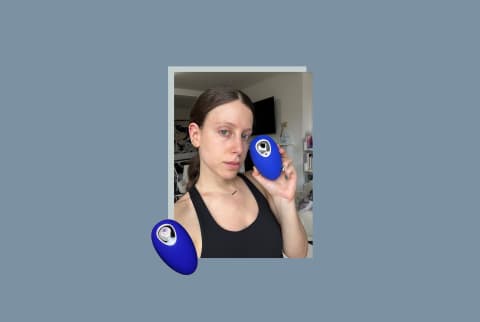 Image by Jamie Schneider / mbg beauty editor / mbg Creative
We carefully vet all products and services featured on mindbodygreen using our
commerce guidelines.
Our selections are never influenced by the commissions earned from our links.
There I was, laying underneath the unforgiving magnifying lamp at Silver Mirror—a New York City facial bar known for their meticulous treatments and casual atmosphere. My esthetician, Kristen, lightly pinched my cheeks and forehead with her fingertips before saying, Wow, you have great elasticity.
It was the first time a professional had commented on my skin's noticeable bounce. Granted, I'm in my mid-twenties and have somewhat stable collagen levels (although, by now they are starting to decline at 1% per year, sigh). But as someone whose skin is perpetually dehydrated, practically every esthetician I come into contact with tells me to focus more on moisture—so this compliment feels like a special victory.
Yet I remember thinking that I hadn't actually changed much in my skin care routine to procure such juicy results. The only thing I did was start using the Droplette Micro-Infuser Device.
What is Droplette?
Droplette is a bit of a happy accident. "We designed the technology to deliver gene therapy into skin," CEO and co-founder Madhavi Gavini tells me. She was originally using that biotechnology to treat rare skin diseases, such as Epidermolysis Bullosa (EB). The condition is extremely painful, and any ointments or dressings can aggravate the wounds, so they wanted to consider alternative ways of delivering medication—like, say, through a mist.
During that process, Gavini and her team realized they could use that same technology to deliver skin care ingredients into the skin, too—and thus, the Droplette Micro-Infuser was born.
Today, the patented device has become a force in the non-invasive skin care market. The brand's potent capsules of water-based serums transform into a tiny, powerful mist that can nudge its way past the skin barrier; in fact, Droplette promises it can penetrate skin 20x deeper than topical serums.
Droplette 2 details 
Recently, the brand launched their Droplette 2 device with a promise to be even better than the first iteration. I already had astonishing results with Droplette No. 1 (see: my facial experience above), but the second version delivers more prominent results.
First and foremost: "It's smarter," Gavini says. "The way the fluid comes out of the device was redesigned, so that more of it hits your skin and less of it gets lost in spray off." It also has a better memory capacity, so when you connect to the Droplette app, the device will remember various programs and modes you choose on the platform.
Then there are some topological changes to note. First, the power button appears square-shaped and a lot more obvious on the device. "So many people would not know how to turn it on, because the button was really subtle," Gavini says. She also made it waterproof and the hardware generally more resilient (you'd be surprised by how many people have dropped their device in the toilet, tub, or sink, she tells me).
So most of the changes were structural—but as they were updating the body, they decided to make the technology even more powerful than before. Why not, right?
How to use it 
When you purchase your Droplette, you'll also select a set of serum capsules. The brand offers different options depending on your skin care goals: collagen capsules for plumping and hydrating, glycolic acid for resurfacing, tranexamic acid for dark spots, retinol capsules for smoothing fine lines, and growth factor capsules to target deeper signs of skin aging. (It also comes with cleansing capsules to clean the device, which the brand recommends you should do once a week.)
Choose your fighter (or multiple, if you plan to follow one of the app's pre-set routines), and drop a single capsule into the device chamber—after closing the door all the way, you should hear a slight click as it locks into place.
After cleansing your face and patting it dry, hover the white surface about a half inch from your skin with your head tilted back. Press the on button and make slow circles around your face.
At this point, you should notice a cloud of mist emerging from the Droplette. It may even feel like you're inhaling some of the droplets; rest assured, the brand notes after a series of lab tests, the mist cannot travel into the lungs.
After about a minute, the device will automatically shut off. Pop open the chamber, recycle your now-empty capsule, and proceed with the rest of your skin care routine. Easy!
Now, the interesting part is you don't have to be too meticulous about drying your face—even if you choose to use the more potent retinol or glycolic acid capsules. "We've tested it on both dry and slightly damped skin, and it doesn't make a big difference in terms of delivery," Gavini notes. Whereas if you were to use a topical retinol or glycolic acid serum, you would want to make sure your face is completely dry before applying. "As long as it's just slightly damp, it's not a big deal."
Other than that, the same skin care rules apply: Use photosensitizing actives (like the aforementioned retinol and glycolic acid) at night, follow up with moisturizer, and always wear sunscreen during the day.
Does it work? 
As you can guess from my juicy results, I'm obsessed with my Droplette. My skin has a hard time holding onto moisture, and most hydrating serums merely sit on top of my complexion instead of penetrating deep into the pores.
The Droplette's collagen capsules, however—which include peptides and argireline to promote lift and smoothness, vitamin C to support collagen synthesis, and turmeric for antioxidant power—ensure that precious hydration actually gets to work and plumps my skin from the inside out.
I deal with pretty stubborn dark spots post-breakout—but with the Droplette, I noticed them fading twice as fast. Gavini isn't surprised by my experience: "People often treat [dark spots] at the top level, but the skin underneath is also pigmented," she explains. "Until that completely goes away—which can take four to six months—it's not going to look like it's working. But because we get deeper delivery, you can target those under skin layers and get clearance a lot faster."
I've also seen amazing results with the 17-Volt Lip Plumper. These capsules shuffle ingredients like hyaluronic acid and collagen past the lip skin barrier, increasing the surface area up to 40% for up to six hours—totally pain-free, compared to traditional plumping agents like peppermint oil and cinnamon.
After testing this one-minute treatment, my lips looked instantly softer and more pouty; I would just recommend treating your lips before applying lip balm, oil, or gloss, as you want the mist to penetrate deep into the skin without any sort of barrier.
Is it worth it? 
The Droplette 2 costs $199, and it rivals the results of in-office treatments (filler, lasers, and the like), which can cost upwards of $500. I'd consider that a worthy investment!
No, it will not immediately transform your face the same way fillers and lasers might, but it is a far gentler alternative that prioritizes the health of your skin barrier.
My one callout is that the device is only compatible with Droplette's capsules. You can't pop in your own favorite serums and expect them to turn into a powerful mist. But Droplette's capsules are very high-quality—they might even replace your go-to retinol or humectant serum entirely.
If you are sensitive to retinol or glycolic acid, I would suggest patch testing and proceeding with caution. The point of the Droplette is to deliver skin care ingredients deeper into the skin—those with any sensitivities might not want potentially-irritating ingredients to penetrate that far into their pores. Sure, more water, proteins, and peptides won't hurt (so feel free to use those collagen capsules as you please), but I'd consult a professional before misting with some of the more potent actives.
"We are considering the idea of a 'sensitive skin mode' for retinol," says Gavini, but until that idea comes to life (say, in the next Droplette generation), I'd stick to your sensitive skin-approved formula.
The takeaway 
If you're curious about non-invasive skin treatments, I highly consider giving the Droplette Micro-Infuser a whirl. The high-tech mist targets a host of complexion concerns—from sagging, to dark spots, to fine lines and wrinkles—and with consistent use, the results are pretty extraordinary. Consider it the Swiss army knife of non-invasive skin care.

Jamie Schneider
Beauty & Health Editor
Jamie Schneider is the Beauty Editor at mindbodygreen. She has a B.A. in Organizational Studies and English from the University of Michigan, and her work has appeared in Coveteur, The Chill Times, and more. In her role at mbg, she reports on everything from the top beauty industry trends, to the gut-skin connection and the microbiome, to the latest expert makeup hacks. She currently lives in Brooklyn, New York.