Lip Gloss Is Officially Dead — Or Is It?

mbg Beauty & Wellness Editor
By Jamie Schneider
mbg Beauty & Wellness Editor
Jamie Schneider is the Beauty & Wellness Editor at mindbodygreen. She has a B.A. in Organizational Studies and English from the University of Michigan, and her work has appeared in Coveteur, The Chill Times, and Wyld Skincare.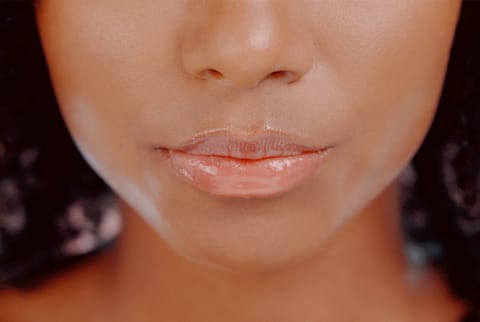 Image by katleho Seisa / iStock
May 5, 2023
Our editors have independently chosen the products listed on this page. If you purchase something mentioned in this article, we may
earn a small commission
.
One of the biggest beauty trends of the year is no doubt glazed doughnut everything. I'm talking glazed skin, glazed nails, and, yes, glazed lips. Read: a pout so shiny and plump it appears drenched in moisture, the surface smooth and glasslike.
To achieve that patent leather shine, you might gravitate toward a layer of lip gloss. But according to consumer data from Spate, searches for lip gloss are actually on the decline, with a 9.8% dip year over year. So how, then, are beauty fans still glistening and glazed?
Advertisement
This ad is displayed using third party content and we do not control its accessibility features.
Allow me to declare: Lip gloss is not dead—it has only evolved. The consumer language has simply shifted toward lip oils, treatments, and luminizers. The difference is mostly semantics, though there are a few distinctions to note. Here, we'll explain everything you need to know.
What is lip gloss?
"Traditionally, 'lip gloss' is more associated with imparting shine on the lips," says cosmetic chemist Victoria Fu, co-founder of Chemist Confessions. It's what gives your pout a plump, juicy appearance, and it's more about the aesthetics (if I had to generalize). Of course, many lip glosses also contain good-for-skin ingredients, but rarely would you use only a gloss to give your lips some nourishment.
"Common ingredients used in lip glosses can be ingredients like hydrogenated polyisobutene to serve as both a film former that handles pigment well and adds shine, vitamin E to nourish lips, and plant oils," says cosmetic chemist and Chemist Confessions co-founder Gloria Lu. That hydrogenated polyisobutene is what gives glosses their viscous, vinyl-like appearance on the surface.
What is lip oil?
Lip oils, on the other hand, deliver just a hint of sheer pigment. Lip glosses do have less pigment than, say, lipsticks, but they do create more of a film over the skin; whereas lip oils tend to have even more of a lightweight look and feel.
"They are typically less sticky than lip glosses and have a higher load of oils to leave lips with more of a hydrated feel," notes Fu. Hence the term lip oil.
Advertisement
This ad is displayed using third party content and we do not control its accessibility features.
Lip gloss vs. lip oil 
Now here's the thing: Lip glosses and lip oils are more marketing terms than actual formula categories. "Honestly, hear it from the formulators: We can manipulate the texture, finish, and after-feel of lip products. That means the finish can vary widely!" says Lu.
So you can totally have an ultra-hydrating lip gloss and a sticky lip oil, and vice versa. You could have a highly pigmented lip oil and a sheer tinted gloss. Both products can include plumping agents, like peppermint oil or hyaluronic acid, as well as yummy, nostalgic flavors. These are not strictly defined brackets!
Cosmetic chemist Javon Ford even considers the categories one and the same: "The difference between lip oil and lip gloss is that lip oil is considered a skin care item that actually nourishes and moisturizes your lip with natural oils, but lip gloss does that, too," he says over TikTok. "And it's not like the oils are that different—sometimes they're the same."
Very rarely will you find a plant oil as the first ingredient in a gloss or lip oil formula, he adds (aside from the Kosas Wet Lip Oil Plumping Treatment Gloss, which features castor oil as the first ingredient); oftentimes, the glosses are just as nourishing as the lip oils—lip oils just tend to be thinner in consistency with a more diluted color.
Why are people so into lip oils right now? 
"It probably has to do with the skinification of makeup and consumers wanting more of a long-term benefit along with the fun color," says Fu. There's something about the term lip oil that sounds more nourishing for the lips—even if the ingredient list itself looks pretty similar to that of a gloss.
An example that comes to mind is the rhode peptide lip treatment, which became an instant cult hit and sold out multiple times (call it the Hailey Bieber effect). The first ingredient is actually hydrogenated polyisobutene—similar to a gloss!—but it's marketed as a treatment that implies more of a skin health approach to makeup. The shea butter and peptides certainly feed your skin essential nutrients, but the formula delivers enough shine to technically be considered a gloss or oil. Again, we can chalk it all up to marketing.
Advertisement
This ad is displayed using third party content and we do not control its accessibility features.
What to look for in a lip product 
No matter which lip product you choose—gloss, oil, stain, et al.—you'll want to make sure it stays hydrating. The clean lip care space is brimming with innovative, nourishing formulas that don't sacrifice bold color, so it's never been easier to find those functional makeup hybrids.
If you really want to dial up the moisture, you can also swipe on a lip balm underneath the gloss, which will provide a barrier between any potentially drying or irritating ingredients. I personally love applying mindbodygreen's lip balm on top of a mauve lip liner, using my finger to blend before applying lip color—the perfect my lip, but better combo, IMO.
In terms of selecting either an oil or gloss, Fu and Lu recommend choosing based on color payoff. "Finish is also very important, but it can be a personal preference," Lu says. "Some lip glosses tend to be too sticky, and some lip oils don't last very long, but it's pretty hard to know just based on looking at the ingredients."
You'll likely have to test a few formulas before finding your go-to product. Great news: Your new favorite lippie lies just ahead.
The takeaway  
The verdict? Lip oil and lip gloss are very, very similar—some experts (like Ford) even consider them one and the same. While lip oils tend to be thinner and more sheer than glosses, think of the former category as more of a shift in consumer language. At the end of the day, finding a hydrating, nourishing lip product will never steer you wrong, be it a gloss, oil, plumper, stain, stick… I could go on and on.