A 7-Day Yoga Plan To Help Elevate Your Practice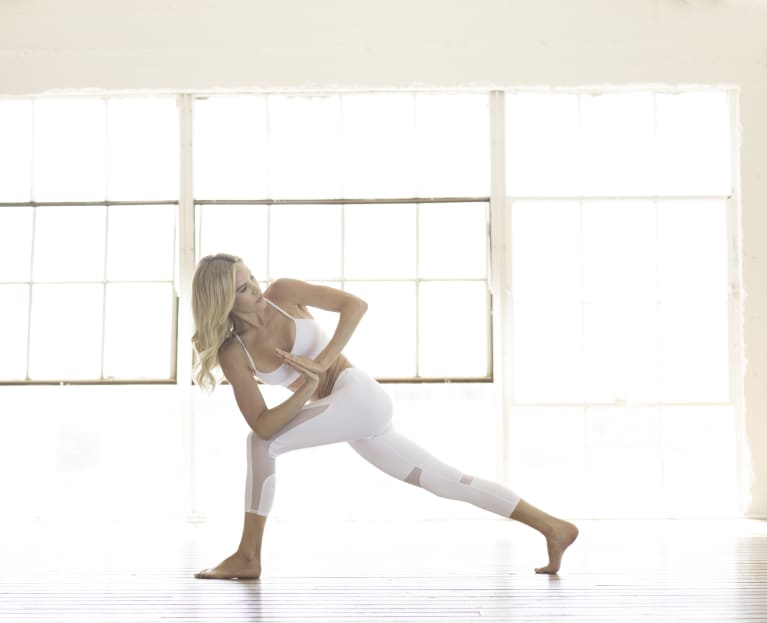 As you've been spending more time at home, you've likely been eager to find more ways to incorporate movement into your life, from the comfort of your living room. One form that is always a good idea is yoga—for both mental and physical benefits. Practicing yoga regularly can help improve flexibility, give you a more positive outlook, reduce stress, and even help you sleep better.
My personal yoga practice tends to shift depending on what my schedule looks like and also on what my body and mind need—and that, of course, changes from day to day. In general, my personal practice is a mixture of maintenance, grounding, learning, and playing. Here, I've put together a guide to what a standard week might look like on my mat. Whether you're new to yoga or looking to add a bit more to your daily life, hopefully this seven-day guide will give you a bit of inspiration and help you piece together your own consistent practice.
I usually start my week with an energizing vinyasa flow to get my blood moving, the oxygen flowing, and to clear out any stagnant energy that might have built up while I was sleeping.
I also like to incorporate an intention-setting flow into my Monday practice or on the first day of the month to help me create focus for the week or month ahead.
Another one of my favorite morning yoga flows is a short but intense core-focused flow. Not only does it help me strengthen my center, but this type of sequence also helps me feel confident and empowered before walking into my workday.
I also try to do a gratitude practice every single day. My gratitude practice has changed my life in so many ways; it is truly one of the simplest yet most powerful paths to transformation.
Wednesdays are usually a really busy day for me with clients, so I'll usually do a quick meditation in the morning just to center my energy and mind. Then during my lunch break, I'll do a quick midday yoga flow to boost my metabolism, which keeps me going through the rest of my client sessions.
Some days, I'll simply do five sun salutations before I walk out the door. Sun salutations are a great way to center your focus, get your energy moving, and stretch out tired muscles in a pinch. At the end of the day on Friday, I like to do a deeper meditation to re-center myself. I love this 15-minute meditation to come back to yourself from my friend Susy Schieffelin.
On Saturday I usually take a rest day. You can do yoga every day, but remember that it's important to take breaks too! Too much of a good thing is well, a thing.
Over the weekend I like to get playful with my practice. I love acro yoga, or I'll play around with my handstand practice. Having an element of play is something that I work on with my clients a lot. It can be really empowering to not take things so seriously, to laugh and to try out new things during your yoga practice.