5 RD-Approved Snack Ideas To Enjoy While Working From Home

Registered Dietitian
By Adrienne Ngai, R.D., MSc, CDE
Registered Dietitian
Adrienne Ngai, R.D., MSc, CDE, is a board-certified Registered Dietitian, Certified Diabetes Educator, and a healthy weight loss and mindset coach.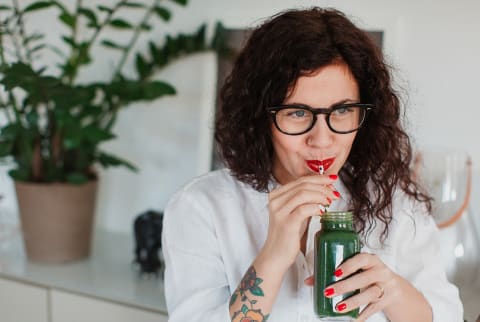 Image by Johner Images / Getty
January 13, 2021
If you've been fortunate enough to work from home (WFH) for the last nine or so months, you know that having your desk just feet away from the pantry can be both a blessing and a curse. Whether you're feeling peckish or just looking for a distraction, it's all too easy to reach for the most accessible fuel—which may not always be the healthiest option.
There are plenty of healthy snack options that are easy to put together in the middle of the workday. These five satisfy a variety of cravings and textures and will keep you both fueled and energized all day long:
1.
Best for a salty craving: Popcorn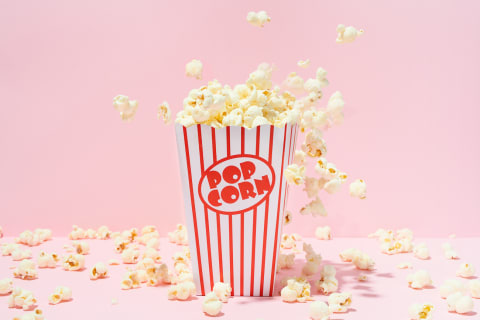 Image by Jeff Wasserman / Stocksy
Popcorn is a whole grain, adding fiber to your day. It's also light and airy, so you can have a few cups without the added calories. To make freshly popped popcorn in just two minutes, all you need is a microwave, a paper bag, kernels, oil, and some salt (or sugar if you prefer kettle corn). Top off your popcorn with a sprinkle of nutritional yeast for added protein, vitamins B6 and B12, plus a plant-based cheesy flavor.
2.
Best for variety: Mini charcuterie platter
A mini-charcuterie platter at work is a fun way to snack. Options like string cheese and turkey pepperoni are single-portioned, making them an easy addition to your snack plate. They are also protein-rich and have some fat, which help you feel fuller longer. Add a handful of grapes, or slice a small apple or pear, and you've got a gourmet looking (and tasting!) platter.
3.
Best for salty *and* sweet: Nut butter toast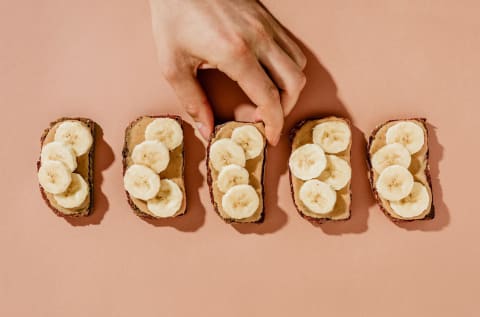 Image by Tatjana Zlatkovic / Stocksy
Can't decide between salty or sweet? Enter: peanut butter or the nut/seed butter of your choice. Aside from satisfying a range of flavors and pairing well with just about everything, nut butters are also full of healthy fats and contain protein and fiber to keep you energized and full throughout the workday.
Enjoy a tablespoon of your favorite nut or seed butter with a slice of toasted whole-grain bread for a nourishing snack. Consider topping the toast with bananas, cinnamon, or flaxseeds for extra nutrients and flavor.
4.
Best for nutrient density: Green protein smoothie
Worried you may be lacking fruits and veggies in your daily diet? Smoothies are a seamless way to pack a variety of vitamins and minerals, as well as protein, fat, and fiber into snack time. Using these five easy steps and recipes will guarantee a powerhouse smoothie every time. My personal favorite includes a couple of handfuls of spinach, 2 tablespoons of hemp hearts, 1 cup of frozen blueberries, and some almond milk.
5.
Best for a sweet tooth: Apple chips and dip
Image by Lauren Miller / Stocksy
Most apple chips are made with just one ingredient: apples. The fibrous fruit is simply dehydrated to become a crispy and sweet snack. To keep hunger at bay, pair it with proteins and healthy fats, like this homemade Greek yogurt dip.
¾ cup of 1% or 2% fat, plain Greek yogurt
1 teaspoon honey or maple syrup
½ teaspoon of vanilla extract
sprinkle of cinnamon, if desired
Bottom line.
When snacking (and having a meal, for that matter), try to take time for yourself and eat without distractions. Fully immerse yourself and take notice of the taste, texture, and flavors of the foods. This will give your taste buds more delight, and you'll feel more satisfied if you are enjoying each bite.

Adrienne Ngai, R.D., MSc, CDE
Registered Dietitian
Adrienne Ngai, R.D., MSc, CDE., is a board-certified Registered Dietitian, Certified Diabetes Educator, and a healthy weight loss and mindset coach. She earned a BSc in Food and Nutrition from the University of British Columbia and an MSc in Human Nutrition from McGill University.
Ngai has struggled with weight, body image, and a healthy relationship with food growing up. After several ER incidents, she was challenged to address her issues with chronic dieting and body image to create a healthy lifestyle she has always envisioned for herself.
Now, Ngai helps busy professionals lose weight and keep it off, create a healthy relationship with food, and reverse and prevent chronic diseases through a holistic approach combined with her dietitian expertise.
She has been featured in Reader's Digest Best Health Magazine and HealthyFamilies BC. Adrienne and her husband live in Vancouver, BC, Canada. Follow her on Instagram @adrienne.rd for nutrition tips and recipes.