The One Protein-Packed Food This RD Eats Every Day For Immune Strength

mbg Social Media Associate
By Olivia Giacomo
mbg Social Media Associate
Olivia Giacomo is mbg's Social Media Associate. A recent graduate from Georgetown University, she has previously written for LLM Law Review.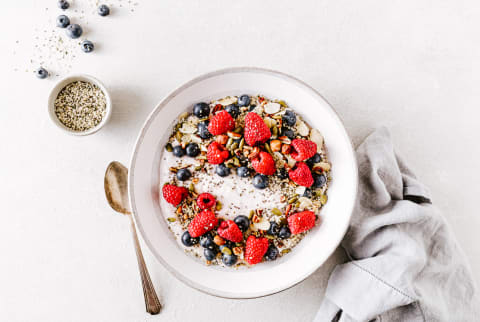 Image by Darina Kopcok / Stocksy
February 11, 2021
When it comes to food philosophies, Desiree Nielsen, R.D.'s is one of our favorites: "Eat as many single-ingredient, whole-plant foods as humanly possible, and don't sweat the rest (unless you have some sort of therapeutic need to do so)."
Without demonizing any particular food, she encourages a plant-based diet, which she shared with co-founder and co-CEO Jason Wachob on Episode No. 151 of the mindbodygreen podcast. And while this philosophy opens the door to many nutritious options, the one food she's particularly a fan of is hemp hearts: "One of the foods I eat probably every day without fail is hemp hearts."
Why hemp hearts?
There are a multitude of reasons Nielsen is such a strong proponent of hemp hearts (also known as hemp seeds), and the first is versatility. Blended into a smoothie for added creaminess or placed on top of a bowl of savory oatmeal, hemp hearts are "so easy to add to almost any meal."
From a nutrition perspective, 3 tablespoons of these nutrient-dense guys "will give you 10 grams of plant-based protein, which is remarkable in such a small amount." This is especially important if you've just started eating a plant-based diet and are needing to bolster your protein intake.
Not only is this protein accompanied by vitamins, minerals, and fiber (as is true of many plant proteins), but hemp hearts contain many minerals that people often lack: "Our immune system needs those minerals: the magnesium that helps us chill out and keep that gut-brain connection in balance. There's tons of magnesium in them and tons of manganese, which is important for cellular energy."
The takeaway.
While it's important to maintain a varied diet, there are certain superfoods that merit daily consumption. Consider incorporating hemp hearts into your diet to support your immunity from the cellular level, and remember that a sense of playfulness and creativity can go a long way when it comes to nutrition.