The Eco-Friendly Camper's Checklist: What To Pack & What To Leave Behind

mbg Sustainability + Health Director
By Emma Loewe
mbg Sustainability + Health Director
Emma Loewe is the Senior Sustainability Editor at mindbodygreen and the author of "Return to Nature: The New Science of How Natural Landscapes Restore Us."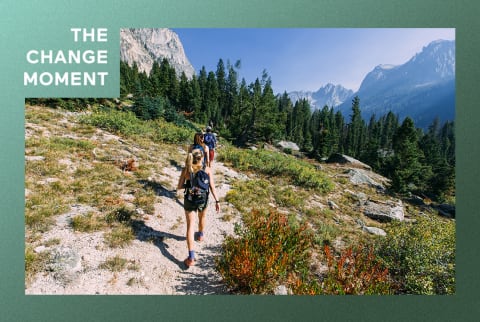 Image by mbg creative X Gadd Ray / Contributor
April 12, 2022
Our editors have independently chosen the products listed on this page. If you purchase something mentioned in this article, we may
earn a small commission
.
When was the last time you had a change moment—an "aha" realization that set you down a new path? This April, in honor of Earth Month, mindbodygreen is hoping to inspire these moments through thoughtful storytelling about our planet. Welcome to
The Change Moment
, where you'll find personal stories, expert-backed tips, and thoughtful primers that will change the way you think about what sustainability really means and how to put it into practice. This Change Moment article is brought to you by
Columbia Sportswear
,
a company dedicated to creating innovative outdoor products while preserving your favorite places for adventure.
Advertisement
This ad is displayed using third party content and we do not control its accessibility features.
The arrival of spring always reminds me of my first night camping under the stars. Granted, it was in my own (literal) backyard with my mom when I was 6, but it was still a thrill to pitch a tent, live by lamplight, and fall asleep to the sound of the crickets. Many years and a few backpacking trips later, I have an even stronger appreciation for all the wonder, perspective, and joy that a night outdoors can bring. But if there's one thing about that initial camp I long for the most, it's the fact that we didn't have to pack for it.
Packing for camping trips can be a pain, especially in the beginning. To help save you some headaches, we asked three people who spend tons of time outdoors—founder of Latinx Hikers Adriana Garcia, outdoor photographer Kat Carney, and sustainability strategist Meg Haywood Sullivan—about their go-to packing lists.
Here's what they recommend bringing for a weekend away this spring or summer, plus some of their top tips for reducing your hike's impact and leaving the trail just as beautiful as you found it.
Clothing:
Socks (bring an extra pair!)
Underwear
Moisture-wicking shirts
Quick-drying pants
A warm, lightweight jacket
A sun hat
Hiking boots or trail runners
Sandals or shoes to change into after your hike
"The most essential bit of clothing for any backpacking trip, no matter how long, is good socks," Sullivan says, emphasizing that you'll want to bring an extra pair or two. That way, you'll have fresh ones to put on to keep your feet warm at night and dry after a long hike. (Getting blisters in the backcountry is zero fun.)
Even if you're heading out in the height of summer, Sullivan adds that it's also a good idea to pack extra layers. "I always have a compressible down jacket. You never know when you'll need it—especially in the mountains," she says. "You'd be surprised as the weather gets nicer how chilly it still is at night."
Top off the look with a hat for sun protection. Sullivan notes that heading to the trail is the perfect time to bust out one of those baseball hats that have been gathering dust in your closet all winter.
Advertisement
This ad is displayed using third party content and we do not control its accessibility features.
Food & food storage:
Reusable food wraps
Reusable water bottle and/or hydration bladder (plus a way to treat your water)
Reusable food bags
Snacks & prepacked meals
Jet boil or another water-heating tool
Reusable plate, mug, cutlery
Instant coffee or tea
A cooking pot
First things first, you'll need to make sure you have enough clean water to last you the whole trip, so bring a water treatment tool. (You can find portable filters and tablets in any outdoor retailer.) You can store your H2O in a hydration bladder, which Carney says is a nice way to save weight and space in your pack. Putting it in a reusable bottle is also an option. Carney and Haywood opt for metal ones because they're durable and plastic-free.
Then comes the fun part, the food! Trail snacks are a must, and you can save on some pesky packaging by making your own ahead of time and storing them in reusable Stasher bags (great for small stuff like nuts) or Beeswax wraps (ideal for sandwiches and cheese). Trail mix with peanut M&Ms, apple slices with aged Gouda, and homemade gluten-free protein brownies are all fuel you'll find in these adventurers' packs. Coffee is optional on the trail for some people, but if you're not one of them, Sullivan says that Canyon Coffee's instant coffee is the best of the best.
Nut butter sandwiches are a great option for lunch, while dinner can be your opportunity to get a little fancier. Garcia notes that while freeze-dried meals are standard camping fare, homemade pre-prepped meals tend to be healthier and tastier, plus they come with less packaging. She'll head to the bulk bin section of her local grocery store to stock up on staples like oats, rice, and dry pasta before a trip. You can load these base ingredients up with nonperishables like nuts, canned fish, freeze-dried vegetables, and spices. Just add boiling water and you have yourself a meal.
Lightweight, portable Jetboils are a popular cooking system among many backpackers, and Garcia also recommends the Sea to Summit X-Pot, made from heat-resistant collapsible silicone. "I really like that pot because you can saute things in the bottom of it and you can also use it to boil water, so it has more than just one use." Be sure to pack a reusable fork and spoon (or spork!) to gobble it all up with.
Advertisement
This ad is displayed using third party content and we do not control its accessibility features.
Personal care:
Insect repellent
Sunscreen
Chapstick
Hand cream
Toilet paper or antimicrobial cloth
WAG Bags or trowel
Period panties or menstrual cup
Castile soap
Toothbrush and biodegradable toothpaste
Small towel
Medication/supplements
Part of the fun of camping is letting yourself get a little dirty so you won't need much in the way of personal care on the trail. The essentials include lip balm, some nontoxic sunscreen, natural bug spray (or the heavy-duty stuff if you're in an area that has ticks), hand cream if you're traversing rough terrain, and maybe a toothbrush, toothpaste, and soap (depending on how much you like your camping mates). Sullivan notes that water-free toothpaste tablets are perfect for the backcountry, while Carney just brings her regular toothpaste in a repurposed moisturizer container. "It has a screw-on lid and a wide top so I can squeeze the toothpaste in really easily," she says of the quick hack.
Whenever you're washing up outdoors, you'll want to use natural toothpaste and biodegradable soap that won't stick around in the environment. Castile soap is a plant-based option that can be used in tons of ways at camp: "I use that for washing my dishes, washing my face, washing my hands, everything," says Garcia.
Finally, for when duty calls, know the waste regulations in the area you're camping. Different parks have different rules, which will dictate if you have to bring a shovel or to-go bag. (Yes, leave no trace extends to that too.) In lieu of toilet paper, Garcia likes easy-to-wash antimicrobial pee cloths like Kula's, and if it's that time of the month, she'll throw in a pair of period underwear or a menstrual cup.
Advertisement
This ad is displayed using third party content and we do not control its accessibility features.
Camp & safety:
Pillow (optional; you can also just bunch up some clothes)
Sleeping bag
Sleeping pad
Tent or tarp
Lantern
Headlamp
A multi-tool
Paper and pen
Book
Charged cellphone
Bear spray if needed
First aid kit
This list covers the basics of what you'll need at camp to stay cozy, dry, and safe. It's sometimes possible to rent larger items like tents from your local state park network or outdoor retailer. Asking friends if they have gear to lend can also save you some cash. Anything you do end up buying, you can consider an investment piece. "Think of them as future heirloom pieces," says Sullivan, "because camping gear is only designed to be purchased once and used for as long as possible."
Don't forget to pack a pen and paper or a good read to help lull you to sleep (though it's easier to doze off in a tent than you might think). This will also give you a place to jot down all the insights that find you after a day in the outdoors.
Advertisement
This ad is displayed using third party content and we do not control its accessibility features.
Packing it all up.
Once you've gathered your supplies, you can organize them into categories like underwear, first aid, and camp gear using packing cubes. Stuff the heavier stuff in your backpack first so you're carrying the most weight at your hips. Be sure the must-haves you'll be reaching for all-day—lip balm, water, snacks, sunscreen, etc.—are easily accessible in your pack's side or front pockets.
Haywood recommends keeping at least one pocket empty, though, to serve as a personal trash can. "Not only do I use that as a trash spot for things like snack packaging, but if I see trash on the trail, it gives me an area to put it," she says.
With that, you're ready to explore tons of new parts of the outdoors this year, leaving behind only a light footprint.