It's Probably Time To Update Your Oral Care: Try These 10 Natural Toothpastes

Beauty & Health Editor
By Jamie Schneider
Beauty & Health Editor
Jamie Schneider is the Beauty Editor at mindbodygreen. She has a B.A. in Organizational Studies and English from the University of Michigan, and her work has appeared in Coveteur, The Chill Times, and Wyld Skincare.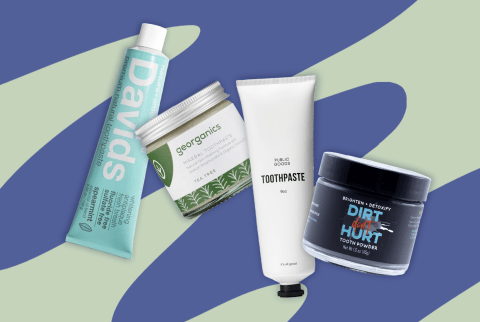 February 19, 2021
We carefully vet all products and services featured on mindbodygreen using our
commerce guidelines.
Our selections are never influenced by the commissions earned from our links.
Quick question: How often do you think about your toothpaste? If your answer is a resounding, Uh, not really, let's take a moment to chat about your trusty tube. Traditional pastes may contain sodium lauryl sulfate (or SLS), which is what gives them that quintessential, foamy mouthfeel. The problem is, sulfates can potentially irritate your soft oral tissue1 and disrupt the microbiome (which some experts say can lead to chronic bad breath in the long run!); it's similar to why you might stick to a sulfate-free shampoo in the shower—they may not foam into a sudsy lather, but that doesn't make them any less cleansing.
In terms of fluoride, it's a stickier tale: Some functional dentists recommend avoiding the ingredient altogether, but the American Dental Association says it's safe to use and essential for strengthening the teeth and making them more resistant to decay—for now, it's really about personal preference.
Regardless, if you stick to natural-leaning products for your skin and hair, why put toothpaste on the back burner? It's a product most of us use at least twice a day, and you can find a slew of market options to keep your teeth clean, your gums strong, and your smile sparkling white.
Davids Premium Natural Toothpaste
A fluoride-free, SLS-free, and EWG-verified toothpaste, with an unbeatable minty-fresh feel. No artificial flavors or sweeteners, here—just peppermint, spearmint, orange peel oil, and stevia for a sensorial brushing experience.
Premium Natural Toothpaste, Davids ($29.85)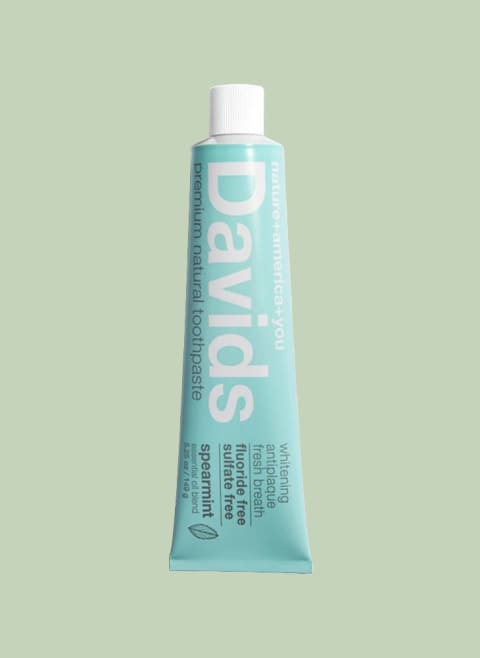 mindbodygreen
by Humankind Toothpaste Tablets
Since toothpaste tubes are notoriously difficult to recycle, tablets have become a popular eco-friendly option. They're preportioned, easy to use, (just pop one in, chew, and brush), and these tabs come in a cute, customizable glass container.
Toothpaste Tablets, by Humankind ($15)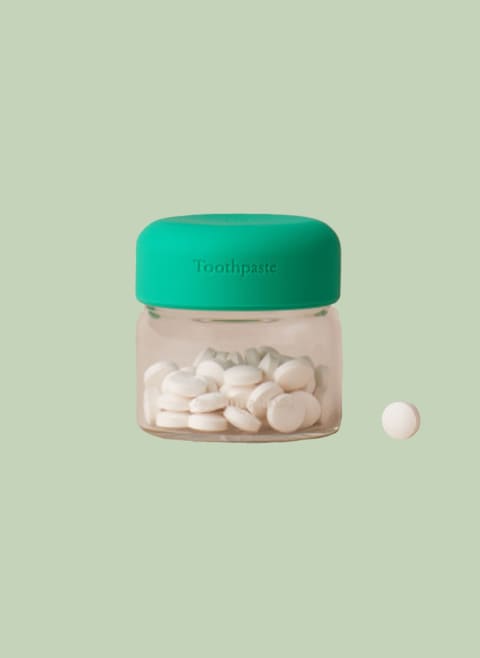 mindbodygreen
georganics Mineral Toothpaste Tea Tree
mindbodygreen
Dirt Don't Hurt All-Natural Activated Charcoal Tooth Powder
When it comes to natural teeth whitening, charcoal receives a ton of hype. The famed ingredient is beloved for drawing out impurities, including stains on the enamel—many anecdotally swear by it for keeping their smile bright white. Again, charcoal won't foam as you brush, so don't try to work it into a lather; gentle pressure is key with this dry powder.
All-Natural Activated Charcoal Tooth Powder, Dirt Don't Hurt ($25)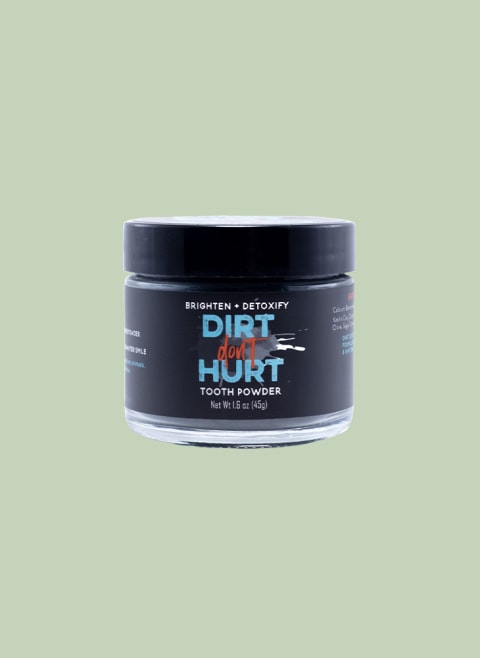 mindbodygreen
Public Goods Toothpaste
This fluoride- and SLS-free paste is thick and goopy (like your traditional gel toothpaste), and it features a dual-grit abrasive to buff away plaque and stubborn stains. With peppermint oil for taste, it's just like your conventional tube—just cleaner.
Toothpaste, Public Goods ($5.50)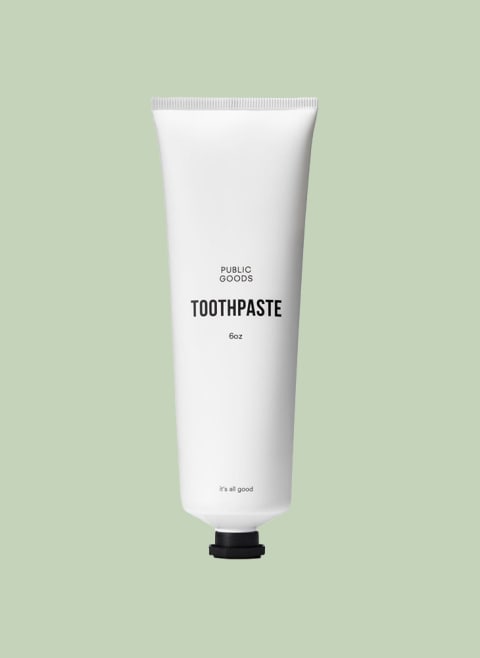 mindbodygreen
hello Sensitivity Relief Fluoride Toothpaste
If the mere thought of a whitening toothpaste has your gums shrieking, you'll love this soothing number with aloe and coconut oil. It has the highest level of potassium nitrate allowed by the FDA (that's what helps desensitize the nerves3), as well as menthol from natural mint.
Sensitivity Relief Fluoride Toothpaste, hello ($5.49)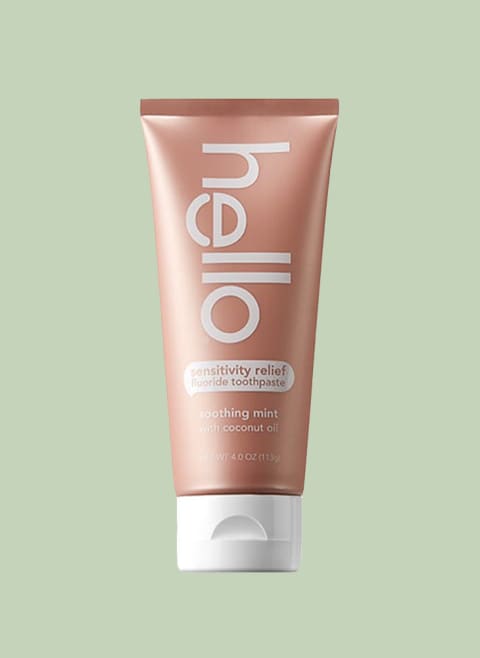 mindbodygreen
Tom's of Maine Spearmint Prebiotic Toothpaste
Did you know your mouth has a microbiome4, just like your gut and skin? Traditional oral care products sweep away all the bacteria, good and bad, for minty-fresh breath (as we alluded to above, some experts say blasting all the good bugs can cause chronic bad breath). This toothpaste contains the prebiotic ingredient inulin to feed those good bacteria and support the oral microbiome, and you still get that fresh spearmint taste.
Spearmint Prebiotic Toothpaste, Tom's of Maine ($9.69)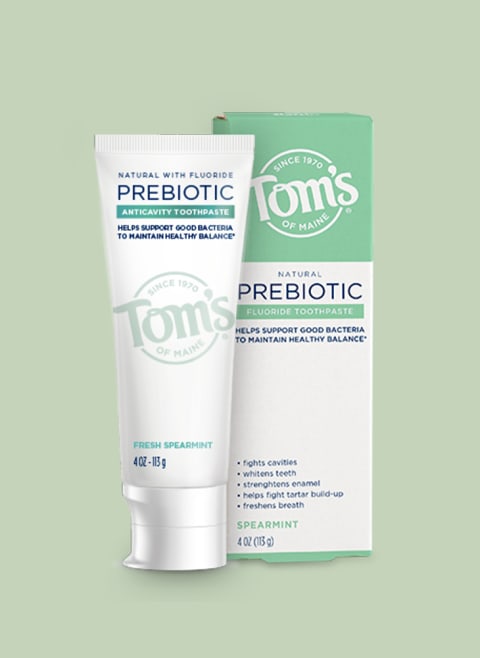 mindbodygreen
Weleda Salt Toothpaste
To an extent, your mouth is self-cleaning. Your saliva has antimicrobial properties5 and enzymes that help combat unwanted bacteria. That's exactly why this toothpaste contains sea salt, as it stimulates your saliva glands and kick-starts the self-cleaning process. There's also peppermint oil, so you don't feel like you're swishing saltwater.
Salt Toothpaste, Weleda ($7.99)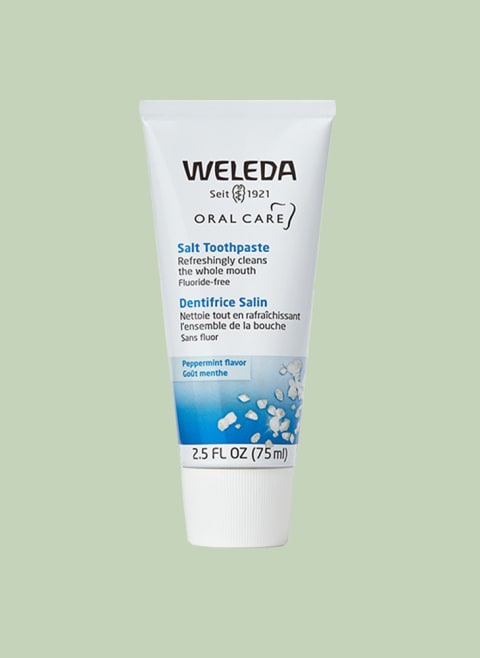 mindbodygreen
Burt's Bees Purely White Zen Peppermint Toothpaste Fluoride-Free
mindbodygreen
Kopari Travel-Size Coconut Charcoal Toothpaste
A charcoal toothpaste buffered with moisturizing coconut oil and a subtle mint flavor. For those of you hoping to hop on the charcoal toothpaste bandwagon but wanting to start slow, this paste is a great gateway item before dipping into powder formulas.
Travel-Size Coconut Charcoal Toothpaste, Kopari ($8)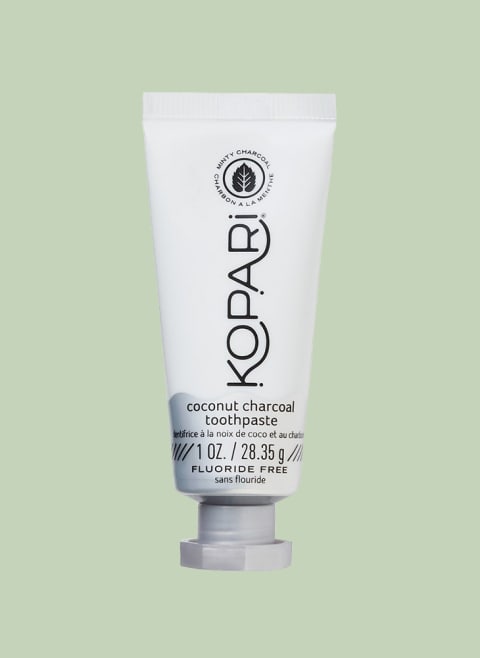 mindbodygreen

Jamie Schneider
Beauty & Health Editor
Jamie Schneider is the Beauty Editor at mindbodygreen. She has a B.A. in Organizational Studies and English from the University of Michigan, and her work has appeared in Coveteur, The Chill Times, and more. In her role at mbg, she reports on everything from the top beauty industry trends, to the gut-skin connection and the microbiome, to the latest expert makeup hacks. She currently lives in Brooklyn, New York.