What's The Deal With Toothpaste Tabs? What Dentists & Users Have To Say

mbg Sustainability + Health Director
By Emma Loewe
mbg Sustainability + Health Director
Emma Loewe is the Senior Sustainability Editor at mindbodygreen and the author of "Return to Nature: The New Science of How Natural Landscapes Restore Us."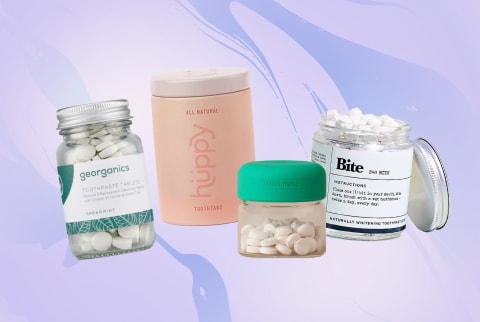 December 31, 2020
We carefully vet all products and services featured on mindbodygreen using our
commerce guidelines.
Our selections are never influenced by the commissions earned from our links.
Bathroom staples like floss, toothbrushes, Q-tips, and the like are notoriously difficult to recycle. Most of us use these items daily, meaning they can pile up in the landfill fast. As eco-consciousness picks up, a burgeoning market for low-waste personal care products has emerged, with toothpaste tabs at the helm.
The environmental benefits of toothpaste tablets.
Toothpaste tabs are made from powdered toothpaste that's condensed into tablets. They're small and solid, more closely resembling a pill than a paste. They can be packaged and shipped in recyclable glass or paper containers, negating the need for tubes—which are often made from a combination of plastics and aluminum.
Any time you combine materials, they become infinitely more difficult to recycle, so more often than not these tubes end up in landfills. (Estimates for how many we trash globally each year are well into the billions.) Some companies like Colgate's natural brand Toms of Maine are working on rolling out tubes that are completely recyclable but they likely won't be widely available for another few years.
In the meantime, recycling your tube through specialty service TerraCycle or opting for a tube-free tablet are the most eco-friendly choices when it comes to brushing.
Tablets also have the advantage of being water-free, so they're easier to ship and can have a lower carbon footprint. Since they're solid, they're also travel-friendly, and the preportioned size means you'll get a steady amount of paste with every brushing. And the most important benefit? No more fighting with your significant other about the best way to eke the last drop of toothpaste out of the communal tube.
A dentist's take.
Like gel toothpaste, toothpaste tabs come in many different flavors and varieties. When shopping around for one that will keep your pearly whites looking pearly and white, Mark B. Desrosiers, DMD, a member of the American Association of Endodontists and assistant professor at Boston University School of Dental Medicine, recommends ones that contain fluoride and an abrasive like calcium carbonate.
"I measure effectiveness in two ways, ability to remove plaque and stain without damage to the teeth, and effective delivery of fluoride to the tooth," Desrosiers tells mbg. "Along with abrasiveness, fluoride is essential. Fluoride acts to strengthen the teeth by making them more resistant to decay."
Fluoride, as you may have heard, is slightly controversial in the dental space. Since it has been found to be a developmental neurotoxicant1 in high volumes, some more holistic-leaning dentists will recommend steering clear of it (and potentially risk more cavities in the process).
The American Dental Association asserts that the naturally occurring ingredient is safe to use and essential for preventing tooth decay and cavities. The ADA seal marks products that have been shown to effectively deliver fluoride to the teeth.
Here's the kicker: You'd be hard-pressed to find a toothpaste tablet with this seal. An FDA loophole says that once a toothpaste tablet contains fluoride, it's technically a drug and needs to adhere to federal guidelines.
If you are looking for a tablet that contains fluoride, there are a few international options that have you covered (more on those below). If you're avoiding fluoride (again, some dentists caution against this, so maybe talk to yours first), you can have your pick from a handful of toothpaste tablets that are free of the stuff.
How to brush with toothpaste tablets.
No matter which one you use, a tablet will never deliver quite the same mouthfeel as a gel. The texture will always be a little less full and frothy. But Abby Cannon, J.D., R.D., CDN, a dietitian and low-waste lifestyle expert who has been brushing with toothpaste tablets for years, asserts that they do "get foamy."
To activate the foam factor, she says you just need to pop one into your mouth, chew it, and start brushing. One tablet is usually enough to last her a full two-minute brushing, but she knows of some people who have better luck using two at a time.
All in all, Cannon says the switch over to tabs has been painless. Though these tablets do tend to be more expensive, she appreciates that they can often be ordered on a subscription refill model, crossing another drugstore trip off the list and saving on packaging.
"The first time you purchase the tablets, they come in a little glass jar," Cannon, who uses Bite brand tabs, explains of the delivery process. "Every time you get a refill, it comes in a little bag that you can recycle or compost, and you just transfer it into the little glass jar." As for her teeth? They, like her environmental conscience, have fared well in the swap.
8 toothpaste tablet brands to look into:
1. Bite
One of the most popular brands for toothpaste tablets (or as they call them, "bits") in the U.S., Bite is an online marketplace for all your low-waste dental needs. On the Bite site, you'll find mouthwash tablets, refillable floss, plastic-free toothbrushes, and toothpaste tabs in the classic mint as well as specialty flavors like charcoal and champagne. Bite tablets have replaced fluoride with nano-hydroxyapatite (nHAp), a calcium crystal that they say does a similar job.
Bite Toothpaste Bits Fresh Mint, $30/4-month subscription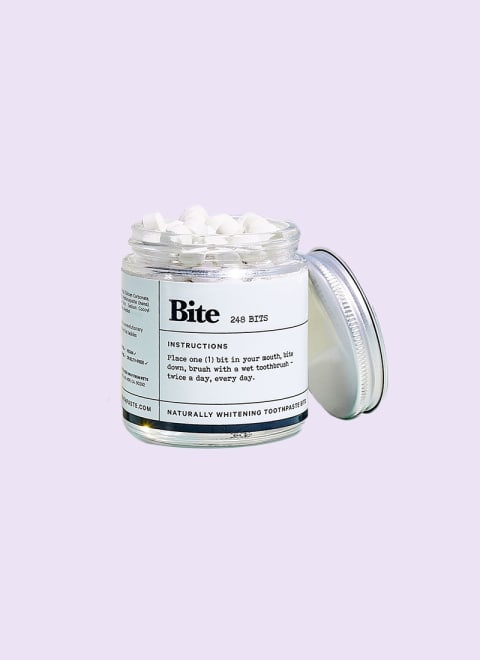 Bite
2. byHumankind
byHumankind's toothpaste tablets contain fluoride and are FDA-approved. The company also sells a number of other low-waste personal care products on a subscription model, from floss and mouthwash to deodorant and hand sanitizer, and sends them in refillable containers using carbon-neutral shipping.
byHumankind Toothpaste Tablets, $15/1-month subscription ($12 for a refill)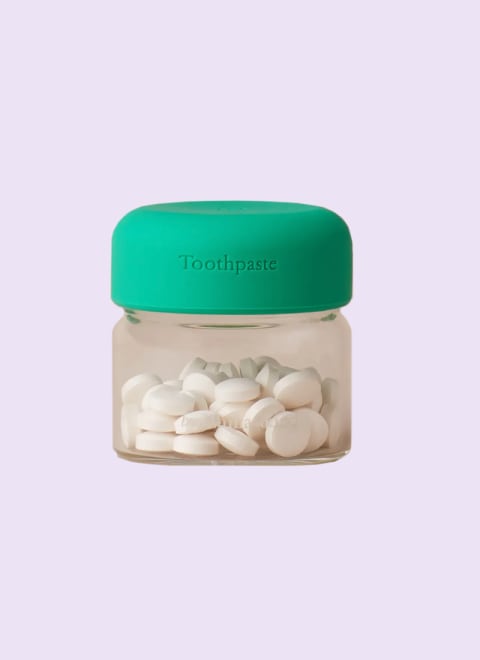 byHumankind
3. Unpaste
This German-based company offers fluoride and fluoride-free tablets in a standard mint flavor, packaged in a compostable foil bag.
Unpaste Tooth Tabs Mint, $9.35/2-month supply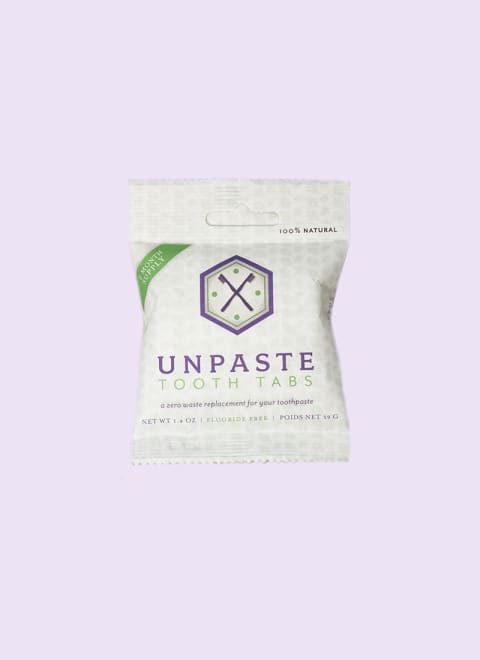 Unpaste
4. Hello
Hello prides itself on vegan-friendly toothpaste that's never tested on animals and is free of dyes, preservatives, and artificial sweeteners. You also won't find any fluoride in their tablets, which come in charcoal and antiplaque flavors.
hello antiplaque + whitening toothpaste tablets, $8.99/1-month supply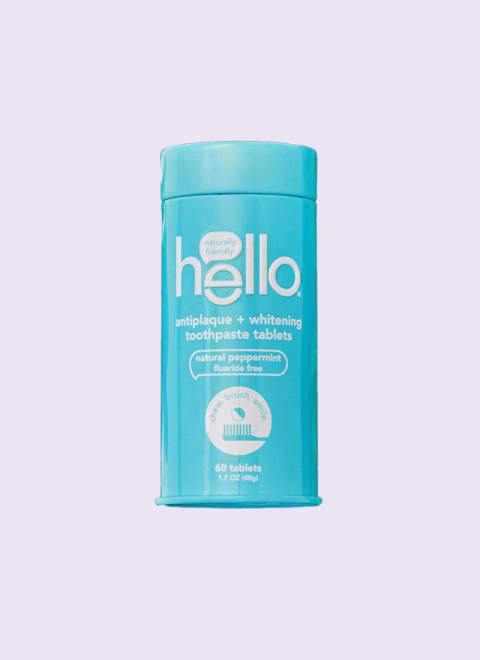 hello
5. Crush & Brush
Another fluoride-free option, Crush & Brush tablets have a short, digestible ingredient list. They come in mint and mint charcoal varieties. The latter has gotten high marks for its teeth-whitening abilities, with reviewers saying the difference is slow but noticeable.
Crush & Brush Mint Toothpaste Tablets, $12.99/40-day supply
Crush & Brush
6. Georganics
Georganics' toothpaste tablets are fluoride-free and contain organic ingredients. They aren't as foamy or minty as some other options on the list, making for a gentler teeth-brushing experience all around. The low-waste oral care company is based in the United Kingdom but ships internationally for a delivery fee.
Georganics Toothpaste Tablets Spearmint, $12/2-month supply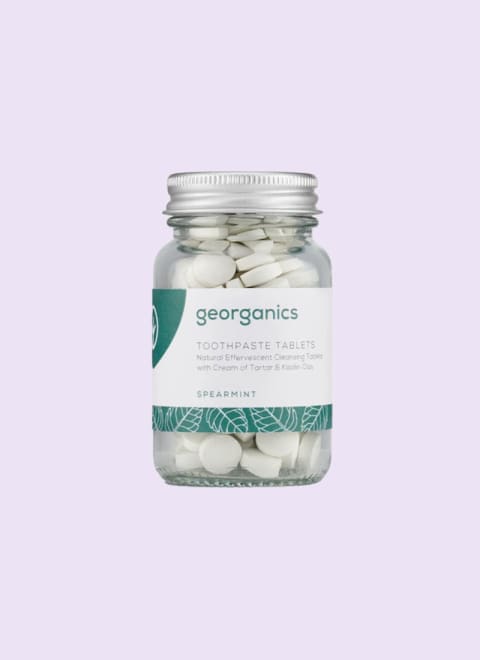 Georganics
7. Chomp
Started by folks who weren't satisfied with other toothpaste tablets on the market, Chomp tablets seek to deliver a fresh, foamy clean with no chalky aftertaste. They can be purchased on a subscription, with the first delivery arriving in a glass jar and refills in a compostable bag. For those who like a little heat, Chomp is one of the few toothpaste tab companies offering a cinnamon flavor.
Chomp Super Whitening Toothpaste Tablets, $12.95/1-month supply
Chomp
8. Huppy
What makes Huppy's fluoride-free tablets different are the added functional ingredients. Peppermint oil, aloe vera, and tea tree oil deliver a fresh flavor and nourishing feel. These tabs can be ordered solo or for a four-month prescription.
Huppy Zero Waste Toothpaste, $32/4-month supply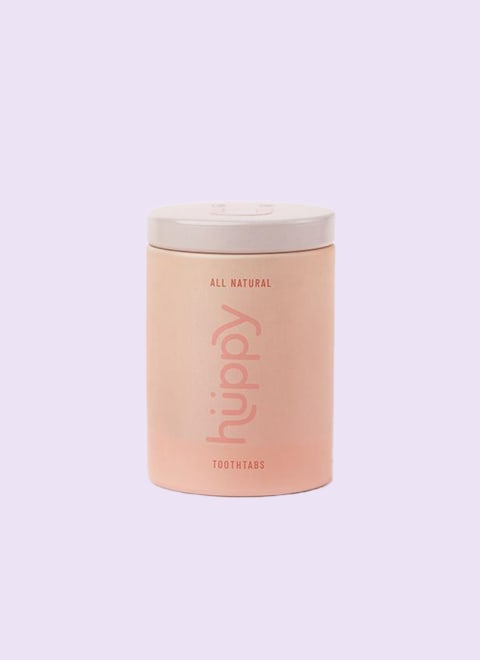 huppy
The bottom line.
Among a certain eco-sect, toothpaste tablets are an increasingly popular replacement to traditional paste. They come in recyclable (sometimes compostable) packaging and are easier to travel with. You can find toothpaste tablets in fluoride and fluoride-free varieties, with most dentists recommending the former. As of now, these tablets can't quite mimic the foamy mouthfeel of a paste—but there are now a number of brands on the marketplace working to perfect the formula for the sake of the planet.