5 Easy Ways To Keep Your Closet & Drawers Smelling Fresh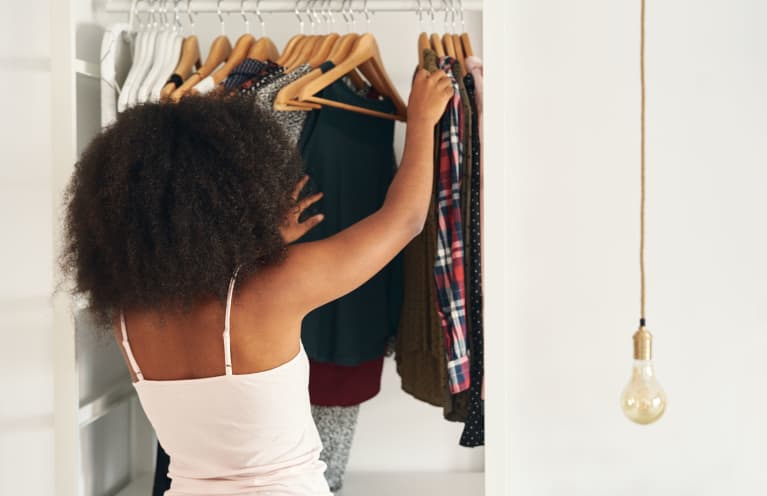 This article was produced to support the mindbodygreen supplements+ line. Our supplements adhere to the highest standards of ingredients and quality. We hope you enjoy these products, for more information
click here
.
Summer is in full swing, and you may notice your closet and drawers feeling a little stuffy or musty after a long winter. If your freshly cleaned clothes are smelling less than clean these days, here are five simple ways to mitigate odors and breathe new life into your wardrobe:
1.
Grab a box of baking soda.
Baking soda isn't just for keeping your fridge fresh! According to environmental toxin expert and the founder of Slightly Greener Tonya Harris, placing an open box of baking soda in areas with stagnant air, like closets and drawers, can help absorb some of those lingering odors.
2.
Use your favorite essential oils.
For an option that not only absorbs odor but also adds a pleasant scent, Harris says you can also fill a Mason jar or container with a half-cup of baking soda and a few drops of your favorite essential oil. "Simply shake this once a week to refresh the scent and the odor-absorbing qualities of the baking soda," she adds.
Similarly, Becky Rapinchuk of Clean Mama recommends putting a couple of drops of essential oil onto a cotton pad and placing them on a shelf in the closet. (Just don't place your pad directly on clothes, as essential oils can irritate skin.)
Have a bar of soap lying around that you're not using? Use it to freshen up your closet or drawers, Rapinchuk recommends. Just make sure it's still wrapped in paper, as you don't want soap residue getting onto the shelf or in your drawers.
4.
Make a lavender sachet.
Another option for refreshing your closet, Rapinchuk adds, is making your own lavender sachet. All you need for this DIY is some fabric, rice, and some dried lavender buds. If you're handy with a needle and thread, you can sew little pouches, but you could also simply tie them up with a string. Fill the pouches with rice and lavender so it smells strong enough for your liking.
5.
Leave your shoes out of the closet.
And last but not least, if you really want to ensure your closet stays as fresh as possible, Rapinchuk recommends keeping your shoes out of it. After all, no one wants to put on a shirt that smells faintly of feet.
Now that it's summer, taking a couple of extra steps to mitigate odors in your drawers and closet can go a long way toward keeping everything fresh and clean.