What Is Watercress? All The Benefits + How To Use It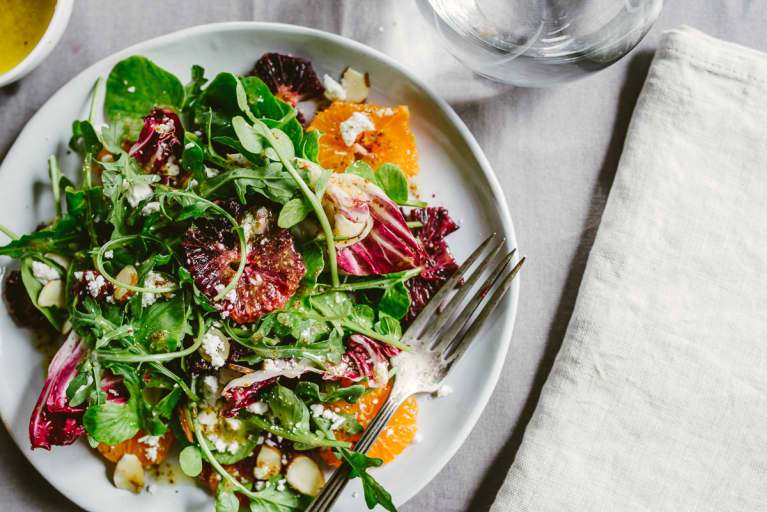 Our editors have independently chosen the products listed on this page. If you purchase something mentioned in this article, we may
earn a small commission
.
When it comes to leafy greens, watercress probably isn't the first to come to mind. In fact, it's often overlooked and underrated—but we're here to change that. If you're not familiar with watercress, let us introduce you. It's a green that has small, round leaves and almost looks like miniature spinach on a stem.
It's definitely bold in flavor and may take some getting used to, but if you learn how to pair it with other ingredients, the zingy bite can be quite enjoyable (more on that below). Basically, it's a vegetable that is worth adding to your diet—plant-based or otherwise. Keep reading to learn more about watercress, what it is, why it's good for you, and how to eat it.
"Watercress is a small leafy green vegetable with thick stems that shares the same cruciferous family as kale, Brussels sprouts, and cabbage," says registered dietitian May Zhu, RDN, of Nutrition Happens. As for taste, it's most similar to arugula with peppery notes that offer a nice contrasting flavor to any dish (especially more acidic ones).
Watercress is often used as a salad green or garnish, and you can eat it raw or cooked. But it's so much more than just a vibrant topping: "Watercress is nutrient-dense, meaning it contains a high level of vitamins and minerals relative to its calories," says registered dietitian Mia Syn, M.S., RDN.
Just like other leafy greens, watercress is chock-full of nutrients. Here are some benefits to adding watercress to your diet:
1.
It's rich in vitamin K.
According to Zhu, 1 cup of watercress provides more than 100% of the recommended daily value for vitamin K. Vitamin K is a fat-soluble vitamin and helps with bone health and blood clotting. Research suggests that vitamin K can increase bone mineral density and reduce fracture rates. Vitamin K is also necessary for blood clotting, which supports wound healing.
However, vitamin K does interact with blood thinning medications like warfarin (Coumadin). Talk with your doctor about how to best maintain consistent vitamin K levels.
2.
It may help collagen production.
3.
It's high in antioxidants.
"Antioxidants help protect cells against free radical damage," Zhu says. Free radicals can be harmful to both our cells and DNA.
4.
It may be one of the most nutrient-dense vegetables.
In 2014, watercress was ranked as the most nutrient-dense produce on the market, and it has yet to be dethroned. The list was created based on the amount of recommended daily value of nutrients, and watercress topped the charts with a perfect score.
5.
It can support your immune system.
Thanks to the high levels of vitamin C, watercress may help support your body's natural immune function by neutralizing pathogens and promoting the multiplication of lymphocytes—a type of white blood cell— that enhances the body's antibody response.
6.
It may be beneficial in pregnancy.
Because folate, vitamin B9, is found in watercress (3.69 micrograms per cup according to the USDA), it's a great dietary choice for mamas-to-be. Sufficient intake of folate protects against birth defects like spina bifida, and supports the overall health of expecting mothers (among other noteworthy benefits).
7.
It may support healthy skin.
Syn also notes that watercress is rich in beta-carotene, which research suggests can help support skin health, specifically smoother skin and elasticity.
How to use watercress + 4 recipes.
"Besides enjoying it raw in salads and sandwiches or as a garnish, you can add watercress to smoothies and soups, too," Syn says. If you're not sure about the peppery flavor in a salad, try mixing it with a variety of other greens and vegetables—like you'll find in the recipe for this spring abundance bowl.
Watercress is also easy to camouflage and blend into dishes, such as this watercress, broccoli, and roasted garlic pesto recipe.
There are a number of ways to enjoy watercress cooked, too. When you're feeling under the weather, add a handful to your favorite soup or use it as a base, like this immune-boosting soup Parisian women swear by. You can also mix it into a slaw, such as this Brussels sprouts slaw, for the perfect lunch or dinner side dish.
Zhu also notes that you can treat watercress like any other leafy vegetable: Consider sautéing, steaming, or baking it into different dishes, or simply tossing some into your morning omelet.
If you haven't tried watercress, it's certainly worth a taste. This leafy green is so densely packed with nutrients, it would be such a shame to keep it out of your diet. The peppery flavor pairs nicely with other ingredients, and it's easy to add the nutritious veggie to any main or side dish without much effort.