4 Natural Remedies Parisian Women Swear By For Spring Colds

By Emilie Durand
mbg Contributor
Emilie Durand is a French food lover, proud Parisian, and founder of The French Way to Health. On the website, she shares delicious recipes and French health tips and tricks, with a goal to gather and share the habits and rules used and approved by French people for decades.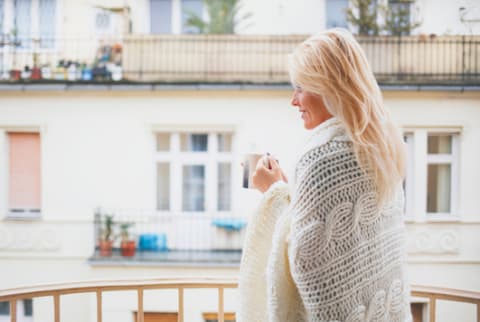 March 27, 2017
Every year at the end of winter or early spring, I get sick. Sore throat, stuffy nose, or just a sense of general tiredness. I blame the change of season—and this year is no exception. Last week I got the flu. I was exhausted, feverish, had sore muscles...yay. You've experienced it and if you're like me, all you want is to get rid of the symptoms as quickly as humanly possible.
Well, I just happen to possess an artillery of natural remedies, which are well-known by most French families, and they can certainly help to reduce the symptoms and accelerate your healing. These recipes and ingredients helped me for sure last week and I like to call them my "French flu blasters." Here are four that will help you approach this change of season with serenity:
1. Watercress soup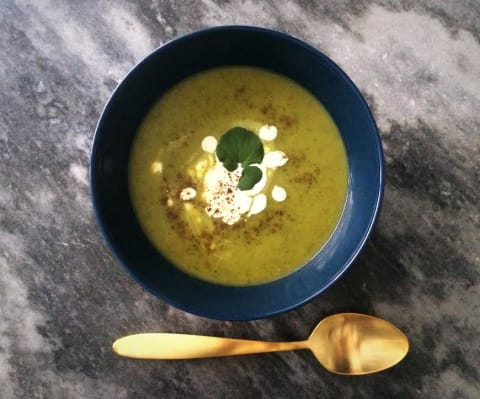 Say yes to watercress. Watercress is growing in the clear streams of France from October through April. The French like to pick them during their Sunday strolls or buy them from the farmers market. This little herb is a monster of vitamins and minerals and is especially rich in manganese, calcium, and iron—a real mineral bomb! We like to eat them very fresh in salads with a drizzle of vinaigrette or in a hot soup.
When I am not feeling well, hot soup is my go-to. The recipe for this soup is quite simple: a bunch of watercress, a potato, an onion, and vegetable stock. You cook the vegetables in a pot, covered with the stock. Once the potato is fully cooked, you add the watercress, let simmer for five more minutes and then you blend all of it. You just have to adjust the seasoning et voilà! If you can't get your hands on watercress, kale will do the trick.
2. Freshly squeezed orange juice and cinnamon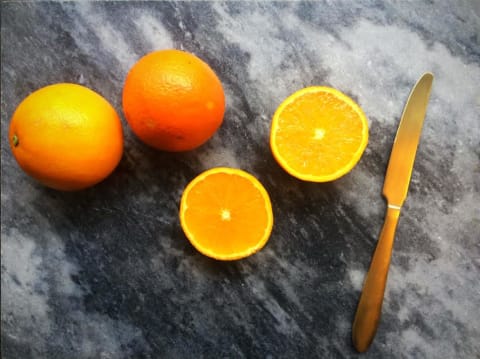 This one is kind of a no-brainer. But sometimes, you just have to stick to the most basic, fresh, and accessible ingredients. We love our OJ in the morning and all French mothers are used to giving a tall glass of freshly squeezed orange juice to their sick kids. So a glass of orange juice is just a reflex for sick grown-up Frenchies; you get your vitamin C and that natural sugar your body needs to fight those bad germs. A little trick for you: Add a dash of cinnamon in your glass—it helps balance the adrenaline jolt from the fructose.
3. Infusions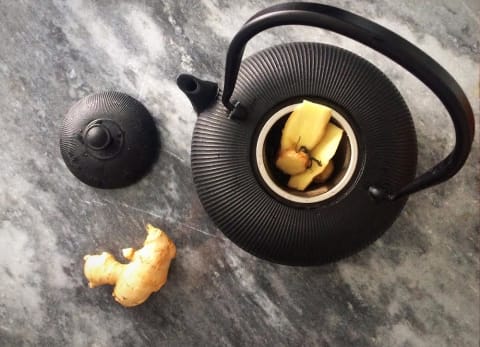 If I had to choose just one remedy out of them all, I'd choose infusions. Infusions (or tisanes in French) are a real passion among French families. The main thing about infusion is that it does not contain tea, only herbs and plants. All year long, it is a ritual to sit down and have your tisane with your family before bed. But when you're sick, this habit is intensified as infusions become your friend not only at night but all day long. Chamomile for better sleep, fennel for digestion, lavender for stress relief...there's a huge variety.
In France, we have herboristeries (herbal shops) where we can buy great quality blends and where the shop owners are great advisers, recommending special infusion blends for your issue at the moment. But you'll find quite great options in organic stores as well. My favorite one, which does wonders for cough, is a thyme infusion: For 1 cup, you infuse 2 teaspoons of thyme in hot water for five minutes. And the secret is to cover the cup during the infusion so the essential oils stay in the water.
4. Beetroot salad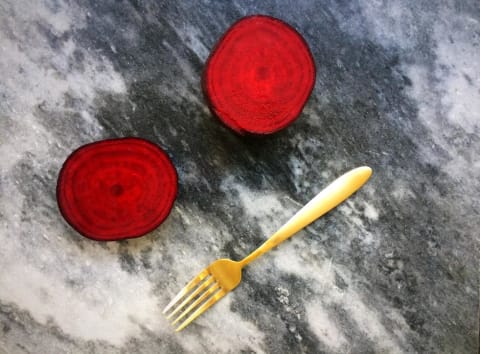 In the vegetable section of very French shop you'll always find cooked beetroot, ready to use. I don't know where it comes from, but I've always seen French families buying their sous-vide beetroots to eat as a starter before a meal. And the family beetroot consumption explodes when someone is sick. The taste is slightly sweet so sick kids (and grown-ups!) are very fond of this vegetable. It has a reputation of helping people's bodies fight off viruses and bacteria. We never consume it raw, but we like to cut it in a small dice and toss it with vinaigrette and salad. A great starter for your meal!
There are many, many more natural remedies used and passed down in French families for generations (some are really weird, though), and I think I could write an entire book about it. They may be useful when you're sick but they also work wonders when used for prevention. Eating soup, drinking orange juice, consuming tisane, eating beetroot...all of these little things, done on a regular basis is our insurance policy against bad health and disease.

Emilie Durand
Emilie Durand is a French food lover, proud Parisian and founder of thefrenchwaytohealth.com. On her website, she shares delicious recipes, French health tips and tricks. Her goal is to gather and share the habits and rules that have been used and approved by French people for decades. That means cooking your own meals efficiently, enjoying whole foods, eating mindfully and never ever using the word diet again.