Try These 4 Unexpected Ways To Refresh Your Home's Atmosphere

mbg Beauty & Wellness Editor
By Jamie Schneider
mbg Beauty & Wellness Editor
Jamie Schneider is the Beauty & Wellness Editor at mindbodygreen. She has a B.A. in Organizational Studies and English from the University of Michigan, and her work has appeared in Coveteur, The Chill Times, and Wyld Skincare.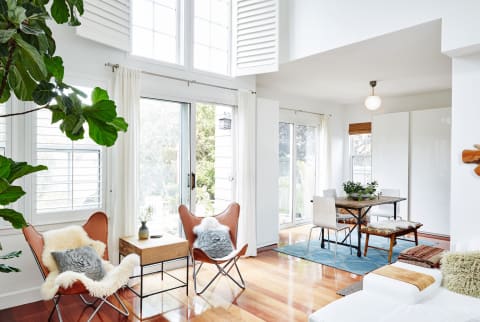 Image by Trinette Reed / Stocksy
May 16, 2022
Your living space is your sanctuary, but it's common to crave a revamp when things feel stale—especially now, as spring cleaning season starts to dwindle. Now that the clutter is gone, the clunky winter garments tucked away in the back of your closet, you might be wondering how to further elevate your free space.
Wonder no more: Here, find four unexpected ways to bring in fresh energy and help your home feel more dynamic—beyond lighting a candle or powering on a diffuser:
Advertisement
This ad is displayed using third party content and we do not control its accessibility features.
1.
Invest in purifying plants.
Don't underestimate the power of scent. Just like you might light a candle to set the mood, a quick spritz of room spray can freshen up the atmosphere in two seconds flat.
mindbodygreen's dream mist smells especially divine (just take it from the rave customer reviews), as it contains specific aromas to help chill out the mind and promote a general sense of peace: Sandalwood grounds the formula and provides a warm, rich aroma, while lavender, roman chamomile, and linden blossom offer delicate, herby notes to soothe the senses.
Hot tip: If you'd like to help the light, airy scent linger just a little longer, open your windows and give your curtains a mist—that way, you'll have a rejuvenating experience every time the fragrance catches the breeze.
Advertisement
This ad is displayed using third party content and we do not control its accessibility features.
3.
Select strategic paint colors.
OK, repainting your walls takes a bit more effort than a spritz of room spray, but if you're up to the task, it's a great way to enhance a soothing or energizing space. "We interact with color constantly—knowingly and unknowingly. It's such a beautiful, powerful tool that we all have that we kind of forget about and take for granted," color therapist Walaa AlMuhaiteeb once shared with mbg.
As a general rule: Nurturing shades (think light blues, grays, pinks, and soft earth tones) create a calming atmosphere, while brighter colors (like a sunny yellow) can stimulate the mind. And if you really want to go all out, you can introduce complementary colors with your bedding, window treatments, and art. For example, if you get dressed in your bedroom every morning and want to feel energized, you might consider adding small pops of brighter colors to that area. "It's really about balance and a combination of colors," says AlMuhaiteeb.
4.
Create intriguing vignettes.
I'm not going to pretend to be an expert in feng shui (you can read our full guide to feng shui for more professional advice), but I do know that stylish vignettes can help make a room appear more polished—think of a beautiful still life sitting in every corner. Books, vases, lamps, houseplants, special trinkets—you can mix and match all of these items into silhouettes that make your heart sing.
And the best part? You can re-curate your vignettes whenever you're craving a change. Perhaps swap the vase for a cluster of crystals, or rest your candle on a stack of books instead of directly on the countertop. That way, it feels like you're refreshing your space without actually investing in any new pieces.
Advertisement
This ad is displayed using third party content and we do not control its accessibility features.
The takeaway. 
With these tips, your home will strike the perfect balance between energizing and relaxing—an important combination, especially if you work from home or spend ample time in your living space. Don't scoff at the simplicity: Oftentimes, the smallest tweaks can make a significant difference to your overall ambience.