Too Much Protein In Your Diet Might Lead To Bloating, Study Finds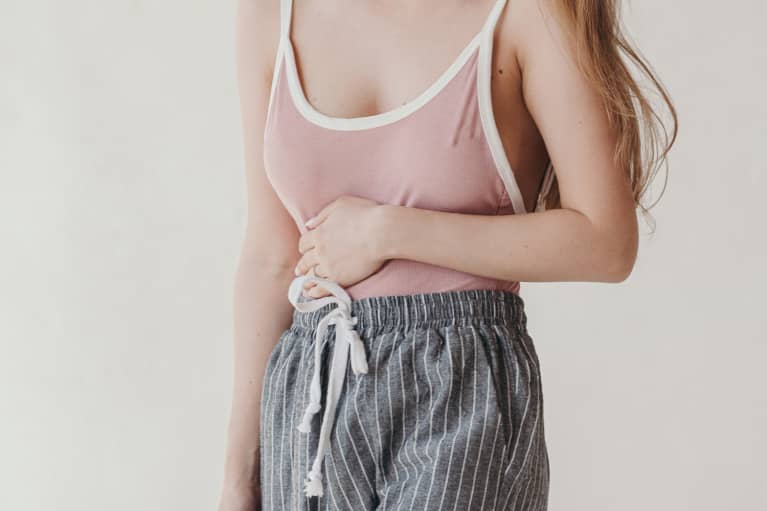 This article was produced to support the mindbodygreen supplements+ line. Our supplements adhere to the highest standards of ingredients and quality. We hope you enjoy these products, for more information
click here
.
January 30, 2020 — 2:46 AM
Bloating is extremely uncomfortable, sometimes embarrassing, and, at its worst, painful. It makes sense to avoid those symptoms, but sometimes that means avoiding the health benefits of a high-fiber diet. Fortunately, new research has figured out a way to lower the risks of bloat while sticking to a high-fiber diet.
A study published in Clinical and Translational Gastroenterology found people on high-fiber diets who eat more protein than carbohydrates are more likely to experience bloating.
Researchers from Johns Hopkins Bloomberg School of Public Health used data from 164 participants on a high-fiber, heart-healthy diet. The participants who ate diets rich in plant protein were 40% more likely to report symptoms of bloating than those who ate a carbohydrate-rich version of the same diet.
Is bloating inevitable on a high-fiber diet?
Dietary fiber improves digestion by introducing healthy gut-bacteria to the microbiome. While those effects are generally positive, they can also lead to gas and bloating.
The discomfort associated with bloating symptoms often prevents people from adopting high-fiber diets, despite a proven ability to prevent and treat chronic diseases.
To encourage more people to eat fiber-rich foods, scientists wanted to figure out how to mitigate gastrointestinal issues.
Researchers compared a high-fiber diet with 25% protein and 48% carbs to a high-fiber diet with 15% protein and 58% carbs.
After adopting the diets, participants who ate the high-protein version experienced 33% more bloat than before, whereas high-carb eaters felt only an 18% increase in bloat.
This study suggests macronutrients, like carbs and proteins, can alter the microbiome and decrease the effects of bloating.
Swapping proteins with high-quality carbs, like whole grain oats or quinoa, could potentially reduce bloating and make the diet more appealing.
So is less protein healthier?
Not necessarily. Since the source of protein in this case was primarily plant-based, including beans, legumes, and nuts, it's possible the bloating was caused by a healthier shift within the microbiome, said study co-senior author Noel Mueller, Ph.D.
That means, unfortunately, making the diet more comfortable might actually make it less healthy.
"If somebody is able to put up with the bloating caused by a high-protein, high-fiber diet, they may ultimately benefit more in other health measures," Mueller said.
If you want to continue reaping the heart-health benefits of plant protein without the bloat, consider lowering your sodium intake. If all of this research has you wondering, "What the heck is fiber?" this definitive guide might help.