While Mighty On Their Own, Vitamin C & Glutathione Are Much Stronger Together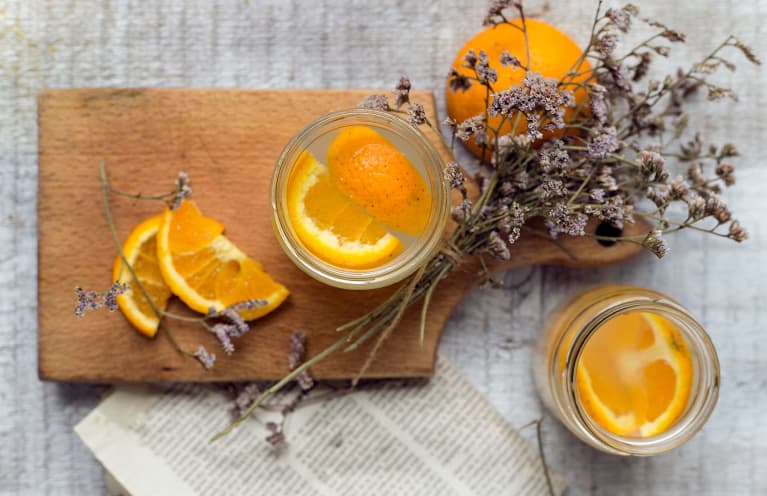 Our editors have independently chosen the products listed on this page. If you purchase something mentioned in this article, we may
earn a small commission
.
Vitamin C is famed for its antioxidant properties and regularly referenced as an important tool for combating oxidative stress in the body (especially when it comes to skin care).* But there's another potent antioxidant whose actions are amplified in your body thanks to vitamin C (and vice versa): We're talking about our "master antioxidant" glutathione.*
While many people have never even heard of glutathione before, experts—and research—say it plays an important (actually critical) role in fueling antioxidant pathways in your body.* In fact, glutathione is found in nearly every cell in your body and is important for detoxing chemicals, pollutants, and other modern stressors and toxins.*
And while vitamin C and glutathione are both dynamic in their own right, the duo becomes a powerhouse of antioxidant activity when they team up.* Here's what you need to know.
Why is glutathione important for the body?
Glutathione has two major roles in the body, explains Alexander Michels, Ph.D., clinical research coordinator at Oregon State University's Linus Pauling Institute. "It is an antioxidant and a central part of the body's detoxification mechanisms," he says, "so it is vital for both maintaining your defense against free radicals and certain types of toxins."*
These are "pretty big roles," Michels says, "because lots of things in your body can act as free radicals or toxins—but glutathione is part of a central system that keeps it all in balance."* Because glutathione can be synthesized by your body, it can be readily renewed, he says. Though, there are many factors that can affect the body's ability to produce glutathione—including diet, lifestyle habits, and even age. (Read more about maintaining sufficient levels here.)
How does vitamin C bolster glutathione levels?
Vitamin C can help promote healthy glutathione levels in your white blood cells while also supporting the master antioxidant's overall activity, says Keri Gans, RDN, dietitian and author of The Small Change Diet.*
"Since vitamin C and glutathione are both antioxidants, they help remove some of the same free radicals from the body,"* Michels says. "When you keep your vitamin C levels high, you are taking some of the pressure off glutathione," which, he says, allows glutathione to help with other functions, like supporting natural detox pathways.*
Vitamin C and glutathione ultimately work together in the antioxidant network in your body, alongside vitamin E, Michels explains.* "When vitamin C gets oxidized, glutathione can recycle that vitamin C molecule back into its active form, and together, they form a more effective antioxidant barrier than either one of them separately,"* he expounds.
To sum things up, glutathione and vitamin C are far more beneficial together than they are apart. "Both are powerful antioxidants working together to protect us against free radicals,"* Gans says. And let's be real, you can never have too much antioxidant activity when it comes to whole-body health and longevity.
When it comes to combating oxidative stress to promote healthy detoxification pathways, an antioxidant-rich supplement like mbg's daily detox+—which features glutathione, vitamin C from acerola fruit, and three other premium bioactives (hello, NAC, milk thistle, and selenium) that bolster the body's antioxidant network—is a prime choice.*