These 5 Antioxidants Give Your Liver Some Much-Needed Support*

Registered Dietitian Nutritionist
By Molly Knudsen, M.S., RDN
Registered Dietitian Nutritionist
Molly Knudsen, M.S., RDN is a Registered Dietician Nutritionist with a bachelor's degree in nutrition from Texas Christian University and a master's in nutrition interventions, communication, and behavior change from Tufts University. She lives in Newport Beach, California, and enjoys connecting people to the food they eat and how it influences health and wellbeing.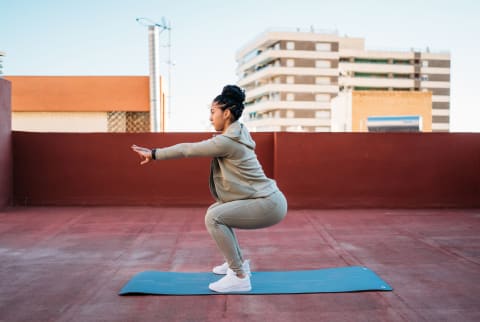 Image by Manu Padilla / Stocksy
September 1, 2023
The word detox still seems to elicit thoughts of gimmicky juice cleanses or fasts. But detoxification is actually a collection of ongoing internal processes carried out by multiple organs: the skin through sweating, the lungs through breathing, the gut through digestion, and the liver and kidneys through filtering blood.
And each system has a similar goal—eliminate, reduce, or balance out unwanted substances in the body. Antioxidants are particularly effective at this task.
Let's dive into the best antioxidants to support your body's natural detoxification processes and how you can easily get them daily (because detox pathways are on 24/7).
Antioxidants play an important role in whole-body detoxification
Detoxification is a balancing act between antioxidants and oxidants (aka toxins). These oxidants may be produced by seemingly harmless internal processes (like digestion and exercise) or from external sources (like air pollution, pesticides, alcohol, and cigarettes).
Antioxidants stop, counteract, or resolve those unwanted substances from actually causing damage. But if the scale is tipped out of favor, and there are more oxidants than the body's antioxidant system can handle, then oxidative stress occurs.
Many detoxification pathways rely on the work of specific antioxidants.
While the body creates some antioxidants internally (with the right building blocks), getting enough antioxidants through nutrients and botanicals is essential.
daily detox+ aids natural detoxification processes
And mindbodygreen is making that easy with our daily detox+ formula led by glutathione (the master antioxidant in the realm of detox support) and featuring four other clinically studied ingredients that combat oxidative stress:*
2.
N-acetyl-L-cysteine (NAC)
NAC is used by the body to replenish glutathione stores (as it is the precursor to one of the three building blocks—cysteine). The antioxidant actions of NAC2 and glutathione ultimately support overall liver function.*
mbg's vice president of scientific affairs Ashley Jordan Ferira, Ph.D., RDN, previously told us that "NAC is considered a fast-acting antioxidant that helps neutralize oxidants in the liver and other 'busy' organs (like the kidneys)."*
Milk thistle is a flowering herb related to the daisy family.
Specifically, a study published in Phytocology Research indicates that silymarin acts as a toxin-blocking agent by inhibiting toxins from binding to liver cells.*
Vitamin C is a potent antioxidant that you're likely already getting from food (basically all produce contains some amount of vitamin C).
Not only is it beneficial for the liver, but vitamin C also supports the skin barrier and kidney (which carry out their own detoxification pathways).
Selenium is a trace mineral with antioxidant capabilities.
It's a critical component and activator of selenoproteins, which include glutathione-protecting enzymes. Selenoproteins protect glutathione molecules from oxidative damage so that they can protect your cells from oxidative damage.*
daily detox+ provides selenium in the form of selenomethionine, which has clinically shown bioavailability and has a superior ability to raise selenium levels in the body.*
Overall, don't sleep on this mineral's antioxidant and purifying qualities.*
The takeaway
Detox pathways are continuously running throughout your body.
And while lifestyle habits like exercise, eating clean, and reducing exposure to plastics can all help lower your body's toxic load and promote healthy liver function, a targeted antioxidant supplement like daily detox+ can also be added to your daily routine and offer a nice reprieve for your hardworking detox organs.*
If you are pregnant, breastfeeding, or taking medications, consult with your doctor before starting a supplement routine. It is always optimal to consult with a health care provider when considering what supplements are right for you.