How To Get A Slicked-Back Ponytail + 4 Ways To Make It Your Own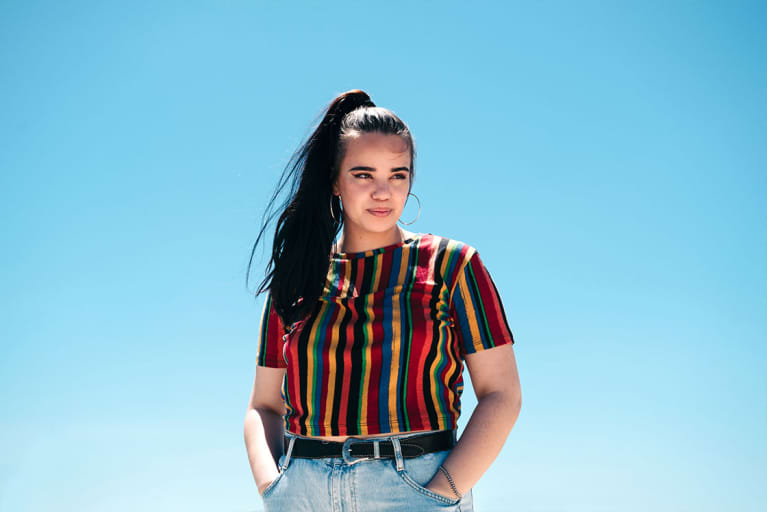 Our editors have independently chosen the products listed on this page. If you purchase something mentioned in this article, we may
earn a small commission
.
Gone are the days when a basic ponytail was the only hairstyle of choice to cover up rough hair days. In fact, there are so many ways to elevate the simple style for practically any occasion. One variation that can take you from your evening HIIT workout to a dinner date downtown is the slicked-back ponytail. A touch sport, a tad edgy, and totally versatile, the sleek ponytail is ideal no matter your hair length or texture.
Here, we tapped top hairstylists to get the scoop on slicked-back ponytails, including how to master them and how to add your own spin on this easy-to-create style. Don't be surprised if it becomes your new favorite 'do.
How to style a slicked-back ponytail.
Achieving this sleek style is relatively simple, and you only need a few items. Below, celebrity hairstylist Andrew Fitzsimons walks us through a step-by-step guide for a basic slicked-back ponytail. Bonus: No hot tools necessary.
Fitzsimons says before you style your strands, it's best to reset your hair with a cleanse. "Wash, condition, and moisturize your strands," Fitzsimons advises. However, if you don't have time for your typical wash regimen, don't fret: Slicked-back ponytails are also a great way to disguise oily roots. In this case, a few spritzes of dry shampoo should do the trick (here are our favorites), or feel free to embrace the grease. The wet hair look is trending, anyway.
At this point, you have a few options: You can create a low pony at the nape of the neck, a high ponytail at the crown of your head, or somewhere in between. "I typically like to center the pony right on the crown of the head for added lift," Fitzsimons says.
Once you've picked your desired ponytail height, grab a brush and elastic. Unfortunately, finger raking won't cut it here—you'll likely need a brush to lay down each and every hair.
"The best brush to use to achieve this hairstyle would be a nylon and boar bristle brush, which actually smooths strands," Fitzsimons says. "The mix of bristles will help get rid of any static and give you that sleek effect you're looking for." If you have textured hair, add a spritz of water to the brush to help smooth flyaways. You can also use a hair oil or leave-in to achieve that slick, high-shine finish.
3. Tame frizz and flyaways.
According to Fitzsimons, now is the time to grab a gel or soft-hold hair spray to smooth out any pieces that are out of place. "You can also add oil to the ends of the hair to give it a sleek look." And voilà! You've mastered the slicked-back ponytail. Not too taxing, right?
4 ways to switch up the look.
We'll wager this sleek ponytail will become your go-to style. If you're interested in taking it up a notch, here are a few easy ways to make it your own:
From headbands and scarves to clips and barrettes, the options are endless here. Adding accessories to your slicked-back ponytail is an effortless way to take this style to a new level. "Stylish hair accessories work wonders," hairstylist Miko Branch, co-founder of hair care brand Miss Jessie's, once told mbg. "Silk scarves, rhinestone bobby pins, vintage clips, velvet headbands, sparkly barrettes, colorful hair wraps, flowery hair vines, etc." The list is practically endless and totally up to your personal style.
2.
Twist it, braid it, or bubble it.
Ponytails don't have to be left alone! Add a jumbo twist to your sleek ponytail; a loose, whimsical braid; or grab a few mini elastics and turn it into a bubble pony. If you prefer your ends loose but still crave some extra oomph, try adding a texture spray to give your ponytail extra volume.
Sure, you can always just sweep your hair back, but adding a part makes this look totally new each time. Try a deep side part, a classic center part, or a zigzag part to add some flare. Just be sure to tame any baby hairs or wispy strands toward the hairline—and if you are facing some stubborn cowlicks or growth patterns, find our foolproof guide to changing your part here.
This is a bold take on the slicked-back ponytail, and it's definitely worth it. Give this simple style a throwback twist by adding a deep side part, swooping the hair across your forehead (so it appears you have faux side bangs), and teasing the base of your ponytail. Trust us, this ode to Hollywood glam is guaranteed to get compliments.
If you're looking to improve your hair game, here's how to take any style from basic to pro-level with a few simple tweaks. These easy-to-follow tips will have your strands looking salon-worthy in no time:
If you're in desperate need of a hair refresh, Fitzsimons says to apply dry shampoo, then gently blow-dry the roots prior to tying up your pony. Not only does this get rid of excess powder, but it adds natural-looking volume, too. Just make sure you hold the dryer at least 6 inches away from your head, as you don't want to fry the strands.
While you've got your blow dryer on hand, Fitzsimons also recommends setting the style with a cold blast of air. "The cold air really locks the look into place and adds more shine."
As for baby hairs, you can either sleek them back into your hairline or swirl them into a beautiful, face-framing style. Grab a regular toothbrush or dry spoolie, an edge control product, and play around with designs: "Very gently, softly, and carefully, brush, smooth down, and swoop your baby hair flyaways into circles or wave patterns," Branch tells mbg about styling edges.
The slicked-back ponytail is simple, chic, elegant, and versatile. Since it works on all hair types and lengths (assuming you can gather some length into an elastic), anyone can add it to their repertoire. And if you're looking for more flattering hairstyles, here's how to tailor your 'do to your face shape.