Your Scalp & Hair Can Experience Sun Damage: Here's Why + 8 Scalp Sunscreens To Try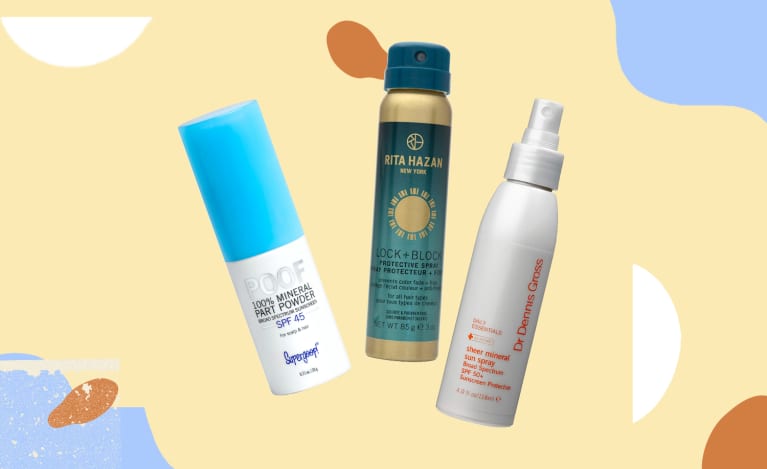 Our editors have independently chosen the products listed on this page. If you purchase something mentioned in this article, we may
earn a small commission
.
Sun protection is a must. While your face and body typically receive most of the attention, your scalp deserves some love, too (and your hair, it turns out). The answer? Slather on a scalp sunscreen. Trust us, it's worth looking into.
First, why do you need a scalp sunscreen?
You've heard it a million times, but it bears repeating: Your scalp is your skin, so it deserves to be treated as such. Like the rest of your skin, it's vulnerable to sunburn (ever experienced a painful, itchy sunburned scalp?), inflammation, and photoaging. What's more, the scalp is a common entry point for UV radiation to take hold: "The direct angle at which the sun hits the scalp seems to make it penetrate even deeper than on the rest of the body," notes board-certified dermatologist Loretta Ciraldo, M.D., FAAD.
That UV exposure can even affect your hair growth over time. Josh Rosebrook, former hairstylist and founder of Josh Rosebrook Skin and Hair Care, previously wrote for mbg, "Overexposure to the sun affects the protective barrier of natural oils we all have on our scalp by causing blood vessels to dilate and become inflamed. Sometimes this damage causes the synthesis of superoxide, a compound that may cause hair follicles to switch off growth and enter the shedding phase, which leads to hair loss."
That's not to say you should go coating your strands in sunblock. If you have a head of thick, dark hair, that serves as some protection in itself, Ciraldo notes. But "if you wear your hair with a part in the middle, if your hair is thinning, or you are bald—scalp sunblock is necessary," notes board-certified dermatologist Jeanine Downie, M.D. Even those with gray roots or very blond hair might fare well with some extra protection. And sure, a hat will keep you covered just fine, but for those uninterested in a chic sun hat, a scalp sunscreen is your best bet.
Apply your sunscreen to the areas where the scalp is most exposed. Again, that may differ for everyone, depending on where your hair is most thin or where you center your part. Of course, if you're balding or bald, you'll want to apply the sunscreen to the entire surface area. Then just apply as you would a regular sunscreen: Simply spray or rub into the skin, and reapply every two hours.
You're probably thinking: Uh, won't using regular sunscreen on my scalp make my hair greasy? Good news is, there are tons of products marketed specifically toward hair and scalp, many with powder or spray applications that dry in no time at all. Of course, using a regular lotion on your scalp works just as well; it might be a bit gooey, but hey, it's all in the name of proper sun protection, right?
Ahead, check out our eight favorite options—sprays, powders, and lotions—to keep your hair and scalp protected.
Brush On Block Translucent Mineral Powder Sunscreen
According to board-certified dermatologist Hadley King, M.D., this mineral option reigns supreme. "It absorbs excess oil, so it can serve a dual purpose of prolonging your hairstyle and providing sun protection," she says. "It's all mineral—zinc oxide and titanium dioxide—and contains antioxidants to protect from UVA and UVB sun damage, as well as blue light and infrared A rays." The kicker? "It's portable, convenient, and won't leave white residue on your clothes."
Translucent Mineral Powder Sunscreen, Brush On Block ($32)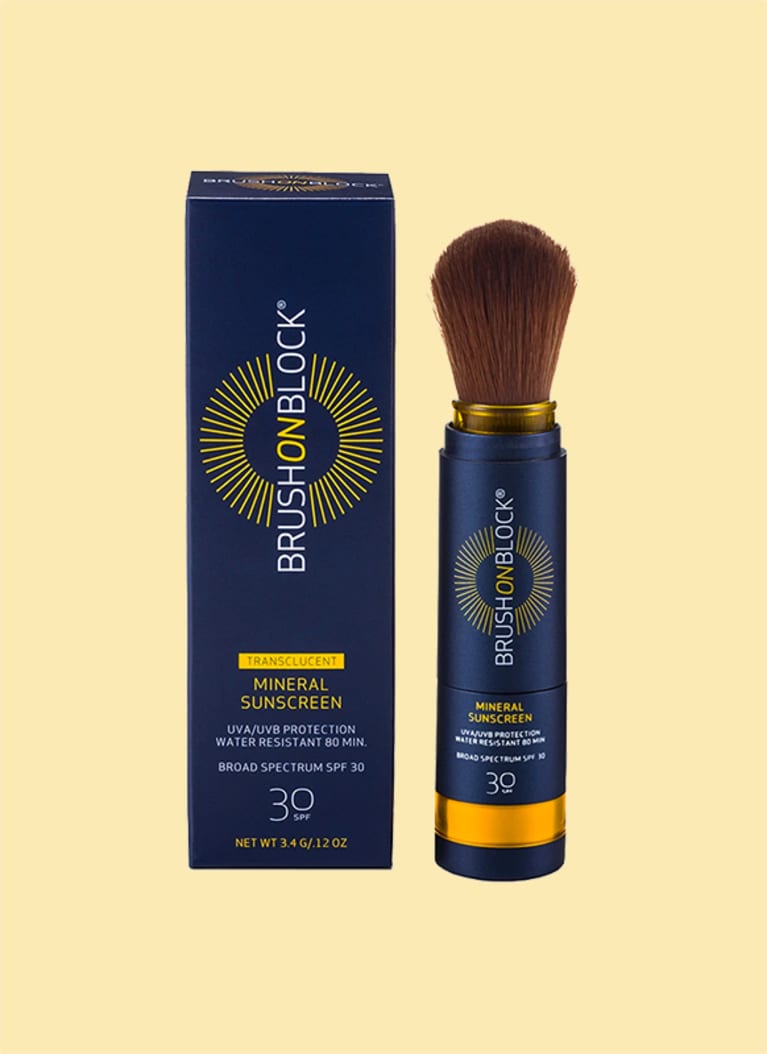 mindbodygreen
COOLA Scalp & Hair Mist Organic Sunscreen SPF 30
A favorite of Downie's, this weightless formula is made specifically for the sensitive skin on the scalp. It contains monoi oil in order to keep those strands shiny and nourished, never greasy (research has shown it effectively penetrates the hair shaft more than other oils). Feel free to spray all over your scalp and hair in sections, rubbing it in for a lovely little massage.
Scalp & Hair Mist Organic Sunscreen SPF 30, COOLA ($26)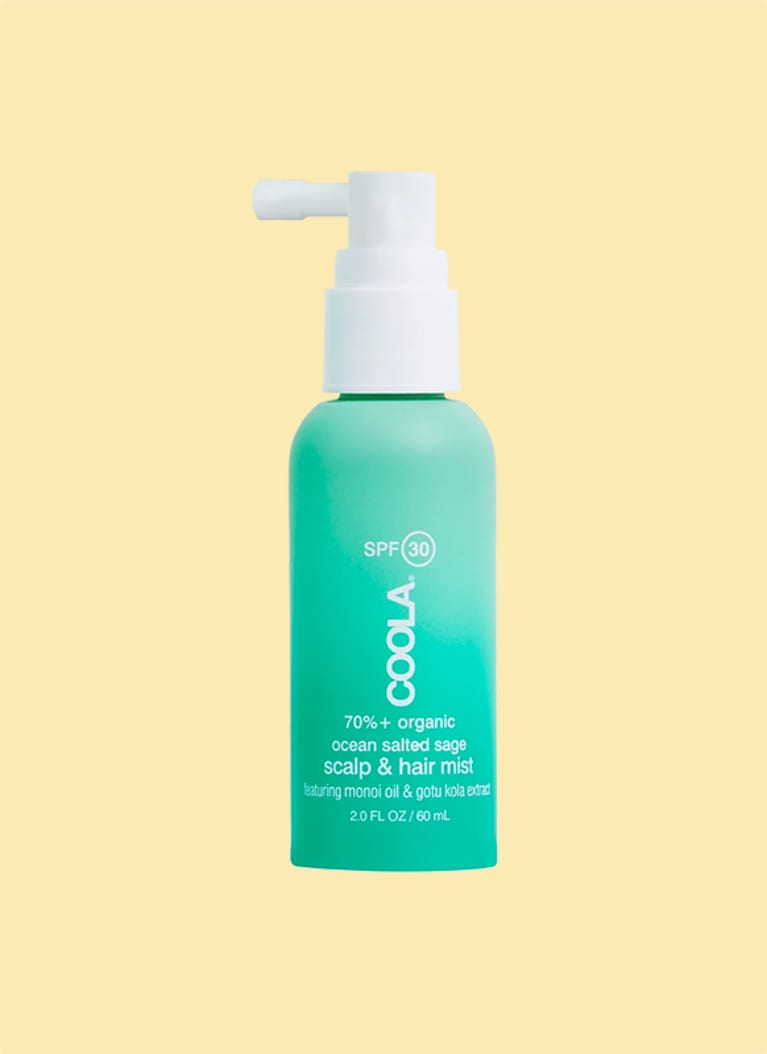 mindbodygreen
Supergoop! Poof Part Powder
Think of a no-rinse shampoo, but make it SPF. There's a reason Supergoop! tops the charts when it comes to innovative sunscreen products. Zinc oxide is the mineral workhorse in this formula, and its powder form feels airy and weightless, never gooey. Use it as you would a dry shampoo: Spray it onto your scalp and hairline, blending in with your fingertips or hairbrush.
Poof Part Powder, Supergoop! ($34)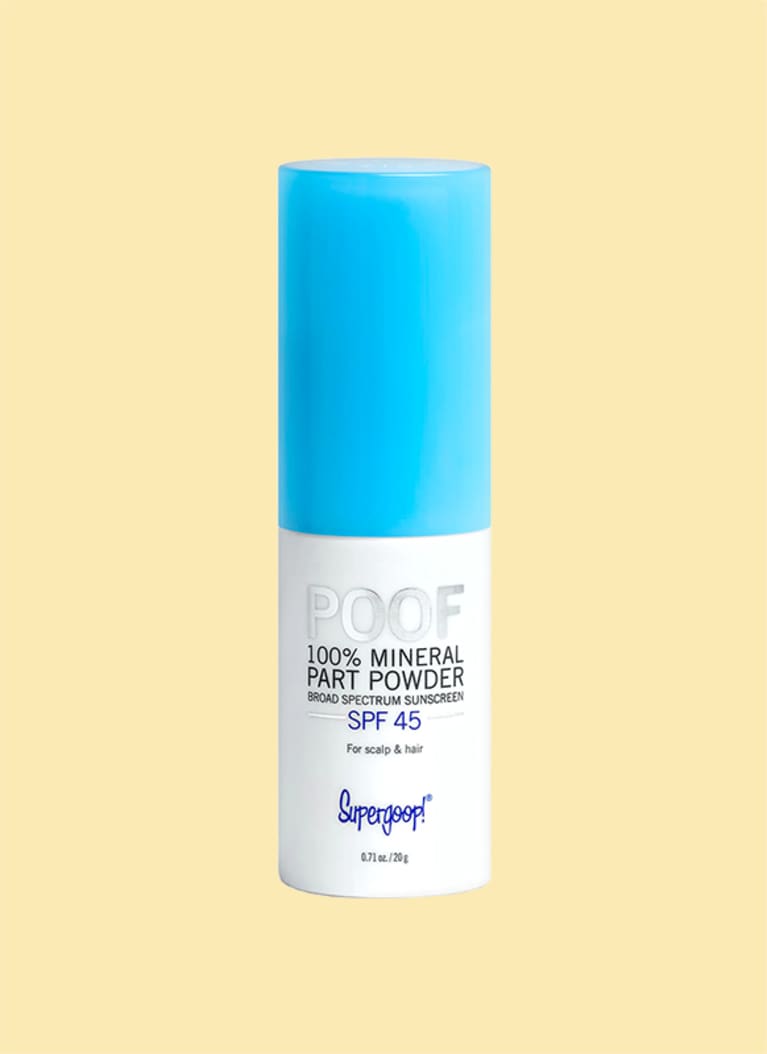 mindbodygreen
Colorescience Sunforgettable Brush-on Sunscreen SPF 50
OK, so it's technically a makeup product, but who says you can't apply it on your scalp, too? After all, the no-fuss, weightless application is a perfect on-the-go scalp sunscreen; plus, it includes tannins and sunflower sprouts to protect against photoaging and hyaluronic acid powder to enhance hydration. If you do choose to sweep this powder on the scalp, make sure your hair is completely dry: Water can cause the brush to clog.
Sunforgettable Brush-on Sunscreen SPF 50, Colorescience ($65)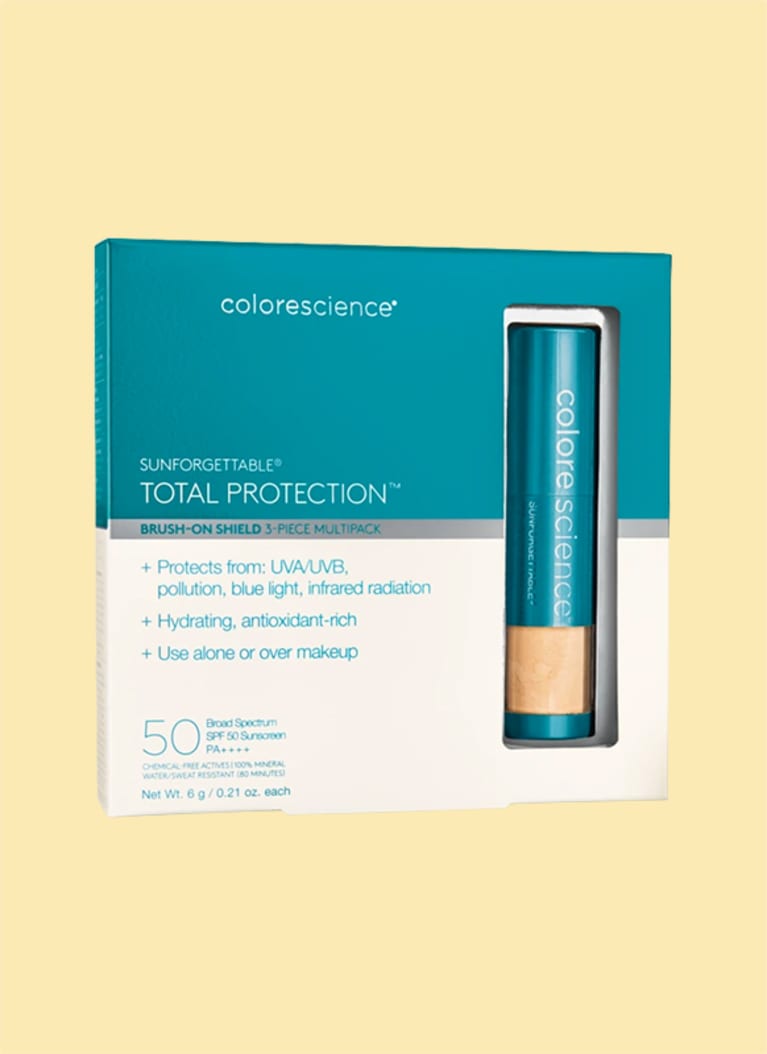 mindbodygreen
Rita Hazan Lock + Block Protective Spray
Here's the thing: Your hair can experience sun damage, too. Those rays can zap your color and burn your scalp, resulting in dull, lifeless strands. That's where this Lock + Block spray comes in: It helps protect hair color from oxidizing and fading from UV rays, and it contains antioxidants vitamins A and E to help stabilize free radicals you'd receive from that UV exposure. Warm up the formula in your hands, and rake it through those strands.
Lock + Block Protective Spray, Rita Hazan ($26)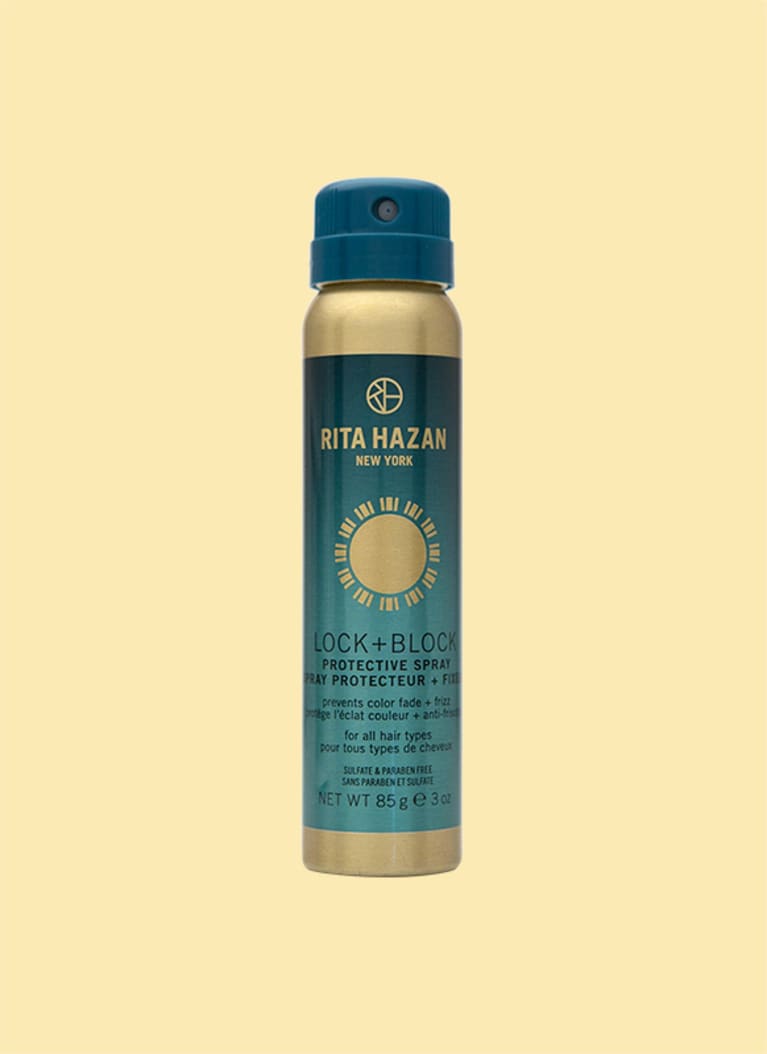 mindbodygreen
EleVen by Venus Williams Unrivaled Sun Serum SPF 35
Tennis champion Venus Williams knows the value of a great sunscreen, especially ones that hold up on the court. Enter her own incredibly lightweight sun serum, formulated with prickly pear extract to hydrate and soothe the skin, as well as zinc oxide for some mineral protection. It dries transparently and absorbs quickly, meaning no sticky, white residue on the scalp. Just use the dropper to apply liberally, rub it in, and you're ready to step into the sun.
Unrivaled Sun Serum SPF 35, EleVen by Venus Williams ($50)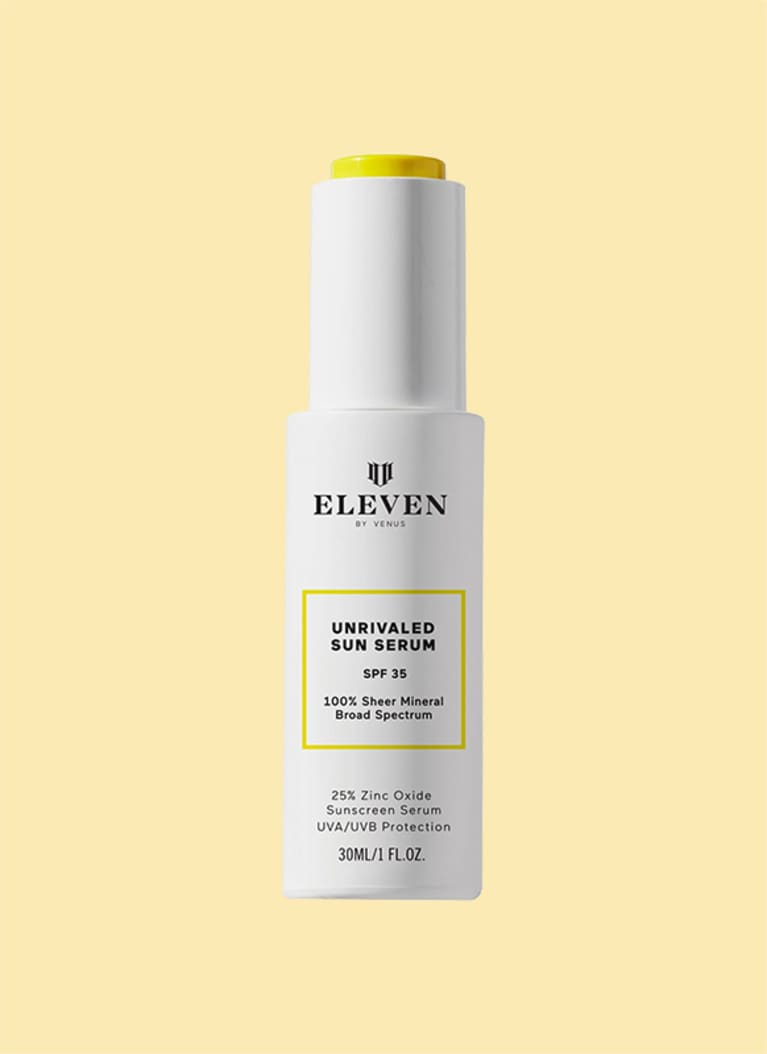 mindbodygreen
Coppertone Pure & Simple SPF 50 Sunscreen Lotion
Ciraldo is partial to sunscreens that are waterproof and sweatproof—especially if you're dipping into the pool or going for a long run—which is why she loves Coppertone for their affordable yet effective options. This hypoallergenic number is practically made for sensitive skin: Formulated with zinc oxide, sea kelp, and lotus extracts, it offers the perfect balance of gentle-yet-effective protection. And "as advertised, it 'stays on when you sweat.'"
Pure & Simple SPF 50 Sunscreen Lotion, Coppertone ($11.65)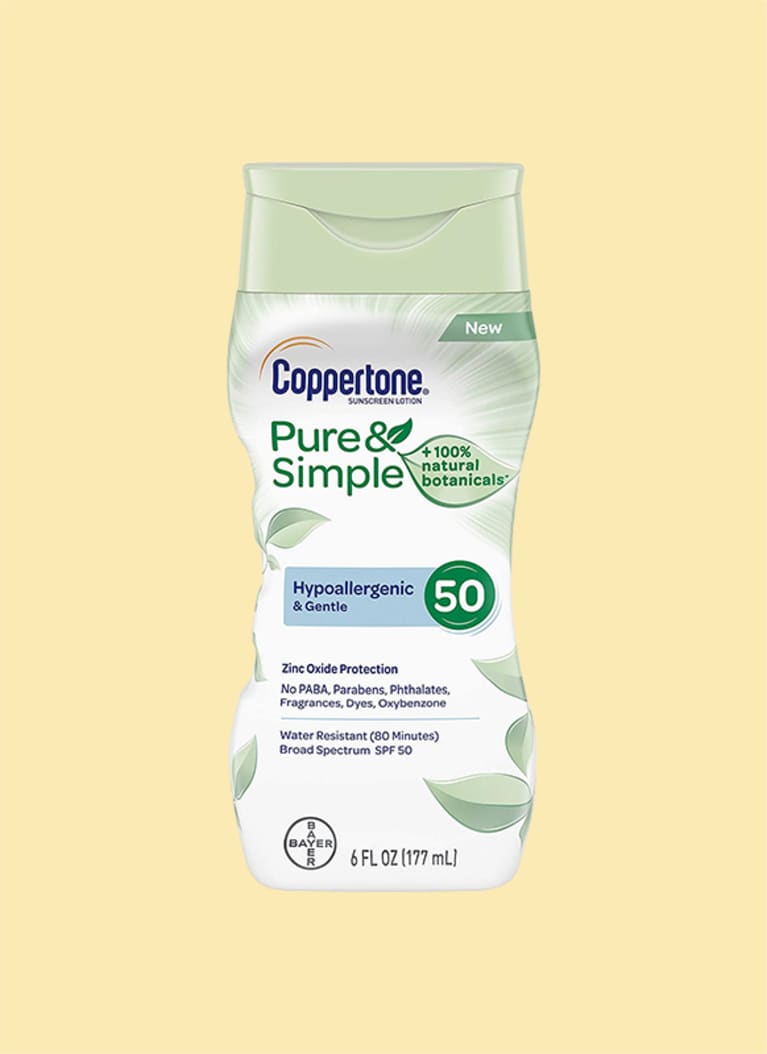 mindbodygreen
Dr. Dennis Gross Skincare Sheer Mineral Sun Spray SPF 50
This derm-approved brand throws another water-resistant, mineral option on the table. The SPF 50 spray contains superstars like green tea extract, resveratrol, and CoQ10 for heavy-duty antioxidant properties and supporting natural cell turnover. Best part? It leaves no white cast in its wake—a win for mineral sunscreen, we'd say.
Sheer Mineral Sun Spray SPF 50, Dr. Dennis Gross Skincare ($42)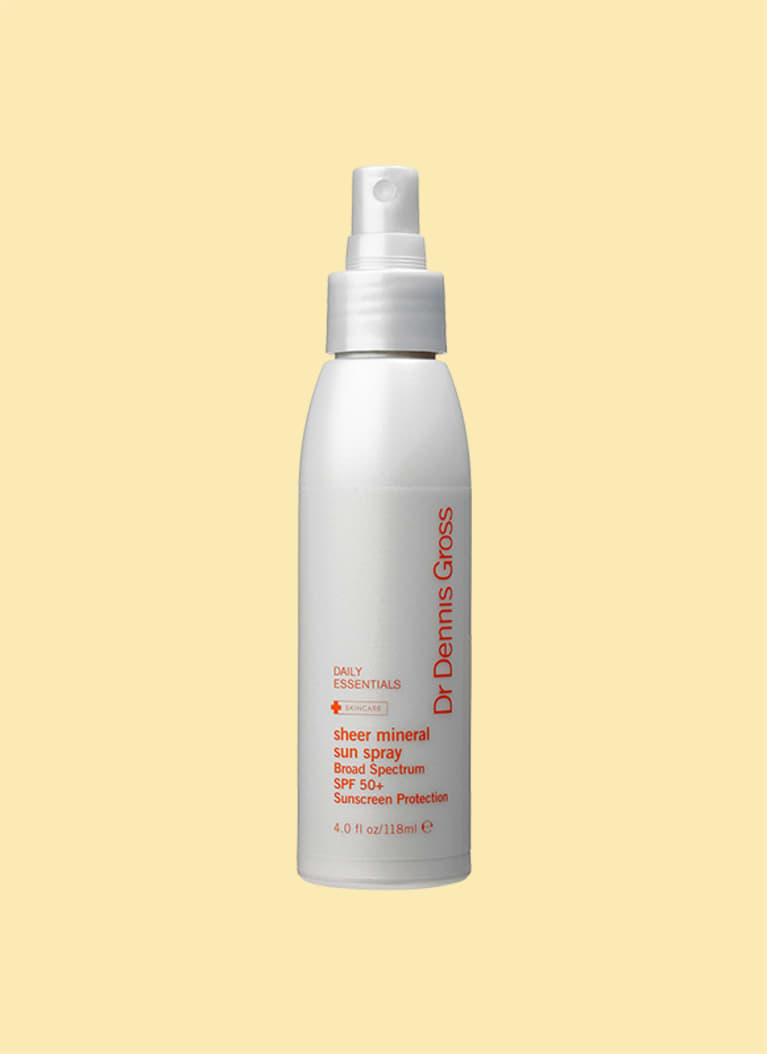 mindbodygreen
And do you want to turn your passion for wellbeing into a fulfilling career? Become a Certified Health Coach! Learn more here.