How To Clean Makeup Brushes + The All-Time Best Tips From The Pros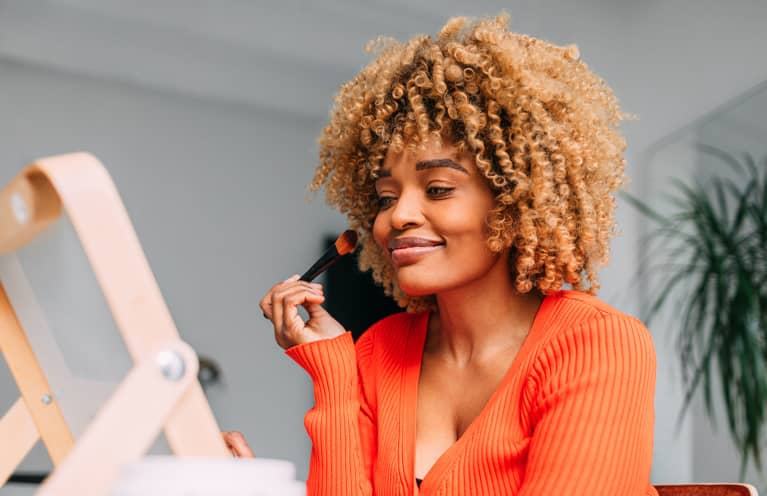 Our editors have independently chosen the products listed on this page. If you purchase something mentioned in this article, we may
earn a small commission
.
For me, Sunday evenings call for cleaning the house and self-care. This means picking up my space, throwing on a face mask, and mentally preparing for the week ahead. One chore I try to never miss: cleaning my makeup brushes.
While this may seem like something you can do on occasion, that's not exactly the case. We talked with professional makeup artist Jenny Patinkin and board-certified dermatologist Hadley King to get the inside scoop on how to clean your makeup brushes, what to use, and why it's so important. Let's get into it.
How often should you clean your makeup brushes?
This may not be the answer you're hoping for, but it's the honest one: Both Patinkin and King agree—you should be washing your makeup brushes at least once a week. Patinkin notes this may not be realistic for some, but if you use your makeup brushes often, it's definitely best practice.
If you don't wash them regularly, there are a few risks you're taking. First, you could be spreading bacteria around your face. "Dirty brushes can become breeding grounds for bacteria, which then when used again on your face can lead to breakouts or skin irritations," King explained. What's more, dirty brushes can also spread viral infections around the face like pink eye or herpes.
Beyond the dangers to your skin, dirty brushes can prevent you from maximizing your makeup looks. "If too many oils and pigments build up on them, not only are they not going to give you a true color payoff, but they can also lose their flexibility, which means that they won't move fluidly enough to smoothly and evenly blend your makeup," Patinkin explained.
What should you clean them with?
When it comes to choosing a makeup brush cleanser, there are a few important things to keep in mind. First, avoid using something potent like sulfate-based dish soap. "Regular soap can dry out brushes made of natural hair," King said. So while dish soap may technically clean the bristles, it's not going to help your brushes last.
Next, not just any shampoo will do. "Some simple shampoos will get the job done but might contain artificial fragrances that can be triggering to sensitive skin or detergents that are hard to fully rinse or that get rinsed into our waterways," Patinkin explained. "Really rich shampoos can leave a coating on the surface of your brushes, which will weigh down the bristles and impact how your makeup blends."
As a rule of thumb, look for something specifically designed to clean your makeup brushes or an extra-gentle, fragrance-free soap or shampoo. Our top pick was created by Patinkin herself: The Luxury Vegan Makeup Brush Soap. "I developed my soap very specifically to be quick and efficient to use while also doing no harm to the planet. It gets your brushes clean very quickly and rinses away without the time and effort other soaps and cleansers require," Patinkin said.
Other great options include this Makeup Brush Cleansing Shampoo from EcoTools or this Baby Shampoo from Pipette. If you want to DIY your brush cleaner, you can make a wash out of olive oil, liquid Castile soap, and distilled white vinegar. Here's a tutorial on how to create that blend if you're interested.
How to clean your makeup brushes. 
Here, a step-by-step guide for your weekly wash:
You can either run your brush under the sink or submerge the bristles in a bowl of warm water. Be sure to keep the base of your brush (where the bristles are attached) out of the water to avoid loosening the glue holding the brush together.
2.
Apply your soap of choice.
If you choose to use a solid brush cleaner (like the Jenny Patinkin wash), then you'll want to swirl the brush around the soap pan, rinse, and repeat. Do this until you get a good foam going. If you're using another wash, then apply a drop of the soap to the damp bristles.
Once your brush is covered in soap, you'll want to gently massage the bristles. You can place the brush on your palm and use your fingers to work the wash in. Rinse your brush and repeat until you stop seeing pigment coming from the bristles and your brush rinses clear.
Because washing can mess up the look of your brush, you'll want to reshape the bristles once your brush is clean. This just means lining up the hairs to look uniform. This way, your brush will dry in its intended shape, making it easier to use.
You can take a clean towel to your bristles and gently press to soak up excess water. Lastly, lay your brushes on the counter with the bristles off the edge. This way, your brush can air-dry on all sides. Some brushes may take longer to dry than others, so it might be a good idea to wash your brushes at night so they have time to fully dry before the next use.
You should be storing your brushes in a dry, cool environment. "If you keep your tools in a warm, humid room, there is a chance that they can grow mold," Patinkin said. So if your brushes sit on your bathroom counter while the steam from your shower fills the room every day, you may want to reconsider their placement.
When should you toss your makeup brushes?
While weekly cleaning will help prevent buildup on your brushes, thus making them last longer, no brush will last forever. Here, a few signs your brush is ready to be swapped out:
The bristles are constantly falling out (occasional shedding is OK).
Even after you clean it, the bristles still feel stiff and hard.
It refuses to hold its shape even after washing.
Natural vs. synthetic brushes.
As we said earlier, brushes made of natural hair can be easily dried out with an astringent soap. So if you use a brush with natural bristles, it's especially important to opt for something gentle.
In order to make sure these brushes are fully clean, pay close attention to the amount of pigment coming from the bristles. Once the water rinses clean and your brush feels soft again, you should be good to go.
While brushes made with natural hair have been known to be softer than synthetic bristles, there are some pretty dupe-worthy vegan options out there. Patinkin has her own line of vegan makeup brushes and told mbg exactly how to know your brush is clean: "Synthetic, vegan makeup brushes should feel squeaky clean when you're done rinsing them. That's how you can 100% tell that you have broken down and rinsed away all the buildup on the surface," she said.
Patinkin's Note
"You should never, ever share your beauty tools with anyone, even your mom, daughter, or sister."
While it may be a slightly tedious task, cleaning your makeup brushes weekly will significantly help combat the spread of bacteria on your face, which can lead to breakouts and skin irritation. Plus, this weekly ritual will help your brushes last even longer, giving you more bang for your buck.
Remember to use a brush cleaner or gentle soap, reshape the bristles when you're done, and let your brushes dry in a clean, dry environment. If your brushes are still stiff, shedding, or misshapen, it may be time to trade them out. The same goes for cleaning makeup sponges, as those can build up bacteria as well.