Close Banner
Advertisement
This ad is displayed using third party content and we do not control its accessibility features.
Yet *Another* Study Finds That Regular Resistance Training Builds Muscle Strength

mbg Sustainability + Health Director
By Emma Loewe
mbg Sustainability + Health Director
Emma Loewe is the Senior Sustainability Editor at mindbodygreen and the author of "Return to Nature: The New Science of How Natural Landscapes Restore Us."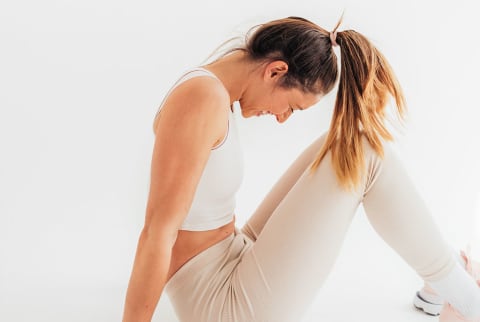 Image by Studio Firma / Stocksy
There are some people who crave the feeling of a racing heart, lungs full of air, skin covered in sticky sweat, and others who... really don't. Thankfully, for fans of lower-impact exercise, research continues to find it can be just as effective as tough all-out efforts in the long run—if not more so. Here's what the latest study, published in the Scandinavian Journal of Medicine & Science in Sports, says about why working out more frequently (but less intensely) is a smart move.
What the study found.
Researchers out of Japan and Australia recruited 36 healthy young adults for this study. They were curious to see how doing the same workout—an arm resistance exercise lowering a heavy dumbbell in a bicep curl—at different intensities and frequencies affected fitness results. One group did a set of six contractions one day a week (low intensity, low frequency), another did a set of 30 contractions one day a week (high intensity, low frequency), and the last did a set of six contractions five days a week (low intensity, high frequency).
Everyone kept up with this routine for four weeks before getting their muscle strength and muscle thickness measured. After the month was up, those in the group who did a set of six contractions five times a week were the only ones who saw significant gains in both muscle strength and thickness. The group who did 30 contractions in one day saw an increase in thickness but not strength, while the group who did six contractions in one day did not increase muscle size or strength.
This study demonstrates that if muscle strength and thickness are your goals (and they should be, as they've been associated with things like weight management, heart health1, and blood sugar balance2), you'll want to do lighter, shorter workouts—but do them more frequently.
What it means for you.
Consider this yet another reason to opt for frequent repetitions of Zone 2 exercise (the level of exercise where you can still hold a conversation) over the occasional all-out workout.
"People think they have to do a lengthy session of resistance training in the gym, but that's not the case. Just lowering a heavy dumbbell slowly once or six times a day is enough," study author Ken Nosaka, Ph.D., says in a statement. "We only used the bicep curl exercise in this study, but we believe this would be the case for other muscles also, at least to some extent." (In mindbodygreen's mbg moves library, there is a treasure trove of lower-impact routines tailored to each muscle group.)
The takeaway.
Want to get stronger but not a fan of high-intensity training? Don't sweat it. As Nosaka says (and this new research supports): "If you're just going to the gym once a week, it's not as effective as doing a bit of exercise every day at home."