This RD Is Challenging The Traditional Concept Of A "Healthy" Plate

mbg Vice President of Scientific Affairs
By Ashley Jordan Ferira, Ph.D., RDN
mbg Vice President of Scientific Affairs
Ashley Jordan Ferira, Ph.D., RDN is Vice President of Scientific Affairs at mindbodygreen. She received her bachelor's degree in Biological Basis of Behavior from the University of Pennsylvania and Ph.D. in Foods and Nutrition from the University of Georgia.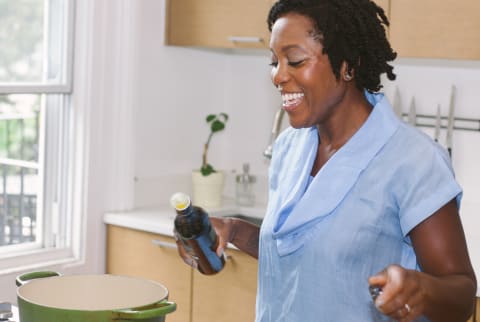 Image by Maya Fellar / Contributor
March 10, 2021
We carefully vet all products and services featured on mindbodygreen using our
commerce guidelines.
Our selections are never influenced by the commissions earned from our links.
It's National Nutrition Month! All month long, we're highlighting the importance of a personalized nutrition approach and celebrating R.D.s across a range of specialties—hospitals, schools, community programs, universities, private practice, industry, and beyond.
Today is Registered Dietitian Nutritionist Day, "R.D. Day" for short, part of National Nutrition Month, which spans all of March. On this day, we celebrate R.D.s as valuable health care practitioners and trusted sources of science-backed nutrition expertise.
The theme for National Nutrition Month this year is "Personalize Your Plate," which echoes the concept of diet customization from the Dietary Guidelines for Americans 2020–2025. This personalized approach to nutrition really resonates with my own philosophy as an R.D., along with many of my fellow R.D.s, too.
To share some valuable perspectives this month, I'll be chatting with the nation's top R.D.s across various nutrition careers and specialties, to hear what personalizing a plate means to them. Up first is Maya Feller, M.S., R.D., CDN, a Brooklyn-based registered dietitian, speaker, author, nationally recognized nutrition expert, and member of the mbg Collective many of you already know and love.
Feller's private practice provides medical nutrition therapy for the risk reduction and management of chronic diseases. In her work, she makes it a priority to approach patients with a culturally sensitive, anti-bias, and patient-centered lens. Feller also helps the public make informed food choices that support health and longevity through her nutrition education work. In every one of her speaking engagements, media appearances, and articles, Maya emphasizes approachable, real-food-based solutions. Here, she shares her take on this year's National Nutrition Month theme, along with some useful food tips you don't want to miss:
1.
What does this year's National Nutrition theme "Personalize Your Plate" mean to you?
In my work, I see this year's National Nutrition Month theme, "Personalize Your Plate," as an opportunity for nutrition practitioners to expand the boundaries of what a healthy pattern of eating looks like. It's an opportunity to bring the whole person—inclusive of their lived experience, culture, heritage, and health needs—into consideration. We often say there is no one-size-fits-all dietary approach yet perpetuate a narrow view of what a "healthy" plate is supposed to look like. This year's theme can help challenge that.
2.
Do you follow a specific dietary pattern?
Because I do not have any allergies, I am able to enjoy a wide variety of foods from around the globe. Due to lactose intolerance, I generally use dairy products that are low lactose or lactose-free. In addition, I'm salt-sensitive, so I follow a lower sodium pattern of eating. I do eat a large quantity of plants but also enjoy animal proteins.
3.
What's your go-to nutrient-dense meal right now (breakfast, lunch, or dinner)?
4.
Is there one "MVP" healthy food or meal addition you're personally loving right now?
Hot pepper: I love heat and will use dried hot peppers and fresh hot peppers on most any meal.
Want to turn your passion for wellbeing into a fulfilling career? Become a Certified Health Coach! Learn more here.

Ashley Jordan Ferira, Ph.D., RDN
mbg Vice President of Scientific Affairs
Ashley Jordan Ferira, Ph.D., RDN is Vice President of Scientific Affairs at mindbodygreen. Ashley received her B.A. in Biological Basis of Behavior from the University of Pennsylvania (along with a double minor in Nutrition and Music) and Ph.D. in Foods and Nutrition from the University of Georgia. Her research contributions span vitamin D, cardiometabolic health, bone density, and weight management. Ferira is a nutrition scientist and dietitian with experience in nutrition product innovation and development, scientific affairs, education, communications, and SEO writing for global firms, including Nature Made, Metagenics, Three Ships, and mindbodygreen.
In addition to her mindbodygreen contributions, Ferira is published in Health, Metagenics Institute, American Family Physician, The Journal of Clinical Endocrinology & Metabolism, and Osteoporosis International. She has a passion for the translation of evidence-based science into innovative and high-quality products and information that help people lead healthier lives. She is a believer in compassionate, informed, and personalized approaches to nutrition, health care, and wellness. Ashley lives in beautiful Charleston, South Carolina, where she was born and raised. Whether savoring an orchestral performance or delectable meal at a local restaurant, you will find her enjoying Charleston's cultural and culinary arts with family and friends.