The Fresh Produce This RD Is Buying Now & How To Make It Last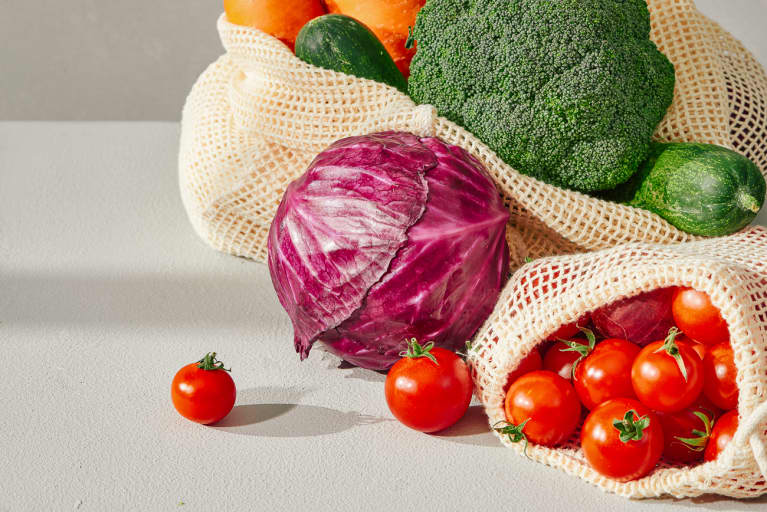 We are in the midst of a global reset. Many have been asked to shelter in place as a means to flatten the curve and reduce the spread of COVID-19. Knowing that access to fresh and less perishable produce can vary upon location, here are some tips on purchasing fresh produce—what to buy now, what to save for later, and how to make your fruits and veggies last longer.
First things first: Don't panic. Take deep breaths, heed the precautions and wash your hands, clean your kitchen, and get ready to cook.
Being at home means there is more time for slow-cooked meals. Onions and garlic can be sauteed and simmered; soups and stews can be prepared in larger quantities. If you do have access to fresh produce, think of meals you would like to cook now, then freeze the leftovers for later use—you know, when life becomes busy again.
Should I buy fresh produce right now?
When you head to the grocery store, there is no need to shy away from fresh produce. Deliveries continue to be made, and stores should be replenished.
When picking out items, look for produce that does not have any visible spoilage. If food appears wilted, store it separately from other items and use it first. In general, it's always great to follow FIFO (first in, first out) to minimize food waste.
When packing your fridge, be sure produce is dry and allow for adequate space between items—this promotes better air circulation. You can also self-process at home, meaning you wash and place items into freezer-safe packaging for later use.
Produce to purchase and use now:
Lettuce and leafy greens, like collards, kale, Swiss chard, bok choy, and tatsoi
Cruciferous vegetables, like cauliflower, broccoli, and cabbage
Tomatoes, peppers, cucumbers (top with olive oil, lemon, and fresh herbs for a flavorful salad)
Poblanos and jalapeños
Fresh herbs, thyme, rosemary, and sage
Onions (don't forget variety can spice up a meal—buy red, white, and yellow)
Carrots
Summer squash or zucchini (grate these with the skin on, and they can be added to nearly any dish)
Sugar snap peas
Celery
Beets (these go great with your greens)
Leeks, scallions, and garlic
While buying nonperishable items in bulk seems counterintuitive, there are some items that tend to have an extended shelf life if stored properly. Keep these fruits and veggies in a cool, dry place away from direct sunlight or heat.
Produce with an extended shelf life:
Citrus, including lemons, limes, oranges, and grapefruits
Apples, pears
All varieties of winter squash
Onions, garlic
Pomegranate
Plantains (sweet and green)
Cassava
Whatever you purchase, be sure to get some items that you know and love. Don't feel that any rule is hard and fast. Simply purchase what's available and make it tasty!