Meeting Up With Your Friends? Here Are 56 Ideas For How To Spend Your Time Together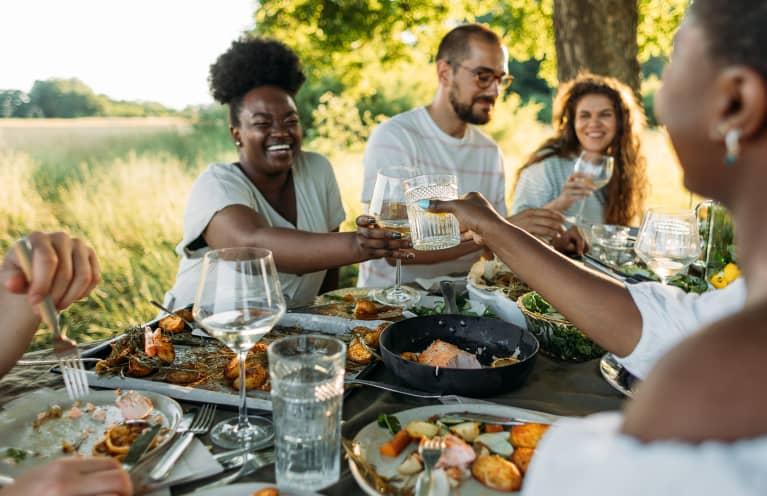 Sometimes there's nothing better than kicking back with a friend and simply hanging out—but other times, you want something to do. If you've grown bored of the same-old-same-old coffee dates or happy hour drinks, we rounded up 56 things you can do with your friends—at home, in town, out in nature, and more.
After all, our adult friendships are an invaluable part of our support system and overall well-being—research shows this—and when we make time to intentionally do activities together, it brings us closer. As psychotherapist Annette Nuñez, Ph.D., LMFT, tells mbg, "It's really important to keep social connections strong because your friends become your support system—in a sense, they're the family that you choose."
So the next time you're looking for activity inspo, here's a foolproof list of options, from both Nuñez and licensed therapist De-Andrea Blaylock-Solar, MSW, LCSW-S, CST.
22 things to do on the town or in nature:
Get dinner somewhere unique
Go for a hike
Go grocery shopping together
Visit a farmers market
Take a walk in the park
Walk your dogs together
Join an intramural sports league
Attend a workout class together
Go to a museum
Visit your nearest botanical gardens
See some live music
Go to the beach
Take a bike ride
Visit an adult arcade or escape room
Have a picnic
Go kayaking or paddleboarding
Take a cooking class together
Try a paint-and-sip class
Go to a comedy show
Visit a nearby historical site
See a movie at a drive-in theater
See a play or musical
12 things to grow closer as friends:
9 games to play with friends:
Corn hole
Frisbee
Bocce ball
Two truths and a lie
Truth or dare
Charades
Jenga
"Never have I ever"
Karaoke
Whether you're taking a picnic in the park, visiting a local museum, or staying in for a movie night, it's not about what you're doing but the company you're with. Still, it never hurts to have options—and one of these is sure to provide a great time with great friends.