Close Banner
Advertisement
This ad is displayed using third party content and we do not control its accessibility features.
The Next Wave Of Eye Products? Lifting Your Lids & Brows

Beauty & Health Editor
By Jamie Schneider
Beauty & Health Editor
Jamie Schneider is the Beauty Editor at mindbodygreen. She has a B.A. in Organizational Studies and English from the University of Michigan, and her work has appeared in Coveteur, The Chill Times, and Wyld Skincare.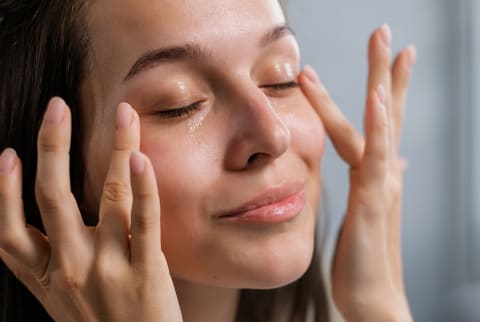 Image by Alena Darmel / Pexels
We carefully vet all products and services featured on mindbodygreen using our
commerce guidelines.
Our selections are never influenced by the commissions earned from our links.
You've probably heard this a million times by now, but allow me to make it a million and one: The eye area is one of the first places to experience signs of aging. The skin is super thin and sensitive, which makes concerns like sagging, crepiness, and fine lines more apparent.
To delay this natural process for as long as possible, you might tend to the area with eye creams, patches, and even high-tech tools. But let me ask you this: Are you treating the entire eye area (lids and brows included), or do you only prioritize under-eyes and crow's feet? If you align with the latter, you might be doing your skin a disservice.
If you want to lift and tone the eyes for the long haul, you need to focus your efforts north. This next wave of eye products will help you do just that.
Should you apply eye cream around your lids?
In the past, most experts would tell you to generally avoid the lid area when applying eye cream. "It can lead to irritation since that area is so sensitive," celebrity esthetician Joanna Vargas once shared with mbg. Even the gentlest pressure can tug on the delicate lid skin as you blend, which can exacerbate fine lines. Not to mention, some occlusive formulas might be too heavy for the thinner area, weighing down the lids and leading to even more sagging over time.
You may have noticed an esthetician tapping or massaging eye cream around your entire orbital bone in a professional setting, but, well, they're the professionals. You're not likely to be as careful at home, which is why experts have recommended sticking to the under-eye region.
But skin woes are not isolated to the under-eyes! The upper eyelids commonly turn crepey, and brows tend to droop over time as the skin naturally folds from aging. Even dark circles, which are often described as discolored half-moons underneath the eyes, can show up on the upper eyelid, biochemist Lauren Otsuki, co-founder of Ourself, tells mbg. "To fully address this issue, it's important to look at the orbital area as a whole and the underlying cause," she notes.
In fact, if you only address the under-eyes, the results might not be as effective in targeting the root cause. "Think of the concept that if you have a weak knee, then you need to strengthen your quadricep (the muscle located above)," Otsuki explains. The same logic applies to eye care: "By applying eye cream up to the brow bone, you're ensuring to cover the areas that are not only visibly changing but helping to support the underlying cause.""
As a result, we see an uptick in eye products that address the entire area—not just the under-eyes but also around the orbital bone and even up to the brows. Think serums with a featherlight consistency, formulas with regenerative properties to lift and firm skin, and even patches that cover all around the eyes (as opposed to small swishes to place underneath). It just may take a bit more detective work to find a suitable formula.
How to address lid & brow sagging 
First things first: Know that some ingredients are not suitable for all around the eyes. "Sensitivity will vary from person to person, but the eye area is always more delicate compared to other facial areas," says board-certified dermatologist Hadley King, M.D.
Make sure to patch test before slathering on, especially when it comes to retinol-infused formulas. "Retinyl palmitate, encapsulated retinol, and bakuchiol are all gentle versions of retinoids to provide anti-aging effects without irritation," King notes, so she recommends seeking out those players in eye product formulas.
She also praises niacinamide, which can help improve tone, texture, and ceramide production, as well as peptides.
Namely, a peptide called acetyl octapeptide-3 and other hexapeptides1 have been shown to have a Botox-like effect on the skin. "To get the maximum Botox-like benefit from the octapeptide, it's helpful for it to impact a larger part of the orbicularis oculi muscle [the muscle that opens and closes the eyes] in the lateral canthus area," says King. Translation? You'll want to apply it on the upper portion of the eye area if you want it to actually lift the eyes.
Ingredients aside, you'll also want to assess the product's consistency. "Thick, occlusive textures can be less than ideal. They might feel a bit too heavy and uncomfortable," says Otsuki. "In contrast, lighter formulations tend to be more suitable and comfortable for delicate eyelid skin."
And if you do choose a cream or serum (as opposed to an elevated eye patch), make sure to use very gentle pressure when you apply. Otsuki recommends a light sweeping motion toward the outer corner of the bottom lid, then continuing upward over the upper eyelids and brow bone area until you cover the entire orbital region. "It's key to always smooth and sweep upward on the face and eye area. Finish by patting in gently with your fingertips," she adds.
To avoid product gathering in the folds of your eyelids, make sure you use just a pea-sized amount of product for both eyes. You want enough slip to avoid tugging at the delicate eye area but not enough to cause any drooping. Less is more.
The takeaway 
Will this tip make or break your entire skin care routine? Not exactly, but applying eye products to your entire orbital area (as opposed to just the under-eyes) can help address sagging and crepiness concerns over time. And experts have already started to change their tune on lid and brow application as a result. It may sound simple, but I'd argue it's the smallest tweaks that make the biggest difference in skin care—especially when it comes to your delicate eye muscles.

Jamie Schneider
Beauty & Health Editor
Jamie Schneider is the Beauty Editor at mindbodygreen. She has a B.A. in Organizational Studies and English from the University of Michigan, and her work has appeared in Coveteur, The Chill Times, and more. In her role at mbg, she reports on everything from the top beauty industry trends, to the gut-skin connection and the microbiome, to the latest expert makeup hacks. She currently lives in Brooklyn, New York.