June's New Moon In Cancer Has Nearly Arrived — Here's What To Know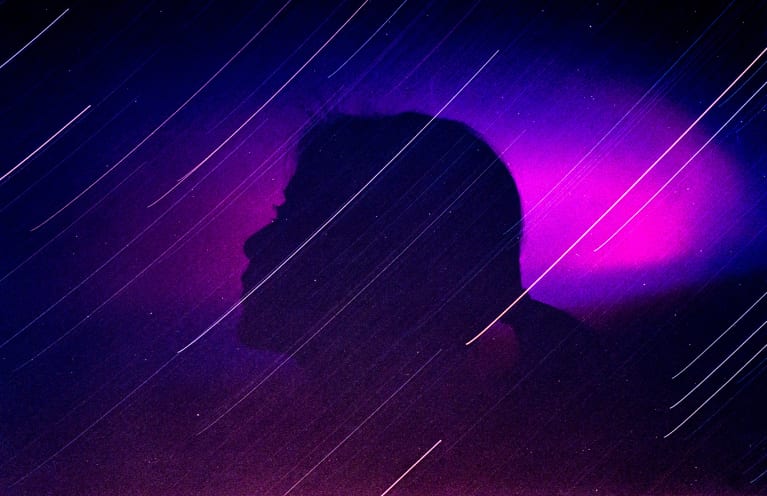 Yet another lunar cycle is nearly complete, with a new moon on the horizon this Tuesday. As we all collectively ride the watery waves of Cancer season, here's what to know about the astrology behind this new moon, plus how to work with it.
What to know for this new moon.
June's new moon in Cancer lands in skies this Tuesday the 28th, around 11 p.m. EDT. We won't be able to see it, of course, as the moon sits in total shadow when it's new—but that doesn't mean we won't feel its impact.
And for this particular new moon, Cancerian themes will be at the forefront, from family relationships to your space at home. And by the way, Cancer is already ruled by the moon to begin with, so you can consider this a double dose of lunar energy.
In terms of what this moon could elicit from us, the sensitive sign of the crab asks us to dig deep and ask ourselves what truly makes us feel safe, secure, and comfortable. And with Jupiter (the planet of luck and expansion) in Aries squaring the moon, the urge to overhaul in those areas may feel, well, urgent.
Not to mention, Mars, the planet of aggression and action, will be squaring Pluto, the planet of rebirth, so don't be surprised if this new moon feels more intense than others. Pluto has a knack for making us take a long look in the mirror, and Mars will then want to do something about it.
New moons are, after all, a time to start fresh and plant seeds—just be sure not to get caught in the undertow of Cancer's sensitivity, should things start to feel overwhelming. There's no harm (or shame) in taking it easy during this new moon, and Cancer season in general.
How to work with this energy.
When you think Cancer, think comfort, water, security, and big maternal energy. If you want to tap into the homebody energy of this sign during the new moon, one of the simplest things you can do is enjoy staying in and/or the company of your favorite people.
As the AstroTwins explain to mbg, "In homey and comfort-seeking Cancer, this month's new moon invites us to gather with our inner circle for heartfelt connections." Maybe this means you hold a new moon circle with your fellow lunar-loving pals or simply invite some friends over for a potluck where you all bring your favorite dish (very Cancer, indeed).
It's also a great time to clean house—literally. There's no such thing as being too comfortable according to Cancer, and especially under a Cancer new moon. Whether you take some time to refresh your home for summer, spruce things up with some new plants, blankets, or cozy candles, or at least, start envisioning the changes you'd like to see in your home, a Cancer new moon is the perfect time for it.
And of course, with Cancer being a water sign, you can also work with the water element for an energetic refresh. Taking a dip in a natural body of water would be great, of course, but if that's not an option, even offering yourself a spiritual bath in your own home is still very Cancer-oriented. It would also be a good time to make moon water or do any of your other favorite water rituals.
New moons are a prime time for setting intentions and planting seeds for the upcoming lunar cycle, and the next six months—and this Cancer new moon, in particular, is encouraging us to hunker down, start refreshing our homes, and connect with those we love most.