We've Got A New Moon & Solar Eclipse Coming This Weekend — Here's How To Handle It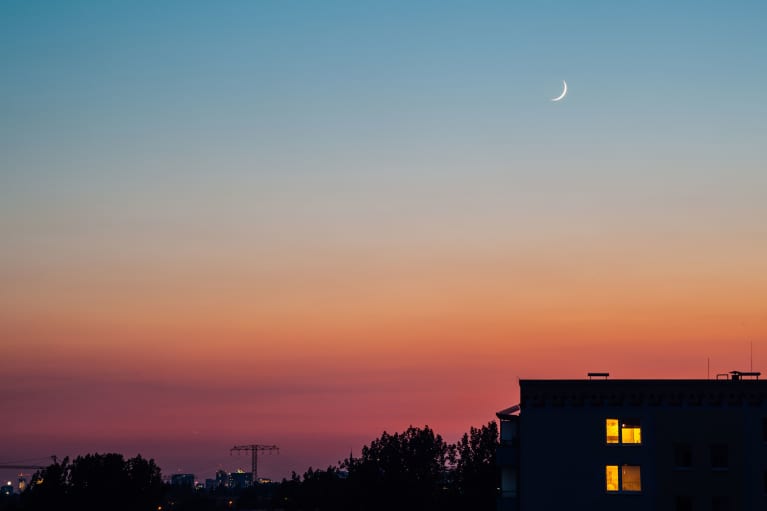 Our editors have independently chosen the products listed on this page. If you purchase something mentioned in this article, we may
earn a small commission
.
Not only do we have a new moon this weekend, but it's accompanied by a solar eclipse, kicking off the 2022 eclipse season. Here's what to know about this astrological event, plus how to work with its energy.
What to know for the new moon & solar eclipse.
The new moon will peak in the sky this Saturday at 4:42 p.m. EDT, with a solar eclipse following just 15 minutes later. Solar eclipses occur when the new moon passes between the sun and Earth during its orbit, blocking out the sun (either totally, or partially—and in this case it's a partial eclipse).
This new moon falls in the sign of Taurus, which we'll get into more later. And in terms of the eclipse, it's going to intensify the themes of new moons: beginnings, intention setting, and starting fresh.
With the moon (which deals with our emotions and subconscious) blocking out the more "conscious" or logical energy of the sun, we can expect emotions to run high, potentially overshadowing our thinking minds with more feeling.
Eclipses are also a time of massive change and shift, and this happens to be the first eclipse of 2022—so if things have been feeling a bit topsy-turvy lately, you can blame the stars.
How to work with this energy.
Between the new moon and the solar eclipse, there are a couple of ways to approach the impending energy of this weekend, and in the weeks following.
For one thing, Taurean themes include pleasure, money, self-care, and sensuality. If any of those areas of your life need a revamp, this new moon is the perfect time to do so—whether it's planning an extra-special date night, giving yourself a personal spa day, or connecting with nature.
And given that the solar eclipse is going to intensify new beginnings, be sure to take some time to map out your intentions, asking yourself what you want to start and/or work toward. Solar eclipses are also known to spur spontaneous change, so be on the lookout for opportunities, too.
Want to take your intention to the next level? Consider trying the 369 method to really home in on your goals. Here's how to do it:
The 369 method:
Start by getting clear on what your intention is, and come up with an accompanying affirmation. (For example, if you're looking to manifest more financial abundance, your affirmation could be, I am constantly attracting wealth for the highest good.)
Write your affirmation three times when you wake up in the morning.
Write your affirmation six times during the middle of the day.
Write your affirmation nine times before you go to bed.
Note: Be sure to pair the 369 method with action toward your goals, and repeat as long as necessary until you start to see results.
As hypnotist and author of Wishcraft Shauna Cummins previously explained to mbg, this method of manifesting is effective because by focusing on what you desire, especially in such a consistent way, you can help your brain "find what it's looking for, and therefore [become] more likely to magnetize your desires into action."
With eclipse season kicking off this weekend and a new moon in Taurus encouraging a bit of an overhaul, there's a lot happening in the stars in the coming days. But by leaning into Taurean energy—and the fresh, new momentum from the solar eclipse—we can enjoy the ride and maybe even find a new beginning to dive into.