The 11 Best Laundry Detergents For 2023 And How To Wash Sustainably

mbg Sustainability + Health Director
By Emma Loewe
mbg Sustainability + Health Director
Emma Loewe is the Senior Sustainability Editor at mindbodygreen and the author of "Return to Nature: The New Science of How Natural Landscapes Restore Us."
September 20, 2023
We carefully vet all products and services featured on mindbodygreen using our
commerce guidelines.
Our selections are never influenced by the commissions earned from our links.
Laundry day isn't exactly the highlight of anyone's week, but the right supplies can make it a whole lot more painless—for you and the planet. Here are some of the best natural laundry detergents to pour right now.
What to look for in a laundry detergent
When it comes to the labels of a detergent bottle (and most household items), terms like "natural" and "organic" are unregulated1. This means that you need to turn that sucker around and read its ingredients list to get a sense of what's really in it.
Many conventional detergents contain chemicals that can linger on clothes and aggravate your skin. (Here's your guide to the ones to avoid.) If these chemicals don't completely biodegrade, they can also contribute to water pollution.
To name names, research shows that certain surfactants—compounds that help detergents remove dirt from the surface of clothing—in particular can pose a threat to aquatic life2. For those who want to avoid such nasties, we did the dirty work of rounding up detergents that use safe ingredients and package them in earth-friendly ways.
We know that laundry is personal, so we split up the list to speak to different needs and values. After much deliberation, here are the criteria we went with for each category:
Eco-friendly: Contain ingredients that have a low risk of aquatic toxicity, according to the Environmental Working Group's research database
Better ingredients: Certified by Safer Choice3 or MADE SAFE
Best for babies and sensitive skin: Sulfate-free, no artificial fragrances
Low-waste: Innovative designs that reduce packaging waste
Trying to avoid plastic? The low-waste options—which are designed to use less plastic packaging or eschew it altogether—are for you.
Have finicky skin? Go for one of the gentler, fragrance-free options we've identified.
They all use minimal ingredients with maximal efficacy, so any one you choose will leave your clothes fresh and your conscience squeaky-clean.
Best eco-friendly:
1. Aspen Clean Natural Laundry Detergent Lavender & Lemongrass
Aspen is one of the few laundry brands verified by the Environmental Working Group for its commitment to transparency and health. Their detergents are biodegradable and free of artificial colors and synthetic fragrances (they're scented with organic essential oils instead)—all housed in a recycled plastic bottle.
Sustainability perks: Biodegradable formula, recycled plastic bottle
Health perks: EWG Verified Safe
Price: $26.99 (per load: 42 cents)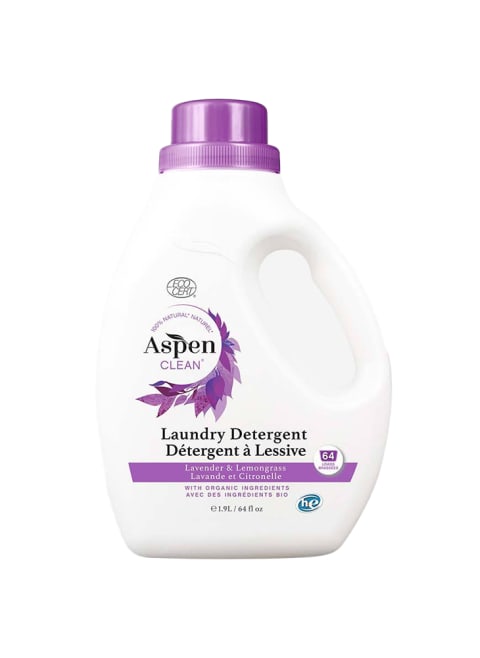 Aspen
2. Meliora Laundry Powder
Most liquid laundry detergents consist mostly of water, which adds weight and volume. Powder formulas tend to be lighter and more compact, making them less resource-intensive to ship and often more affordable to buy. Meliora's laundry powder has a short, safe ingredient list consisting of baking soda, washing soda, and vegetable soap and works just as well in machines as it does in hand-washing. This plastic-free option comes in aluminum (which is worlds easier to recycle than plastic) with a metal scooper for easy measuring.
Sustainability perks: Biodegradable powder formula, plastic-free packaging
Health perks: Simple, safe ingredient list
Price: $17.99 (per load: 28 cents)
Meliora
Best ingredients:
3. Dirty Labs Signature Bio Laundry Detergent
A new arrival to the laundry scene, Dirty Labs uses innovative formulas that rely on a suite of enzymes to do the heavy lifting. Created using a fermentation process, these enzymes take the place of potentially harmful sulfates and parabens. Dirty Labs' detergent is EPA Safer Choice4 certified and USDA Certified Biobased and free of any California Prop. 65 chemicals. The concentrated formula swaps the bulky plastic laundry jug with a sleek aluminum bottle design.
Sustainability perks: Biodegradable formula, recyclable aluminum bottle
Health perks: EPA Safer Choice certified, free of California Prop. 65 chemicals
Price: $17.10 (per load: 23 cents)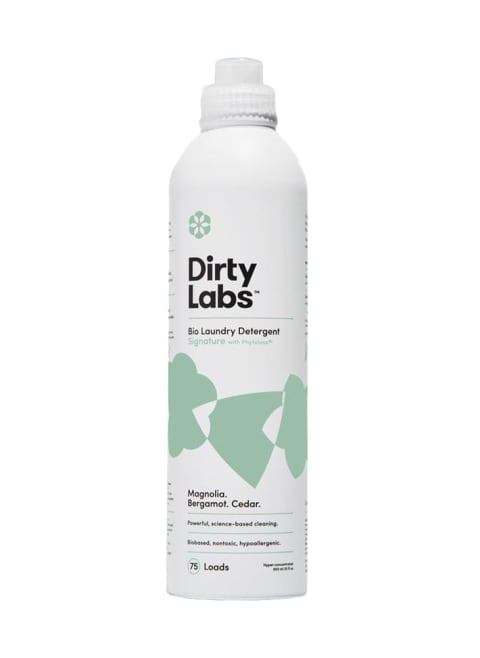 Dirty Labs
4. Branch Basics Laundry Kit
Branch Basics is known for its rigorously tested, gentle-yet-powerful cleaning concentrate that proves you don't need harsh chemicals to tackle tough messes. The MADE SAFE certified formula is biodegradable, free of irritants, and packed with soothing ingredients like chamomile flower extract. The best part? It's multipurpose, so you can use it on your laundry one minute and as a surface cleaner the next. The Branch Basics Laundry Kit contains the concentrate and a tub of Oxygen Boost, which can be used to lighten and brighten and spot-treat stains.
Sustainability perks: Biodegradable formula, concentrate
Health perks: MADE SAFE certified
Price: $64 for a laundry kit, $49 for just the concentrate (per load: 26 cents)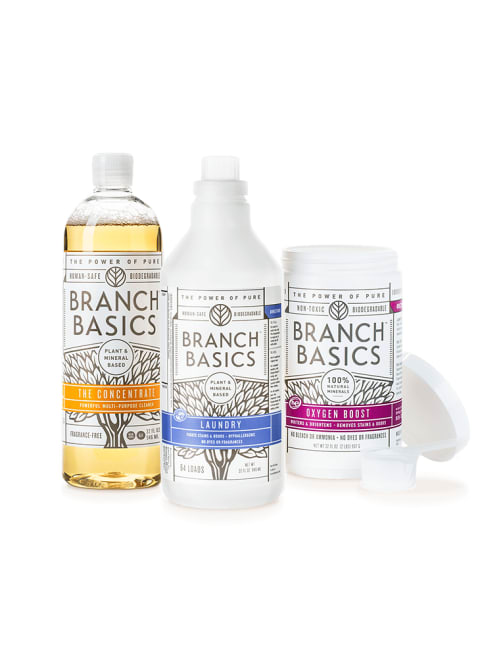 Branch Basics
Best for babies & sensitive skin:
5. Common Good Laundry Detergent, Unscented
Common Good's detergent was designed with sensitive skin in mind and is free of chlorine bleach, ammonia, or optical brighteners. You can buy your first batch in a plastic or glass container and stock back up at refill stations across the country or have refill pouches shipped to your home. In addition to unscented, Common Good's detergent also comes in lavender and citrusy bergamot scents.
Sustainability perks: Biodegradable ingredients, option to refill
Health perks: Designed for sensitive skin
Price: $24 (per load: 50 cents)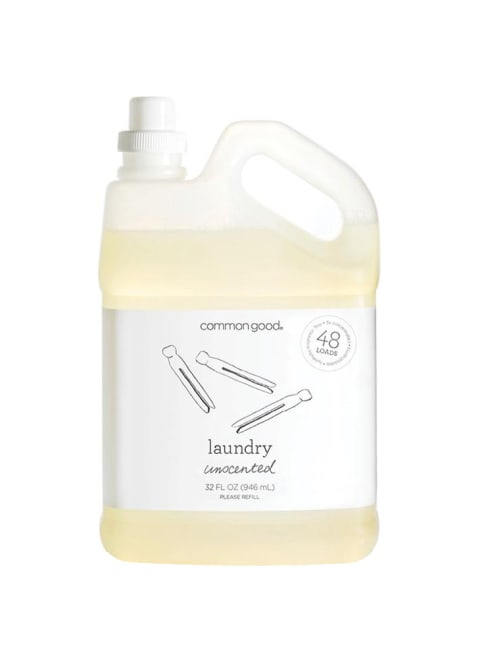 Common Good
6. Healthybaby Laundry Concentrate System
Designed for baby's sensitive skin, Healthybaby detergent is MADE SAFE certified, EWG-Verified, and free of endocrine disrupters, phthalates, and parabens. Made from plant-based enzymes, it's biodegradable in water and packaged in a baby-safe bottle. The concentrated formula can also be combined with water and used to clean other surfaces in the home (and of course, parents can use it to launder their clothes too).
Sustainability perks: Biodegradable formula
Health perks: MADE SAFE certified, EWG-Verified
Price: $30 (per load: 38 cents)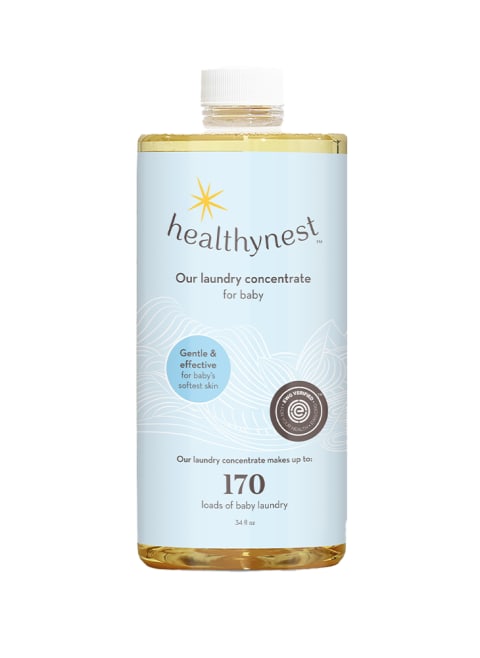 Healthynest
7. The Green Laundress Laundry Soap
With the seal of approval from mbg's beauty team, The Green Laundress powder is ideal for anyone with sensitive skin. It gets its oomph from vegetable-based Castile soap, baking soda, and washing soda—similar ingredients to those you'd find in a gentle homemade detergent, but this one is already put together for you. It comes in lightweight powder form that fits in a recyclable bag.
Sustainability perks: Biodegradable powder formula, recyclable packaging
Health perks: Simple, plant-based ingredient list
Price: $14 (per load: 29 cents)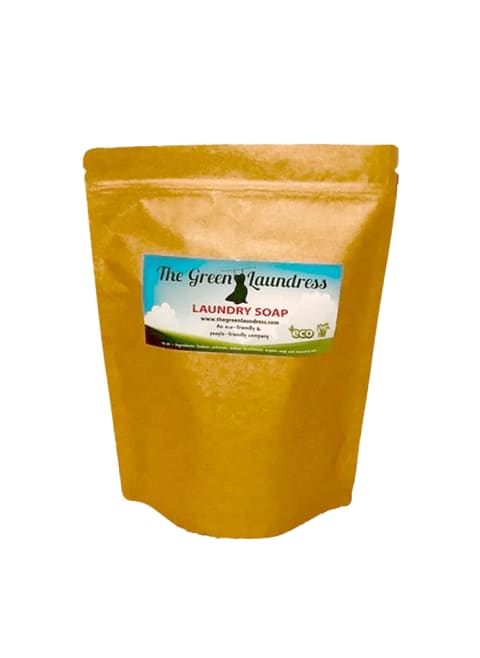 The Green Laundress
Best low-waste:
8. Blueland Laundry Starter Set
Blueland re-imagines cleaning products in solid tablet form to cut down on single-use packaging waste and reduce the need for plastic laundry pods, which are made from petroleum-based plastic Polyvinyl Alcohol (PVA) film. (The company is even in the process of petitioning the EPA to ban these pods, which are not fully biodegradable5 and can contribute to plastic pollution.)
Blueland's plastic-free laundry detergent comes in a compostable paper pouches, which you can then transfer to a tin that is unexpectedly chic for a laundry zone.
Sustainability perks: Plastic-free tablet form, compostable packaging
Health perks: Free of synthetic fragrances, phthalates, and parabens
Price: $22.50 (per load: 38 cents, also comes with reusable tin)
Blueland
9. MyKirei by KAO Easy-Spray Laundry Detergent
MyKirei by KAO's Detergent comes in an easy-spray bottle that ensures you're using just the right amount of product for each load. (Bonus: It also makes for a leak-free laundry area.) Once the product runs out, you can order a refill in a lightweight pouch that uses 90% less plastic than a traditional bottle and is recyclable with specialty waste hauler TerraCycle.
The phosphate-free formula is also safe for those with sensitive skin.
Sustainability perks: Refillable bottle, low-waste refills
Health perks: Phosphate-free
Price: $10.99 (per load: 27 cents)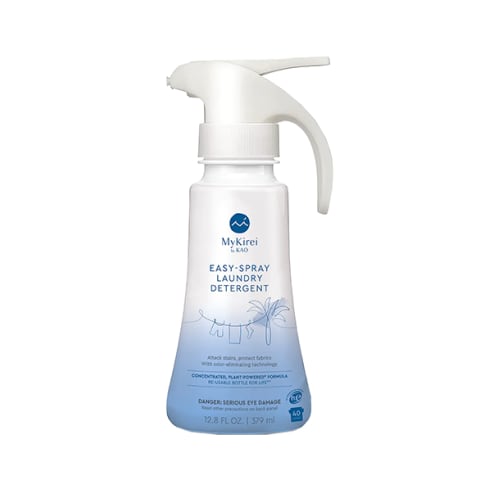 MyKirei
10. Cleancult Laundry Detergent
Cleancult swaps the plastic gallon for a milk carton design that is recyclable in most areas. The star ingredient in this plant-based formula is saponified coconut oil, which Cleancult uses across its product line for its antibacterial, antifungal chops6. It's paired with paraben- and phthalate-free ingredients and comes in scented and unscented varieties.
Sustainability perks: Packaging is recyclable in most areas, biodegradable formula
Health perks: Paraben- and phthalate-free
Cleancult
11. Grove Ultra-Concentrated Liquid Laundry Detergent
Grove Co. offers one-stop subscription shopping for all your healthy household cleaner needs—including this ultra-concentrated liquid detergent. Order it with their auto-dosing detergent dispenser and the company estimates you'll save around 70% of the typical laundry-related plastic waste. While the concentrate pouches are not recyclable curbside, they can be sent back to Grove for free to be recycled Terracycle.
Sustainability perks: Concentrated formula that can be bought on a refill subscription
Health perks: Paraben- and phthalate-free
Price: $9.95 (per load: 30 cents)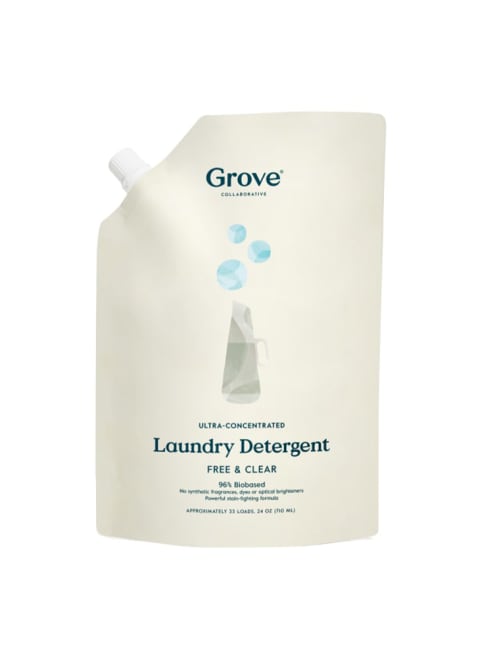 Grove Collaborative
Greening the rest of your laundry day
Clearly, there are great options on the market for every need. But if you're looking to save a little money and further reduce packaging waste, making your own laundry detergent is also an option: This four-ingredient DIY recipe uses Castile soap as a base, and its odor-neutralizing power can be enhanced with a little bit of white vinegar, a surprising laundry day hero that can be used a number of ways on clothes.
Whatever detergent you're using, washing your clothes in cold water (either by hand or in a machine) is the better environmental move, as anywhere from 75 to 90% of the energy required to clean a load of laundry goes toward heating the water.
Only washing your clothes when needed will also lighten your laundry's environmental impact—especially when it comes to synthetic fabrics. Petroleum-derived synthetics shed plastic microfiber particles into waterways with each wash, which could harm aquatic life.
Shop for more eco-friendly natural fibers like cotton, hemp, and linen instead, and when you do wash your polyesters and rayons, pop a microplastics trapper into your machine. Air dry when possible to avoid dryer emissions, and skip chemical-heavy dryer sheets for simple wool dryer balls.
Sustainable laundry tools
Don't forget to clean your laundry machine with natural cleaners every once in a while, too! Not only are these routines better for the environment; they'll also help keep your fabrics in good shape for longer.
The takeaway
There's never been a better time to be an eco-conscious clothing-wearer. If this list confirms anything, it's that healthy, earth-friendly laundry detergents are never more than a click away.