Get A Gentle, Fragrance-Free Clean: The 8 Best Laundry Detergents For Sensitive Skin

mbg Beauty & Wellness Editor
By Jamie Schneider
mbg Beauty & Wellness Editor
Jamie Schneider is the Beauty & Wellness Editor at mindbodygreen. She has a B.A. in Organizational Studies and English from the University of Michigan, and her work has appeared in Coveteur, The Chill Times, and Wyld Skincare.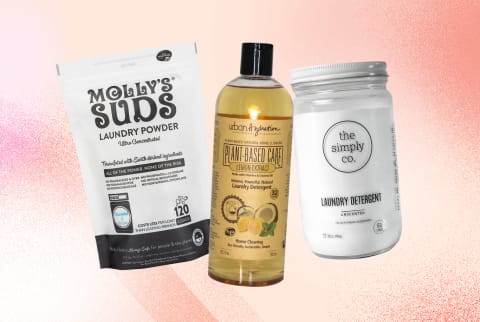 June 20, 2020
Our editors have independently chosen the products listed on this page. If you purchase something mentioned in this article, we may
earn a small commission
.
Ever thrown a favorite sweater in the laundry only to find it itchy and uncomfortable post-wash? It's not the lack of fabric softener; rather, traditional detergents typically use harsh surfactants in order to remove all the grime from our clothes. And while those heavy-duty formulas can lift grease stains galore, a lot of those ingredients (namely, sulfates, preservatives, and fragrance) can cause atopic dermatitis, especially for those with an already compromised skin barrier.
That's why board-certified dermatologist Nava Greenfield, M.D., of Schweiger Dermatology Group in Brooklyn, says, "It's best to use laundry detergents that are made especially for sensitive skin and are fragrance-free." Think about it: If you have sensitive skin, you probably avoid harsh, chemical-laden cleansers for your face and body, no?
Advertisement
This ad is displayed using third party content and we do not control its accessibility features.
Good news: There are tons of options out there specifically for those with super sensitive skin (or those simply looking for minimal, skin-supporting ingredients). Start with these eight: gentle, fragrance-free, and they don't skimp on efficacy—so that favorite sweater remains clean and cozy.
True Laundry 101 Load Clear Laundry Detergent
This four-time concentrated laundry detergent puts in the capital-W work without the use of perfumes or dyes. (Sweat, stains, and sports odors are gone faster than you can say fragrance-free). Needless to say, True truly gets the job done.
101 Load Clear Laundry Detergent, True Laundry ($16.99)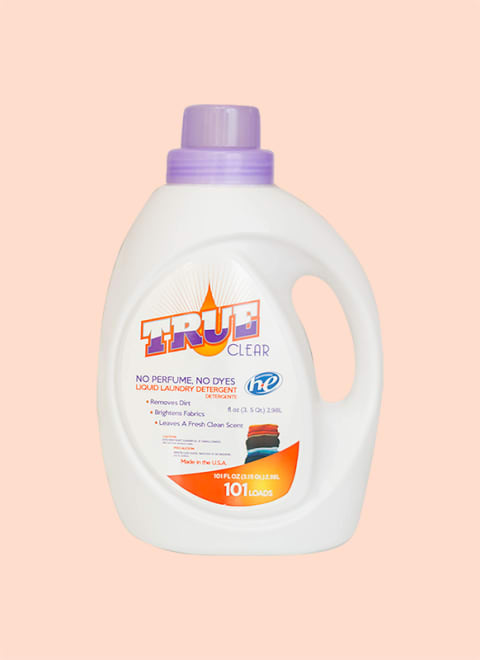 mindbodygreen
Dinobi Laundry Detergent
This plant-based detergent is made with super-simple ingredients: just water, plant-based surfactants, vegetable-derived fatty alcohol, and lavender essential oil. It leaves a heavenly scent on your clothes while remaining extra gentle on your skin (a win-win, we'd say). Plus, it comes in glassware packaging, so you can recycle or upcycle the product when you're running low.
Laundry Detergent, Dinobi ($17.99)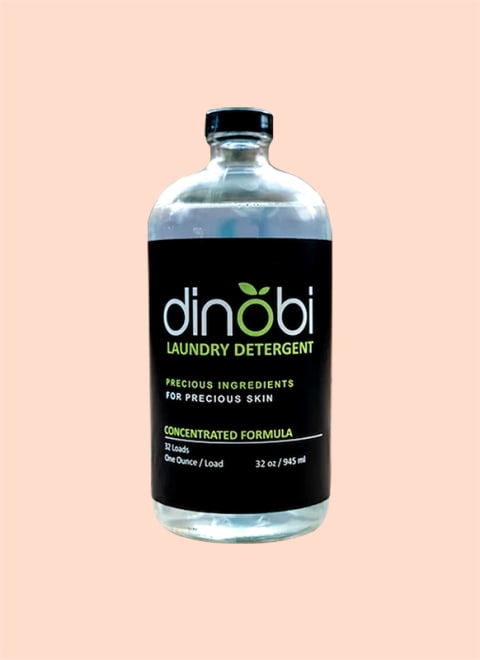 mindbodygreen
The Green Laundress Laundry Soap
You'll want to have this powder detergent on your radar: It's made with Castile soap, a super-gentle solution made from plant-based oils that we're big fans of here at mbg. In addition to the high-quality ingredients, this powder gives you super-concentrated results; it's not diluted with water like liquid detergents, so you can get off grime with half the amount of product.
Laundry Soap, The Green Laundress ($17)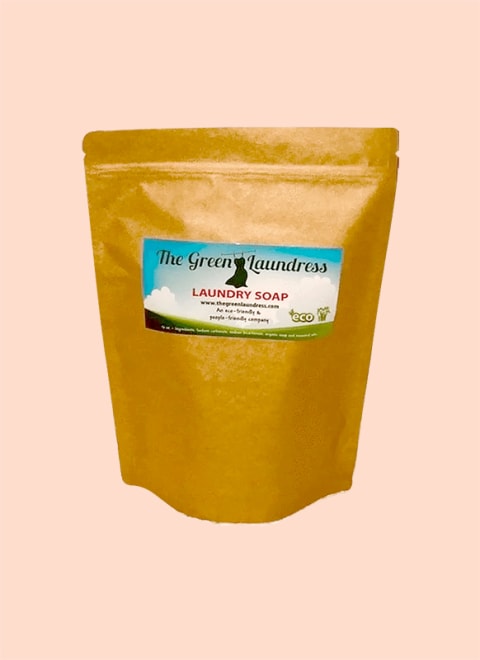 mindbodygreen
The Simply Co. Unscented Laundry Detergent
When it comes to sensitive skin, minimal ingredients are key. And this unscented powder detergent just has three: Baking soda, washing soda, and organic Castile soap. The brand was created by Lauren Singer, a leader of the zero-waste movement, so you know this detergent trumps on the sustainable front. The powder itself is 100% biodegradable; the packaging, recyclable when you're all through.
Unscented Laundry Detergent, The Simply Co. ($24)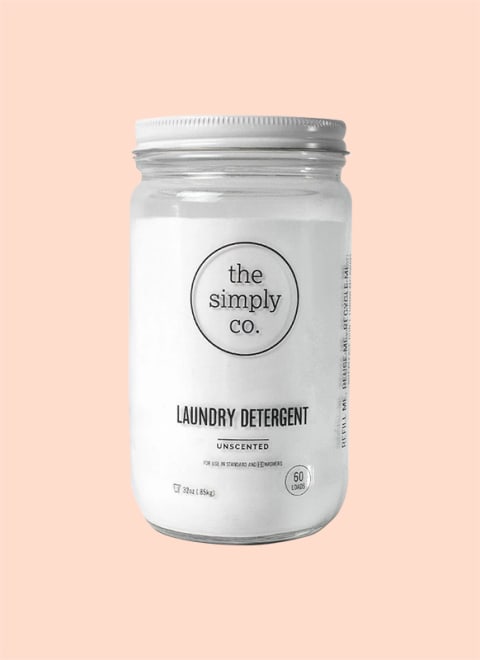 mindbodygreen
Dropps Baby Sensitive Skin & Baby Detergent Pods
A sensitive-skin trick: When searching for the most gentle products possible, opt for the baby-safe options. These Dropps pods are 100% dye-free, scent-free, and enzyme-free (great for washing delicates), and the formula itself is hypoallergenic.
Baby-Sensitive Skin Laundry Detergent Pods, Dropps ($26)
mindbodygreen
Molly's Suds Unscented Laundry Powder
Another powder option to add to the mix, Molly's Suds unscented detergent is powerful, yet oh-so gentle. Despite the brand's name, you won't find any soapy suds in your laundry with this one: The powder includes a low-sudsing formula, which can yield a safer, more natural clean (as with sulfate-free shampoos, just because a detergent doesn't foam up doesn't mean it's not working).
Unscented Laundry Powder, Molly's Suds ($23)
mindbodygreen
Arm & Hammer Sensitive-Skin Perfume- and Dye-Free Liquid Laundry Detergent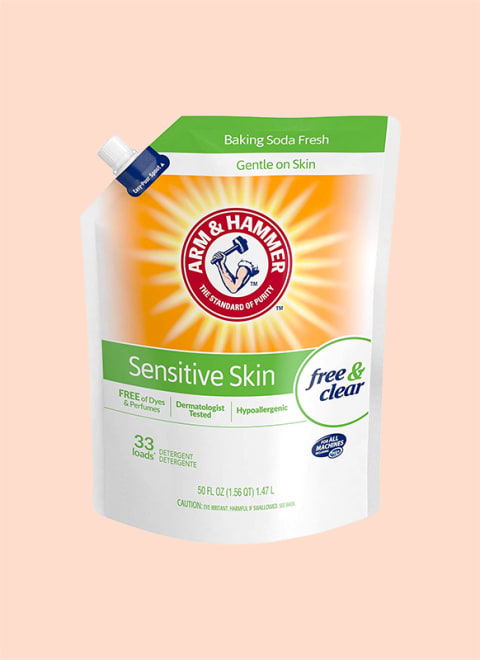 mindbodygreen
Charlie's Soap Natural Laundry Powder
Charlie's uses a combination of washing soda and plant-based surfactants to effectively remove gunk on all your clothes—be it delicate separates or greasy dungarees. A bonus: This green laundry powder can clean the inside of your washing machine, too (as traditional detergents may leave some residue behind). Just take a tablespoon of the powder and wash a load of rags before moving on to your clothes.
Natural Laundry Powder, Charlie's Soap ($19)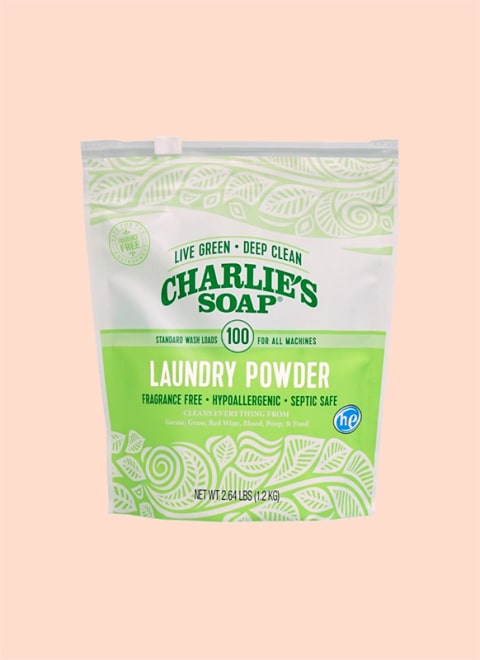 mindbodygreen
Want to turn your passion for wellbeing into a fulfilling career? Become a Certified Health Coach! Learn more here.
Advertisement
This ad is displayed using third party content and we do not control its accessibility features.