A 4-Ingredient DIY Recipe For Homemade Laundry Detergent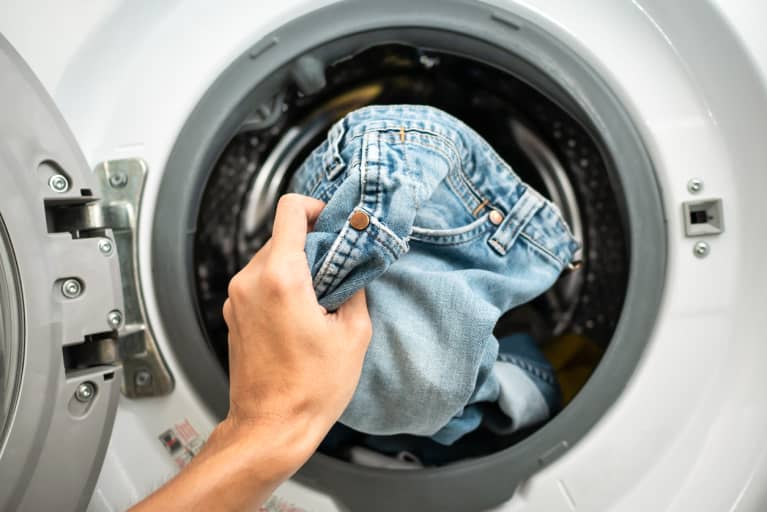 Our editors have independently chosen the products listed on this page. If you purchase something mentioned in this article, we may
earn a small commission
.
Been reading about the iffy ingredients found in store-bought laundry detergents and feeling tempted to whip up your own instead? We don't blame you. While there are plenty of safe and effective detergents out there (this EWG list is a good place to find 'em), making your own is easy, inexpensive, and often better for the environment.
The efficacious ingredients in the following recipe from Julia Watkins, author of Simply Living Well: A Guide to Creating a Natural, Low-Waste Home can be counted on one hand: Castile soap cuts grease, washing soda whitens, baking soda removes stains, and salt softens clothes. Buying them in bulk means you'll avoid packaging waste, save money, and have detergent on hand at all times.
DIY laundry detergent recipe:
Note: All the ingredients are shelf-stable, so feel free to double or triple this recipe.
5-ounce bar of pure Castile soap
1 cup washing soda
1 cup baking soda
1 cup coarse salt
Place the Castile soap in the bowl of a food processor and blitz it until it's finely ground. Then, add your washing soda, baking soda, and salt and blend into a fine powder. Once it's well blended, store in a labeled glass jar with an airtight lid. Use 2 tbsp. per load of laundry if you have a standard machine, and 1 tbsp. per load for high-efficiency machines.
How to customize your detergent.
For a more fragrant wash, you can either add 10 to 15 drops of your favorite essential oils directly to your DIY detergent or drop them on a wool dryer ball to pop in the dryer. "Something else you can also do to make your clothes and linens smell fresh is stuff small cloth drawstring bags with dried lavender and add them to your drawers and linen closet," adds Watkins.
More eco-friendly laundry practices:
In addition to making your own detergent, here are some more tips from Watkins on how to keep laundry day as low-waste as possible:
Add ½ cup of distilled white vinegar to the rinse cycle in lieu of a store-bought fabric softener. "If you're worried about the smell of vinegar, you'll be relieved to know it dissipates in the wash," she adds.
Swap your dryer sheets for reusable wool dryer balls.
Instead of bleach, use white vinegar or ½ cup baking soda to brighten clothes during the rinse cycle.
Hang your clothes to line dry when the weather permits.
Finally, keep in mind that up to 75% of the energy used during each laundry load goes toward heating the water, so run your new detergent in a colder wash cycle unless your clothes are heavily stained.