A Longevity Specialist Shares The Sleep Products You'll Find In Her Bedroom

mbg Sustainability + Health Director
By Emma Loewe
mbg Sustainability + Health Director
Emma Loewe is the Senior Sustainability Editor at mindbodygreen and the author of "Return to Nature: The New Science of How Natural Landscapes Restore Us."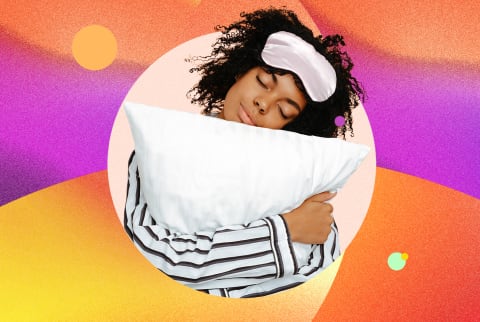 Image by mbg Creative x katiafonti / iStock
June 15, 2022
We carefully vet all products and services featured on mindbodygreen using our
commerce guidelines.
Our selections are never influenced by the commissions earned from our links.
Here, the functional medicine physician opens the bedroom door on the products she personally uses to ensure deep sleep.
1. A white noise machine
"I love my white noise machine to block out unwanted noise," Bonney tells mbg. "It definitely promotes more restful sleep." By covering up stray sounds like creaky air conditioners or outside traffic, white noise machines can minimize disruptions that break you from your slumber. Bonney's one word of advice is to set yours to a softer setting, around 65 dB, to ensure the volume isn't too loud—especially if you live with young kids.
Bonney personally uses Dohm's sound machine, and you can shop mbg's top picks here.
Dohm / Yogasleep
2. Blue light glasses
"If you often spend time in front of digital screens, there's a good chance you're not sleeping as well as you could be. You can blame it on the sleep-disrupting blue light from your gadgets," Bonney says. This wavelength of light can trick our body's circadian rhythm, or internal clock, into thinking that it's earlier in the day than it actually is. Thankfully, there are plenty of stylish blue-light-blocking glasses on the market, including shades of all shapes from Warby Parker. Be sure to transition over to these after the sun goes down to minimize your exposure to any potentially sleep-disrupting rays.
Warby Parker Keiko Eyeglasses (starting at $145)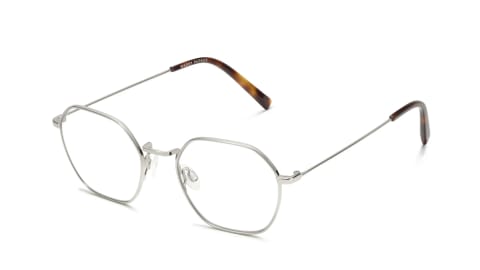 Warby Parker
3. Blackout curtains
Bonney notes that you can find blackout curtains in every bedroom of her home, and she's noticed they make a huge difference in sleep quality. "The science behind this is that darkness helps your body produce the hormone melatonin, which helps maintain your circadian rhythm and sleep through the night," she explains. In her own bedroom, Bonney draws Deconovo's thick, insulated curtains at the end of a long day.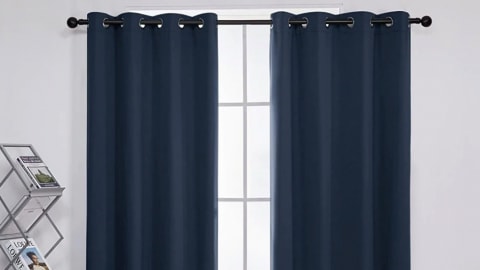 Deconovo
4. A smart mattress cover
Last but not least, Bonney raves that the Eight Sleep Pod Pro Cover has been "a game-changer" for her sleep. This high-tech pad fits snug over any mattress and allows you to set the temperature of your bed, down to the degree. "It also allows you to schedule personalized temperatures for each phase of the night, and you can do this from your phone," she adds. "You can think of this as a type of wearable tech since it allows you to track sleep stages, sleep time, and REM sleep for each side of the bed." Finally, Bonney appreciates that it can also function as an alarm clock to gradually wake you from slumber using vibrations and steady temperature increases instead of a jarring alarm.
Eight Sleep Pod Pro Cover ($1,745 for Queen)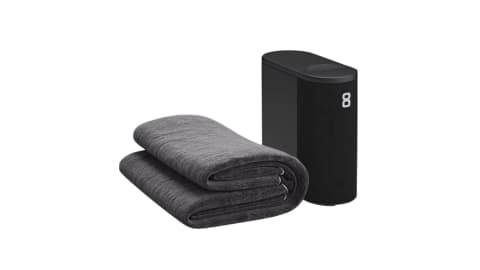 Eight Sleep
The takeaway.
Sleep is personal, and everyone approaches it a little differently. Whether you follow up a hot bath with a soothing supplement or turn to an entertaining read to wind down from the day, it pays to have a relaxing routine that gets you in the right frame of mind (and state of body) for bed. For longevity expert and functional medicine doctor Seema Bonney, M.D., bedtime involves turning on the white noise machine, blocking out stimulating light using glasses and curtains, and cozying up on a temperature-regulating bed. Not sure about you, but I'm getting sleepy just thinking about this expert-approved routine.