4 Drool-Worthy Keto Chicken Recipes That Will Make You Forget All About Carbs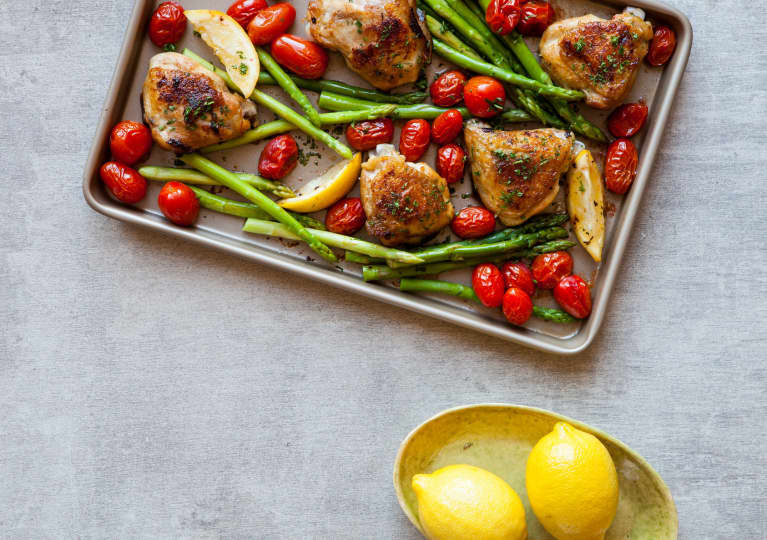 Our editors have independently chosen the products listed on this page. If you purchase something mentioned in this article, we may
earn a small commission
.
So, you've finally gone keto, but now you're probably wondering what the hell you got yourself into. After all, this low-carb, high-fat, moderate-protein diet isn't without its grueling transition period known as the keto flu (i.e., ultra intense cravings, fatigue, and the tendency to roll your eyes at just about everything). But we're here to tell you that, yes, you can still find comfort in your favorite flavors and foods without sabotaging your goals.
Enter: These delicious low-carb keto chicken recipes.
Maybe you think keto is all about red meat and despair, or that chicken breast isn't keto because it's too low in fat. But rest assured, you can incorporate plenty of tasty poultry recipes into your keto-friendly meal plan. (Surprisingly, the ketogenic diet allows many of the minimally processed foods that are likely staples in your meals already, like these 57 low-carb, keto-friendly foods.)
So, what makes these keto chicken recipes keto while some other chicken recipes (even low-carb paleo ones) aren't? It's all about that fat, baby.
If you're goal is to enter ketosis (and we assume it is), then you'll need to be somewhat strategic with your dietary choices to make sure your ratio of fats to protein to carbs is on point. So, when it comes to chicken, fattier cuts are your friend (think: thighs, drumsticks, and wings). And if you do go for lean chicken breast, you'll have to combine it with plenty of healthy fats to stay in that keto sweet spot.
To make your life a little easier, we've rounded up some of the best keto chicken recipes out there from long-time keto bloggers Kyndra Holley and Carolyn Ketchum. Bonus: All of these keto chicken recipes feature nutrient-packed non-starchy veggies like Brussels sprouts, cauliflower, tomatoes, and peppers.
"In my clinical practice, I've found a high-vegetable version of the keto diet to work the best," Will Cole, D.C., functional medicine practitioner, told mbg—because, no, as much as your keto self would like to think so, you can't survive on bun-less cheeseburgers alone.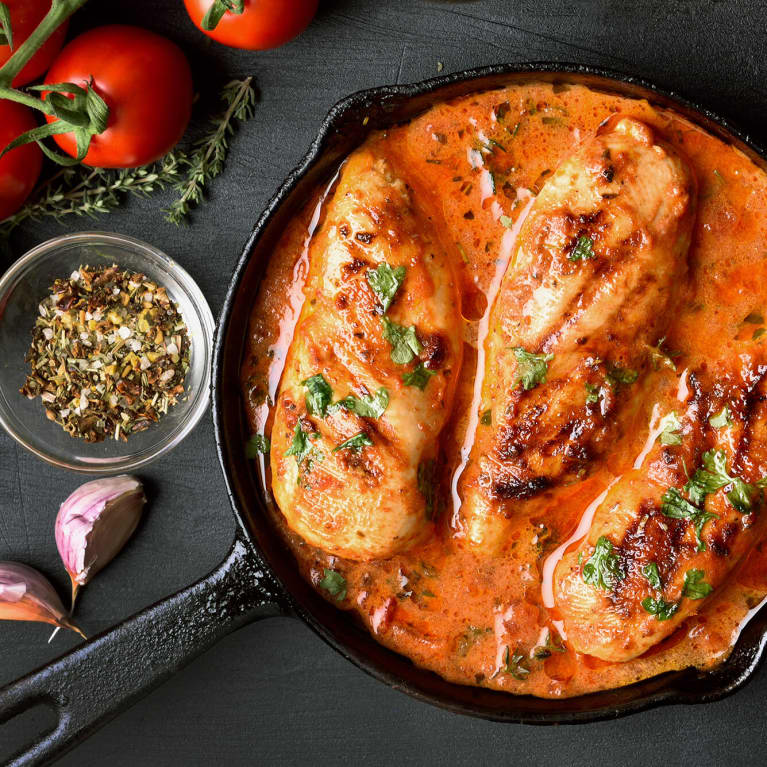 Even though this recipe from Craveable Keto features chicken tenderloins (aka thinly cut chicken breast), it's still perfectly keto, and ridiculously delicious, thanks to plenty of healthy fats from olive oil, ghee, and peanut butter. Craving Thai takeout? This will hit the spot while keeping you in ketosis.
Serves 4
Ingredients
1½ pounds chicken tenderloins
Sea salt and ground black pepper
2 tablespoons butter or ghee
2 tablespoons olive oil
1 red bell pepper, seeded and cut into thin strips
3 cloves garlic, minced
¾ cup chicken stock
⅓ cup creamy peanut butter
3 tablespoons coconut aminos or gluten-free soy sauce
½ teaspoon red pepper flakes
3 green onions, sliced, for garnish
Season the chicken on both sides with a little salt and pepper.
Heat the butter and olive oil in a large skillet over medium-high heat. Add the chicken to the skillet and sear for 5 to 10 minutes, until browned on both sides.
Reduce the heat to medium-low and add the pepper strips and garlic to the skillet. Cook, stirring often, for 5 minutes, being careful not to scorch the garlic.
In a mixing bowl, combine the stock, peanut butter, coconut aminos, and red pepper flakes. Whisk until the ingredients are well incorporated.
Pour the sauce into the skillet. Bring to a boil over medium-high heat, then reduce the heat to low and simmer, stirring frequently, for 5 minutes, until the sauce has thickened.
Sprinkle the green onions over the top before serving.
Sheet Pan Chicken & Veggies
When you're low-energy and cranky (thanks, keto flu!), this keto chicken recipe from Everyday Ketogenic Kitchen is your saving grace. Not only is it totally delish—thanks to its perfect spice blend, bacon, and crispy Brussels sprouts—but it couldn't be easier to make or clean up after. Bonus points for skin-on chicken thighs, which are fattier than chicken breasts, inexpensive, and crisp up perfectly in the oven.
Serves 6
Ingredients
2 tablespoons salted butter or coconut oil, melted
2 cloves garlic, minced
1½ teaspoons salt, divided
1 teaspoon black pepper, divided
¾ teaspoon ground cumin
½ teaspoon ground coriander
½ teaspoon paprika
⅛ teaspoon cayenne pepper
6 bone-in, skin-on chicken thighs
1 medium head cauliflower, cut into 1-inch florets
½ pound Brussels sprouts, quartered
4 slices thick-cut bacon, cut into 1-inch pieces
2 tablespoons avocado oil
Preheat the oven to 450°F.
In a small bowl, stir together the melted butter, garlic, ¾ teaspoon of the salt, ½ teaspoon of the pepper, cumin, coriander, paprika, and cayenne. Brush the mixture over the tops of the chicken thighs.
In a large bowl, combine the cauliflower, Brussels sprouts, and bacon. Drizzle with the avocado oil and sprinkle with the remaining ¾ teaspoon of salt and ½ teaspoon of pepper. Toss to coat well.
Spread out the cauliflower and Brussels sprouts in a rimmed baking sheet. Place the chicken thighs on top. Bake for 35 to 40 minutes, until the center of the chicken registers 165°F on an instant-read thermometer.
Turn on the broiler and set the pan on the second-highest rack of the oven. Broil for 2 to 4 minutes to brown the chicken.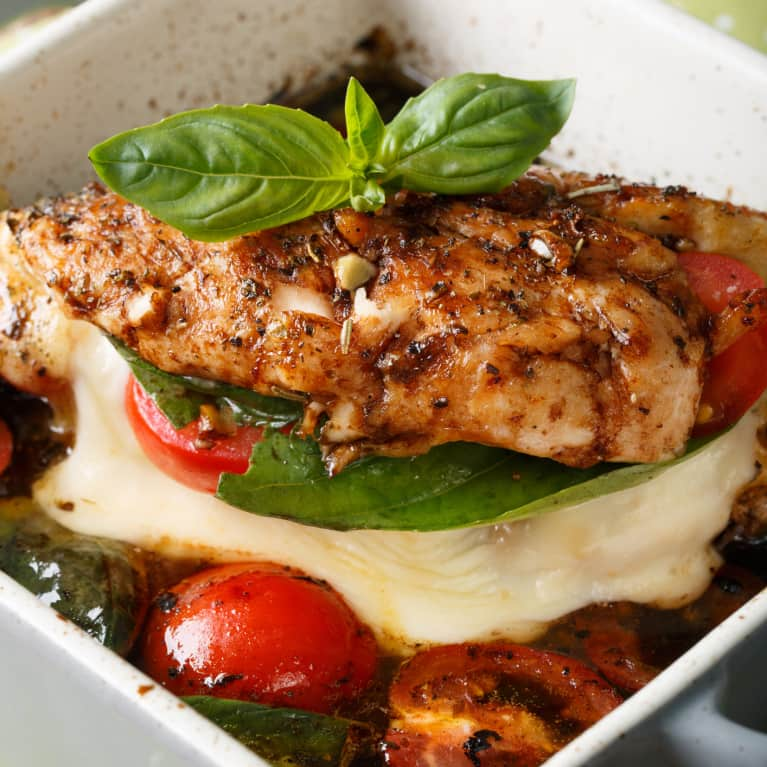 Craving Italian food, but not the blood sugar spike that comes with pasta? This tomato, basil, and mozzarella smothered dish from Everyday Ketogenic Kitchen will certainly hit the spot. This recipe contains higher fat chicken thighs with an additional fatty boost from heart-healthy, monounsaturated fat-rich avocado oil.
Serves 4
Ingredients
4 boneless, skinless chicken thighs
Salt and pepper
2 tablespoons avocado oil or coconut oil
4 ounces fresh mozzarella, cut into 4 slices
1 medium tomato, cut into 4 slices
¼ cup chopped fresh basil
Preheat the oven to 375°F. Season the chicken thighs with salt and pepper.
In a large skillet٫ heat the oil over medium heat until shimmering. Add the chicken and cook until golden brown٫ about 3 minutes per side.
Arrange the chicken in a single layer in a glass or ceramic baking dish. Top each thigh with one slice of mozzarella and one slice of tomato.
Bake for 25 to 28 minutes٫ until the cheese is melted and bubbling and the chicken is cooked through. Turn the broiler on for 2 to 3 minutes to brown the cheese.
Remove from the oven and sprinkle with the basil. Serve immediately.
Pan Seared Chicken Thighs With Creamy Rosemary Mushrooms
Rosemary, mushrooms, garlic, heavy cream—this recipe from Everyday Ketogenic Kitchen is like an umami flavor explosion in your mouth. Just make sure those creamy mushrooms make it into the recipe and try not to eat them by the spoonful. Sauté up a side of kale in olive or avocado oil and you've got yourself a balanced keto meal.
Serves 4
Ingredients
4 bone-in, skin-on chicken thighs
Salt and pepper
2 tablespoons avocado oil
2 tablespoons salted butter
8 ounces cremini or button mushrooms, sliced
2 tablespoons chopped fresh rosemary
2 cloves garlic, minced
½ teaspoon salt
½ teaspoon black pepper
¼ cup heavy cream
Preheat the oven to 375°F. Pat the chicken dry and season liberally with salt and pepper.
In a large skillet over medium heat٫ heat the oil until shimmering. Add the chicken٫ skin side down. Cook undisturbed for 5 to 7 minutes٫ until the skin is golden and crisp. Flip over and cook for another 4 minutes.
Transfer the chicken to a baking dish and place in the oven. Bake for 15 minutes or until the internal temperature reaches 165°F on an instant-read thermometer.
While the chicken is baking, prepare the mushrooms: Melt the butter in the hot skillet. Add the mushrooms and sauté until golden brown, about 5 minutes. Add the rosemary, garlic, salt, and pepper and cook for 1 more minute. Stir in the cream and simmer until thickened.
Add the chicken and any accumulated juices back to the pan. Spoon the mushrooms and sauce over the thighs as you serve them.