A Creamy Plant-Based Pasta Recipe That's Pure Genius
I'm not a vegan, but sometimes my body craves a plant-based meal, one that I know is packed with fiber and will be digested easily. Another craving I just can't quit? Pasta, pasta, pasta!
To make these two come together in a truly nourishing dish, it's important to include some kind of quality protein. Without it, I become a bottomless pasta pit … can I get an "amen"?
In this recipe, white beans offer a one-two healthy punch, by providing ample protein as well as a creamy, satisfying texture.
The antiviral property of garlic and kale's array of vitamins, minerals, and antioxidants make this dish an immune-booster as well. Especially when you factor in my addictive anti-inflammatory Turmeric "Parmesan."
This pasta dish is healthy comfort food at its best — you'll truly feel like you're indulging in something special. Plus, it's incredibly easy to throw together and it tastes even better the next day!
Protein-Packed Creamy Kale Pasta With Turmeric "Parmesan"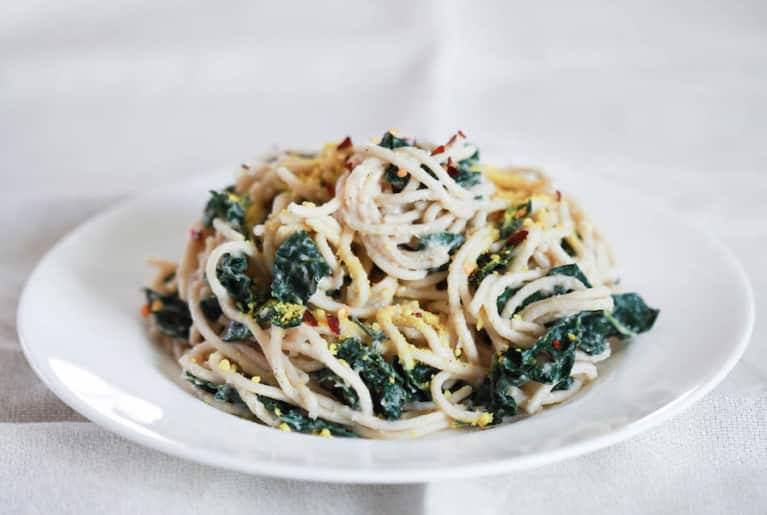 8ounce box spaghetti of choice (I used brown rice pasta)
1 tablespoon olive oil
1 15-ounce can white beans, drained and rinsed
3 garlic cloves, minced
2 tablespoons tahini
¼ cup unsweetened almond milk
1 teaspoon mild white miso paste
2 tablespoons lemon juice
1 teaspoon Dijon mustard
1 teaspoon sea salt
¼ teaspoon black pepper
3 packed cups lacinato kale, de-stemmed and chopped into 1-inch-thick ribbons
Preparation
1. Cook noodles according to package directions. Drain and toss with olive oil. Set aside.
2. In a food processor or high-powered blender, combine beans, garlic, tahini, almond milk, miso paste, Dijon, salt, and pepper. Blend until completely smooth.
3. Add 1¼ cups sauce to a large sauté pan and heat to medium-low. Once sauce is warmed thoroughly, add kale. Allow kale to soften and begin to wilt, approximately 2 minutes, stirring gently.
4. Add noodles and toss everything together. Add more sauce at this point if you desire. Serve with red chili flakes and Turmeric "Parmesan."
1 cup raw cashews
3 tablespoons nutritional yeast
1 teaspoon turmeric powder
1 teaspoon sea salt
Preparation
Combine all ingredients in a food processor and blend until it forms a Parmesan-like texture. Keep sealed at room temperature for up to 2 weeks.