Vice President-Elect Kamala Harris Swears By These 5 Health & Fitness Practices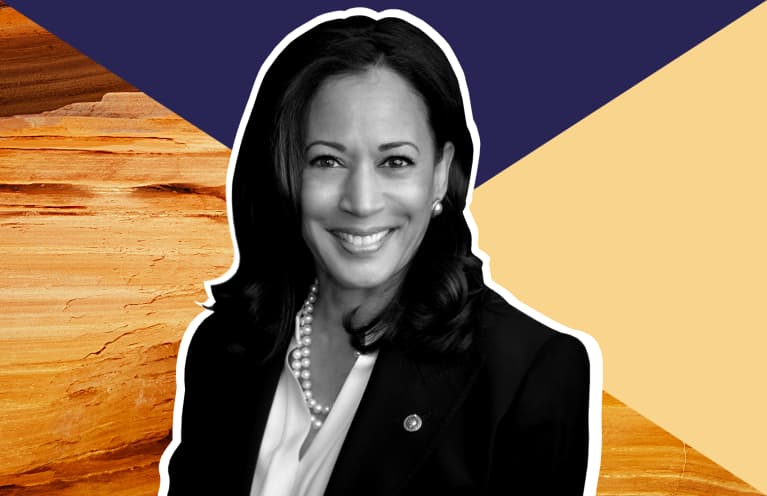 Our editors have independently chosen the products listed on this page. If you purchase something mentioned in this article, we may
earn a small commission
.
November 10, 2020 — 15:31 PM
When Kamala Harris was named the Vice President-elect, she became the first woman, the first Black person, the first Indian American, and the first Asian American to hold the office.
How do I know this? Well if you spent any time on Instagram this Saturday, you probably saw a video circulating that featured Harris calling President-elect Joe Biden to proclaim "we did it." In that video, she's sporting head-to-toe workout clothes and headphones, plus her hair is tied back—so one can only assume she was letting out some post-election stress with a few morning miles.
As a health and fitness editor, I love seeing the soon-to-be VP makes her well-being a priority. Curious to learn a bit more about her health and fitness habits, I did a little digging, and here's what I uncovered:
1.
She's dedicated to her workouts.
"I work out every morning, regardless of how much sleep I've had; it's just the best way to start the day," Harris, 56, said during an interview with President Barack Obama in October.
Harris is so dedicated, in fact, that she didn't let the home workout equipment shortage amid COVID-19 keep her from exercising. "For months, I couldn't find weights, so I filled these liter water bottles that I used as hand weights," she told Obama.
As for some of her go-to workouts, Harris previously told The Cut that her morning routine often includes a half-hour of treadmill, elliptical, SoulCycle, or swimming.
2.
Fitness is a family activity.
Harris isn't the only one in her family who loves a good workout session—her husband Doug Emhoff is a fitness fiend himself. In fact, it's something the two bonded over. "It quickly became something we knew we had in common. I don't know if we talked about that on our first date, but it came up when we started spending time together," Emhoff previously told Men's Health.
"Every morning Kamala Harris works out, by hook or by crook. And it's not like I can sit around and eat a bowl of cereal while she works out. It got me into the same groove she's in. I'm in way better shape now than I was 10 years ago."
Emhoff shared the couple also loves to take long (read: 6 to 7 miles long) walks together.
3.
She values nutritious eating.
"I believe in eating well," Harris previously told Lenny. "It's not fanatical. Eat good food. Make sure you've got good vegetables."
She also mentioned to The Cut that she likes to start her day with bran cereal (with as little sugar as possible), as well as a cup of tea with honey and lemon.
4.
Cooking is her relaxing, mindful practice.
There's no denying Harris is accustomed to a very busy schedule. But one thing that helps her feel grounded is cooking—for not just nutritional benefits but also mental health ones. "Everything else can be crazy; I can be on six planes in one week, and what makes me feel normal is making Sunday-night family dinner. If I'm cooking, I feel like I'm in control of my life," she told The Cut.
And if she doesn't have time to cook, she'll do the next best thing: "One of the things that I do to relax at the end of the day is I read recipes. I have a whole collection of cookbooks, so if I'm at home, I read them. It could be Marcella Hazan or Alice Waters."
The VP-elect also loves to grow her own ingredients. "I have a little herb garden. I'm all about herbs," she told Lenny. "I'll bring them to the office and share them with people."
5.
All of her well-being practices center around mental health.
"In order to find balance, I feel very strongly about two things in particular in terms of routine. Work out, and eat well," Harris told Lenny. "It has nothing to do with your weight. It's about your mind."