5 Items To Bring In Your Carry-On For Glowing Skin — During & After Vacation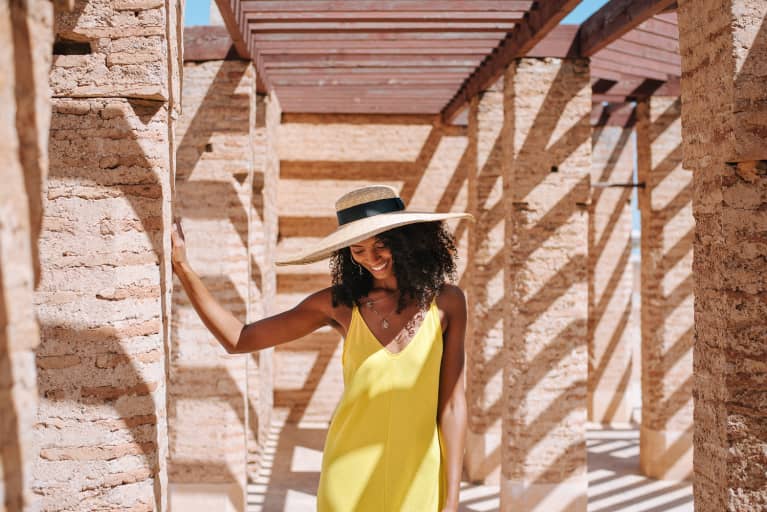 Our editors have independently chosen the products listed on this page. If you purchase something mentioned in this article, we may
earn a small commission
.
A relaxing vacation means something different for everyone—some may spend ample time on the beach, others may prioritize going out with friends, while some may prefer exploring a new city. No matter what vacation looks like to you, packing your beauty essentials can feel pretty overwhelming. Think squelching your favorite formulas into tiny, TSA-approved containers and selecting which products you actually need during your time off.
Here, find our list of essentials to keep handy on vacation. Of course, your day-to-day skin care routine doesn't necessarily need a complete overhaul (aside from increasing your SPF), but our go-to edits can make packing way more of a breeze. Bookmark this list, and feel free to reference our recs before any impromptu getaway.
5 items to bring in your skin care travel bag. 
Face and body SPF
Skin-loving supplements
Light makeup
Aloe vera body lotion
Face mist
This one is a given–even when you're not on vacation. We tend to reach for non-nano, mineral sunscreens here at mbg, as zinc oxide and titanium dioxide have been deemed safe and effective by the FDA and are better for the environment than their chemical competitors. And if your trip calls for hours on end in the water, you'll want to look for something water-resistant as well.
We have comprehensive product roundups of our favorite face sunscreens and body SPFs if you want to do some research, but we'll add our top two recommendations below to make your browsing easy. And remember: You must reapply your sunscreen every two hours to ensure continuous protection.
For face: SPF 30 Sport Sunscreen, Juice Beauty ($16); amazon.com, credobeauty.com
For body: Classic Spray SPF 30, Vacation ($20); vacation.com, ulta.com
2.
Skin-loving supplements
We know that your skin is a reflection of your internal health. For that reason, it's important to focus on what you put in your body if you're looking to glow on the outside. That being said, there's no reason not to live it up when you're on vacation. Whether this means saying yes to extra dessert and drinks or lying in the sun more than usual.
Luckily, you can add some skin-loving supplements to your daily routine to ensure you're giving your skin and body optimal support.* Our cellular beauty+ is a perfect option to include in your travel beauty bag. Superstar ingredients like astaxanthin, phytoceramides, ubiquinol CoQ10, and whole fruit pomegranate extract support skin hydration, enhance skin photoprotection from UV rays, and promote cellular metabolism, energy, and rejuvenation.*
Skin supplement: cellular beauty+ ($90); mindbodygreen.com
When it comes to vacation, less is generally more when it comes to makeup. If you're spending time in the sun, jumping in and out of the water, or tend to sweat a little more than usual, it may be your best bet to play it simple. This way, you can reapply sunscreen throughout the day without fear of pilling and forget about constant makeup touch-ups—because who wants to worry about that while they're away? Here are some of our favorite minimal must-haves.
Concealer: Revealer Concealer, Kosas ($28); kosas.com, sephora.com
Mascara: Limitless Lash Mascara, Ilia ($28); iliabeauty.com, credobeauty.com
You may be familiar with applying aloe vera to your skin after sun exposure, but you don't necessarily have to soak in sticky aloe gel to reap its wonderful benefits. Our favorite post-sun technique is to cover the skin in a high-quality body lotion that features a significant amount of aloe vera in it. How can you tell? Just look for aloe toward the top of the ingredient list.
Imagine: You've just finished a long day in the sun, and you're about to head out to dinner. You probably feel super relaxed but a little bit…drained, to say the least. Your mood and skin are likely on the lookout for a little refreshment. Our fix? A trusty face mist.
You can keep a mist in your bag to spray on throughout the day for extra hydration. If you're wearing makeup and would rather not attempt to apply a goopy sunscreen lotion, an SPF face mist is a great alternative.
Refreshing option: January Labs Restorative Tonic Mist ($24); credobeauty.com, amazon.com
SPF: Coola Full Spectrum 360 Refreshing Water Mist Organic Face Sunscreen SPF 18 ($36); amazon.com, sephora.com
When it comes to vacation-approved skin care, you don't need to pack your entire arsenal to maintain your skin's health. Rather, use this simple list to pack your travel bag with skin-loving essentials. This way, you'll return with that post-vacation glow, times 10. If you're looking for more vacation-friendly makeup essentials, check out our six-step guide to an easy no-makeup makeup look here.