An Immune-Supporting Smoothie To Boost Your Mornings
mbg Nutrition & Health Writer
By Eliza Sullivan
mbg Nutrition & Health Writer
Eliza Sullivan is a food writer and SEO editor at mindbodygreen. She writes about food, recipes, and nutrition—among other things. She studied journalism at Boston University.

Expert review by
Ashley Jordan Ferira, Ph.D., RDN
mbg Vice President of Scientific Affairs
Ashley Jordan Ferira, Ph.D., RDN is Vice President of Scientific Affairs at mindbodygreen. She received her bachelor's degree in Biological Basis of Behavior from the University of Pennsylvania and Ph.D. in Foods and Nutrition from the University of Georgia.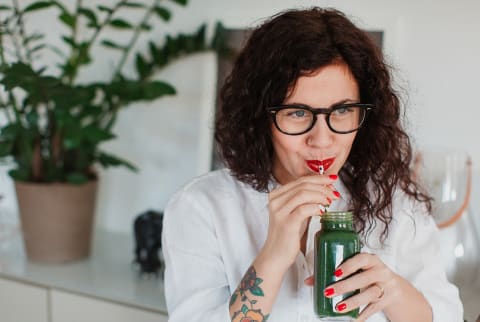 Image by Johner Images / Getty
January 11, 2022
If you're someone who enjoys a morning green smoothie, maybe you have a go-to that you make regularly (like mbg's executive editor), or maybe you're someone who likes to switch it up.
Whichever category you fall into, we encourage you to consider functional nutrition standards, to help fuel your body with foods to support overall health. One strategy that falls under that umbrella is taking cues from seasonal produce for meals, including smoothies.
This green smoothie does just that: It uses two fresh seasonal ingredients to help support your immune system, which is something we're all prioritizing right now.
How does this smoothie help support immunity?
Choosing ingredients for a smoothie based on their flavors is a great place to start, but do one better by also selecting ingredients with crucial nutrients and key benefits. In this smoothie, we feature kiwi and orange. Both seasonal winter fruits, they're also immune-supporting foods.
Most people associate oranges with some immunity benefits, for good reason. Citrus fruits, oranges included, are rich in the essential micronutrient vitamin C. "It's this great antioxidant that helps to combat free radicals,"* Maya Feller, M.S., R.D., CDN, shared on the mindbodygreen podcast. And especially "when we're exposed to so many people, getting a regular dose of vitamin C is incredibly helpful."*
Other than the fruits, this smoothie features baby kale. While we'd normally reach for spinach in a green smoothie, kale has three times as much vitamin C as spinach, and as we've already established, that's an important nutrient for immune support.*
The protein component, hemp hearts are also an underrated ingredient for immune health. On the mbg podcast, Desiree Nielsen, R.D., shared that hemp hearts are one of the foods she eats almost every day. "Our immune system needs those minerals: the magnesium that helps us chill out and keep that gut-brain connection in balance," she said. "There's tons of magnesium in them and tons of manganese, which is important for cellular energy."
Immune-Supporting Green Smoothie
Ingredients
2 cups baby kale
1 kiwi
1 orange
1 tbsp hemp hearts
1 to 1.5 cups nondairy milk
1 tsp turmeric
Pinch of ground black pepper
1 tsp fresh grated ginger
Method
Blend all the ingredients together, starting with 1 cup of your nondairy milk of choice and adding more if necessary to get your ideal texture.
Eliza Sullivan
mbg Nutrition & Health Writer
Eliza Sullivan is an SEO Editor at mindbodygreen, where she writes about food, recipes, and nutrition—among other things. She received a B.S. in journalism and B.A. in english literature with honors from Boston University, and she has previously written for Boston Magazine, TheTaste.ie, and SUITCASE magazine.