Hot Take: I Think This Decluttering Method Is Way More Effective Than Kondo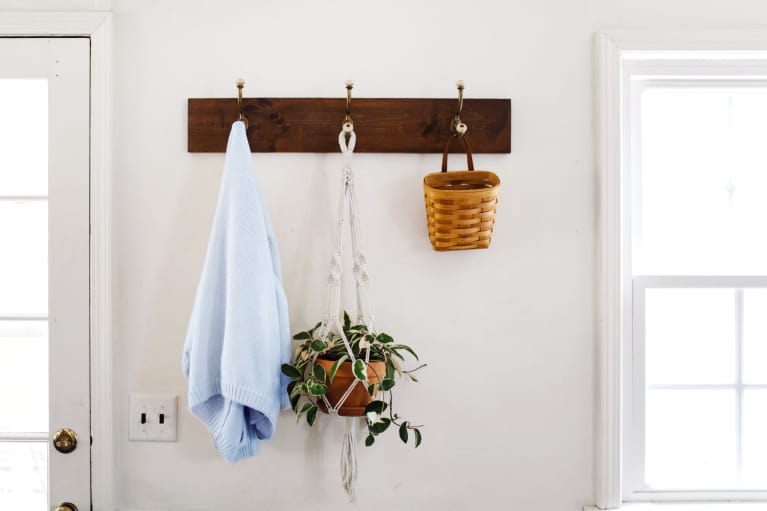 We're all about the Kondo method, but it's not for everyone! If joy testing isn't your thing, this decluttering method from UK-based blogger and organized human Anna Newton might be more up your alley. Here's a primer on it, straight from her upcoming book, An Edited Life: Simple Steps to Streamlining Your Life, at Work and at Home.
Some tidying strategies propose only holding on to things that give you joy. Others believe in a numbered approach—keep three jumpers, five pairs of shoes, one notepad, and one hold-all. Others set up a spatial restriction—everything you own must fit into a suitcase. I find the first theory to be a little vague and the ones after that too militant; over recent years I've found the FULL approach to work best.
Never heard of it before? That's because I made it up! But I've put it through the wringer, let me tell you, and it always leads to a logical decision when it comes to whether to give up an item or not. Here's what you need to ask yourself before you tackle each room and the accompanying belongings that are behind the door:
F: Is it functional? Have you got a use for it?
U: Have you used it in the last year?
L: Do you love it?
L: Do you like the look of it?
If your answer is yes to just one of these questions, then you keep it. And here's why it's foolproof…
The functional part means that you won't end up tossing anything that could be useful. The question of when you last used it means that you won't end up hanging on to things that you haven't touched in years. By asking yourself if it's an item that you love, you're saving yourself the heartache of giving away anything that's sentimental or means a lot to you. Then, finally, sometimes you just have things that you like the look of, and it's often these odd bits and trinkets that make your house feel like a home.
Compared with other approaches, this errs on the side of caution. From my experience I'd say that it's better to hold on to items that you're not sure you want to part with just yet and sit on the decision for a while. If six months pass by and you still haven't used it and aren't finding yourself particularly attached either by its look or how it makes you feel, then you know what to do. As you build up confidence with decluttering and listening to your gut, then feel free to take it one step further. If you haven't worn an item in four years and you do love it but actually you'd rather have the free hanger, then perhaps it's time to part ways. But don't worry—we'll work up to that.
How to prep your home for the FULL method.
To get started, I'd suggest diving into the deep end and conducting a "Master Declutter," in which you give every room—and therefore everything you own—the FULL treatment. This way you can be guaranteed to experience the full advantages across all aspects of your life that sprout from having an edited home environment. However, before you get started, make sure you have these things in place:
Some items are no good for reuse, so toss 'em in a big bag and wave goodbye. If you think you could make some dollars out of your old belongings, then set yourself up on a reselling website like eBay or Facebook Marketplace (Depop is good for clothing, and Vestiaire Collective is the best place to sell designer goods), and have your account ready to go. Other things might not be worth selling, but friends and family might enjoy them, so I always like to keep a bag to the side to fill up and take with me next time I visit. Anything that is left over from my trips I take down to the charity shop. Think about fetes, stalls, and charity sales that people you know run throughout the year, and ask them if there's anything in particular they need for those. Waste not, want not, and all that; exhaust all avenues of passing on goods before you throw 'em in the bin and they're never to be seen again.
Make sure time is on your side.
Unless you're already living in a white-walled cube that looks like a Bond villain's lair with just an artsy fireplace as the centerpiece, chances are that if you plan on decluttering your home from top to bottom, it's going to take a while. When you look at it as a whole, it might seem daunting, so if that's the case, break it up over a couple of weekends. That's how I best fit it in while still clinging to a basic level of human interaction and not turning into a bin-bag-obsessed thrower-outer.
You need a bit of time on the clock, and you need to actually want to do it. If you put in the hours here, you'll save them in the long run through owning a smaller amount of stuff, which will make keeping them clean and tidy a shorter process. Plus, by streamlining and counting up all the money you've wasted on these unwanted goods, it might help to shift your mindset away from buying things you don't need. So in the long run, your budget benefits too. Win-win.
Take breaks and be methodical.
When it comes to applying the FULL method to your home, I'd recommend that even the most seasoned streamliners among us should start small and work up to the bigger tasks. Along with breaking it down over a series of days or weekends if you're doing the whole caboodle, I'd suggest working on one room at a time. I must also warn you that about halfway through, you may end up curling into the fetal position on the floor and wondering why the hell you began this never-ending task. So start with a room that's considered an easier task, like your bathroom—which contains a bit of product and just requires you to lob some empty shampoo bottles into the bin—then work up to the big boys like any storage space you own or your bedroom: places that hold your most prized belongings and a lot of them.
That way, by the time you've passed the halfway point, had your midway breakdown, picked yourself back up, and you're racing to the finish line, your streamlining muscles will be well- and truly pumped. You'll be deadlifting bags of paperwork, body-con dresses, threadbare socks, and unwanted Christmas presents like a pro. I'd suggest going in this order:
Bathroom
Hallway
Living area
Kitchen
Bedroom
Storage spaces