A Pro Declutterer Takes Us Through Her Studio Apartment — And Spills How She Keeps It So Tidy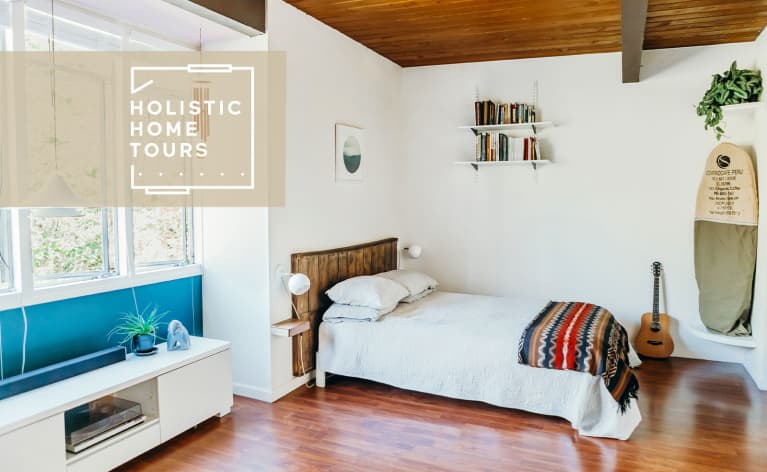 Our editors have independently chosen the products listed on this page. If you purchase something mentioned in this article, we may
earn a small commission
.
Kyle Quilici knows a thing or two about maintaining a dreamy home. As the co-founder of New Minimalism, a decluttering and redesign company, and co-author of New Minimalism: Decluttering and Design for Sustainable, Intentional Living, Quilici spends her days helping other people get organized for good. Her own apartment, a tiny San Francisco studio she shares with her boyfriend, is the ultimate test of her skills. Here, Quilici shares her top tips for keeping even the smallest of spaces looking clean and pristine.
What are three words that describe your design philosophy at home?
Simple, functional, and cozy.
What decluttering tips do you lean on living in a smaller space?
I co-founded a company called New Minimalism, so if it's not already obvious, I care deeply about intentional spaces and mindful consumption! But that's not to say that it comes 100 percent naturally to me. It takes some work to maintain a space like this, mostly in the form of keeping a high standard for what is "allowed" in and regularly removing items if they are no longer useful to me.
If I had to boil it down to just one of the 12 principles found in our book, "A home for everything" is essential and just plain necessary to maintain sanity. It's actually a blessing to have such a small space because it forces us to consider what we have around us.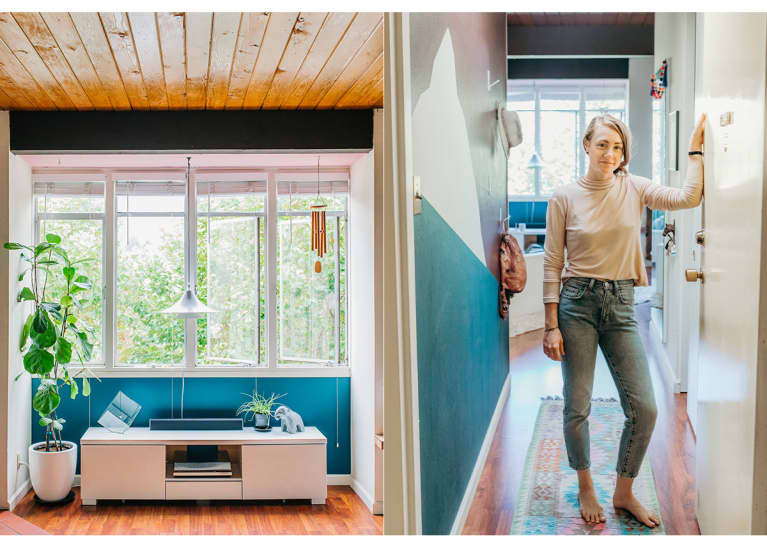 What criteria does a new item (furniture, accessories, etc.) have to fit to come into your space?
I think it can sneak up on you: the ease with which items come in—the thoughtful gift from your friend, the "perfectly good" (yet insanely hideous) shirt from your company event, etc. It's a regular habit to notice these clutter sneak attacks and not let them linger.
Now that we have lived with less, we actually prefer it. So this motivates us to refrain from acquiring in the first place.
At this point, anything new that comes in is likely replacing something else. If I'm inspired by something out in the world—let's say a vintage, chunky wool sweater—I'll get rid of a sweater that has been loved and is ready to move on to a new owner.
What habits have helped you share a small space with your partner?
We seem to have similar personal tidy factors (PTF). Our preferred levels of order and cleanliness are aligned, so that is hugely helpful. We also have spaces that are totally one person's domain: his and her sides of the closet, his and her secretary desks, etc.
The entire point of decluttering in the first place is to spend less time managing your stuff.
How often do you declutter your space? Can you walk us through your cleaning routine?
Keeping clutter at bay requires some regular maintenance, but it shouldn't be overwhelming. The entire point of decluttering in the first place is to spend less time managing your stuff!
I think what often gets overlooked is that your home first requires a deep, thorough purge to get to the point of maintenance. Rules like "1 in, 1 out" can only work if you've completed a thorough decluttering to begin with. If you find you are spending too much time managing your things and maintaining your home, it's a sign that a more thorough decluttering is in order.
For cleaning, I like to turn on music or a podcast and open all the windows. After dusting I use a simple water, white vinegar, lemon, and essential oil solution to wipe down surfaces and the floor. We also don't wear shoes in the house, so that seems to help keep the floors cleaner for longer.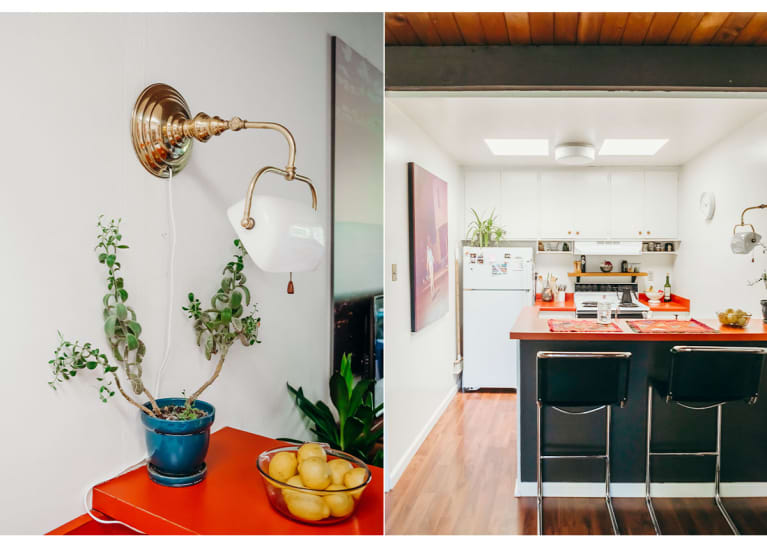 What's the oldest thing in your home? Newest?
The oldest is probably the wooden headboard. It used to be a drying tray on an apricot farm. After the apricots were picked, they would be placed on these wooden pallets to dry in the sun. The newest is actually a vintage lamp from an estate sale…so "new" to us.
What noises can be heard in your home? What smells?
We are lucky to live on a quiet street. During the day we often have the windows open to listen to the birds. We make dinner at home most nights and like to listen to disco music or something fun. Sometimes you'll smell a fire or Palo Santo.
What's the most sentimental thing hanging on your walls, and what's the story behind it?
We each have one family photo hanging on the wall opposite the bed. His is with his mom and two brothers at the beach. Mine is a black-and-white photo of my mom's mom on her wedding day.
How does your home promote health and wellness?
We don't have a TV, which is nice because it doesn't become the default to watch something at night. Streaming something on the computer still feels like a treat! Cooking at home is a priority for us, and it makes us feel so much better than eating out a lot. Nontoxic, fragrance-free cleaning supplies and beauty products are the norm here. Now that I haven't used toxic, fragrant products, my nose and skin have become really sensitive to them.
What's the best compliment you've ever received on your space?
I like when friends say it doesn't feel a like a studio. We can accommodate 10 friends for drinks and hangs; they all casually lounge about the loveseat, on the rug or on the bed. The layout of the apartment is super smart (we credit the architect who designed it!), so the orientation of the rooms helps it feel open and airy, despite the small footprint.