The One Organization Trick That Finally Decluttered My Closet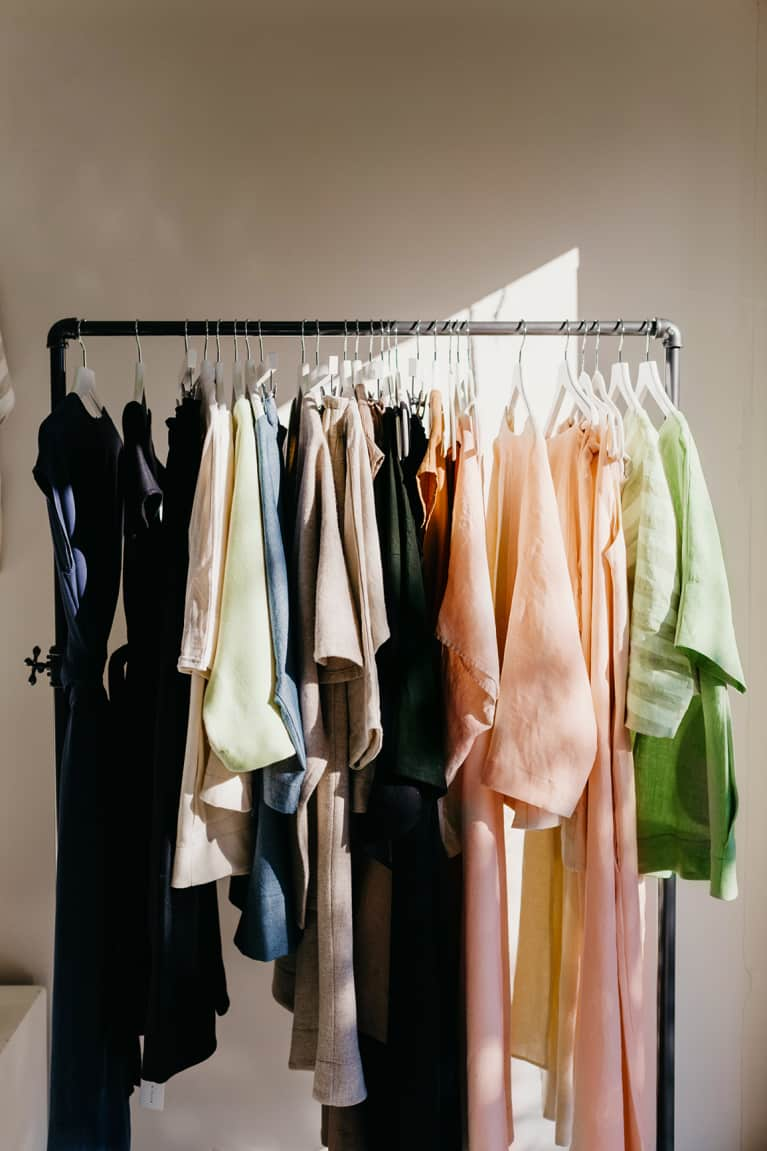 Our editors have independently chosen the products listed on this page. If you purchase something mentioned in this article, we may
earn a small commission
.
Spring is officially here—and with it comes the time-honored tradition of dusting off winter's cobwebs and giving our homes a good cleaning. This year, mbg is teaming up with trusted experts across all walks of wellness to provide a full week of spring cleaning inspiration. Today, leading functional medicine expert and mbg Collective member William Cole, D.C., is spilling the one thing that decluttered his closet for good.
As a functional medicine practitioner, I'm always looking at the many facets of people's wellness journeys. From the food we eat to the hours of sleep we log, there are many factors that contribute to our overall sense of well-being. Our living spaces inevitably play a role too.
Our environments should reflect our state of mind: the outer manifestation of the inner. They can either fuel or fight our health goals, and the organization and flow of our home might just be another facet of the health puzzle. Studies have found that people with cluttered homes tend to be more depressed, stressed, and fatigued than those who describe their homes as restful and restorative.
One of the most important areas to keep under control is the bedroom. If the place where we lay our head to rest is cluttered and messy, it can definitely affect our sleep and stress levels. In my own life, I've found that one practice has helped me craft a calming bedroom and closet.
Here's how I used the Kondo Method in my bedroom.
A few months ago, I implemented the transformational methods of Marie Kondo, the home organization wizard, to my own bedroom—specifically my drawers and closet. Over the past years, the Kondo Method has taken the world by storm with her revolutionary yet simplistic home-organizational techniques. Marie's book, The Life-Changing Magic of Tidying Up: The Japanese Art of Decluttering and Organizing, is an easy read that gives practical tips on home organization.
As someone who has always leaned toward to more anxiety, I found that I felt more calm, was more productive and creative and I slept better by utilizing the Kondo method. Research out of Princeton University reflected my own personal findings: physical clutter competes for your attention, increases stress hormone levels, and kills creative thinking.
If organizing your room supports healthier sleep, it is an easy enough change for anyone to make. Just one night of poor night of sleep will increase inflammation levels in the body! Just imagine what prolonged poor sleep can do to our health. Here's how I put my own spin on the Kondo method to craft an organized room that promotes deeper sleep:
1. I took an inventory of my clothes and did a closet detox.
I took Marie's advice and held each piece of clothing separately and used this time as an exercise in mindfulness. Did this piece of clothing serve me and bring me happiness? If it didn't, I honored it and donated it. Although it may seem out there for some, this step was quite cathartic—an inner and outer cleansing. Holding bags of clothes that I no longer needed was both a humbling and freeing experience.
2. I organized my closet by color, Kondo style.
As the Kondo book suggests, I took my remaining clothing items that were in my closet and organized them from dark to light colors, left to right. This is said to help with the flow of the closet, making it seem less cluttered. I was skeptical until I tried it! This easy organizational hack quickly created a balance and simplicity that I love.
3. Lastly, I attacked the drawers.
This part of my bedroom decluttering was also very fun for me (#nerdlife). As Marie Kondo recommends, I rolled my shirts like a sushi roll and organized them by color. The shirts are meant to be laid side by side so that you can see them all when you open your drawers. Revolutionary! Previously, I would haphazardly fold (aka shove) my T-shirts so I wouldn't be able to see them all until I needed to do laundry and the shirts on the bottom of the drawer were then visible. The Kondo drawer method is good for the soul.
So months later, am I still doing the Kondo method in my bedroom? Heck yes. My bedroom is more of a peaceful sanctuary now. I am sleeping better and less stressed from these simple home-sorting concepts. As the book title implies, it truly is life-changing magic. I regularly go through my closet and purge stuff using her mindfulness method of honoring things that don't serve me anymore. I also use this method when I'm buying clothes. I don't need more stuff, even if it's a $10 organic cotton T-shirt. Thanks, Marie Kondo. You have a fan in functional medicine.
Want more professional decluttering tips? Try these.