How A Professional Organizer Declutters Her Home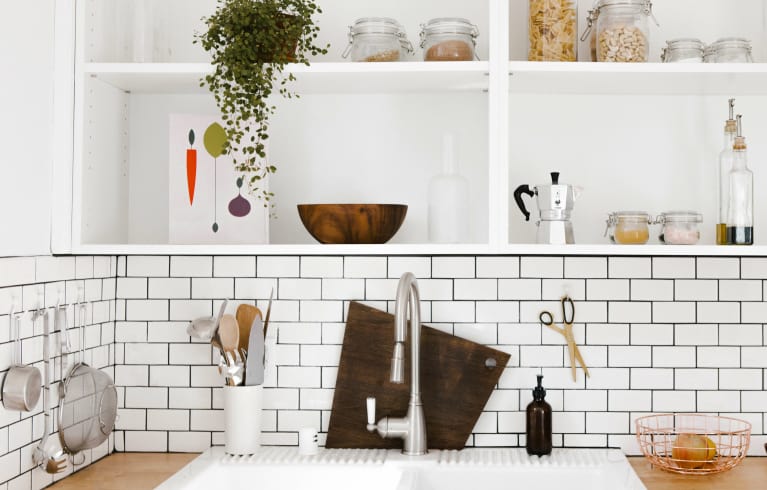 When people learn that I'm an organization coach, they immediately assume my home must always be primed and perfect. The truth is, my home is welcoming and cozy, but it certainly gets busy. Papers end up on the floor when I'm working on projects, and bags line the hall when I'm gearing up for an event.
In my opinion, the secret to keeping an organized home is not hiding everything out of sight. It's staying in tune with your space and keeping up with a few simple routines. Here are five I swear by:
A "drop zone" is a surface by the entrance to your home where you can drop everyday items as soon as you walk in the door. It can be a table, a cabinet, a stool, a bench, or a strong shelf. I've relied on my drop zone for decades, and it's the most important space in my home by far. I love how flexible it can be: When I stick with a boxing habit, it baby-sits my gym bag. When I'm running in and out the door to clients, it holds my work tools. My drop zone is also great for the small stuff. It's a permanent home for my wallet and keys (they both live in bowls). Even on frazzled days, I always know where my daily basics live, and this makes it easy to get in and out the door. The size and shape of your landing strip don't matter as long as it's always there waiting for you when you get home.
2. I clean surfaces once a week.
Our homes are our havens. They hold us, protect us, and support us as we go about our daily lives. I pay back the favor by making sure that I give my space a once-over every week. My quick cleaning routine involves running one Swiffer pad over the shelves near my windows and sweeping the floor. Every few weeks I take things a step further and run a cloth along tinier home surfaces, like the edges of my picture frames. It doesn't take longer than half an hour, and it gives me some downtime to breathe.
We all drop crumbs on the floor, trail dirt on our shoes, and build up dust. If you don't clean home surfaces on a regular schedule, things get grungy fast.
3. I root my day with a simple routine.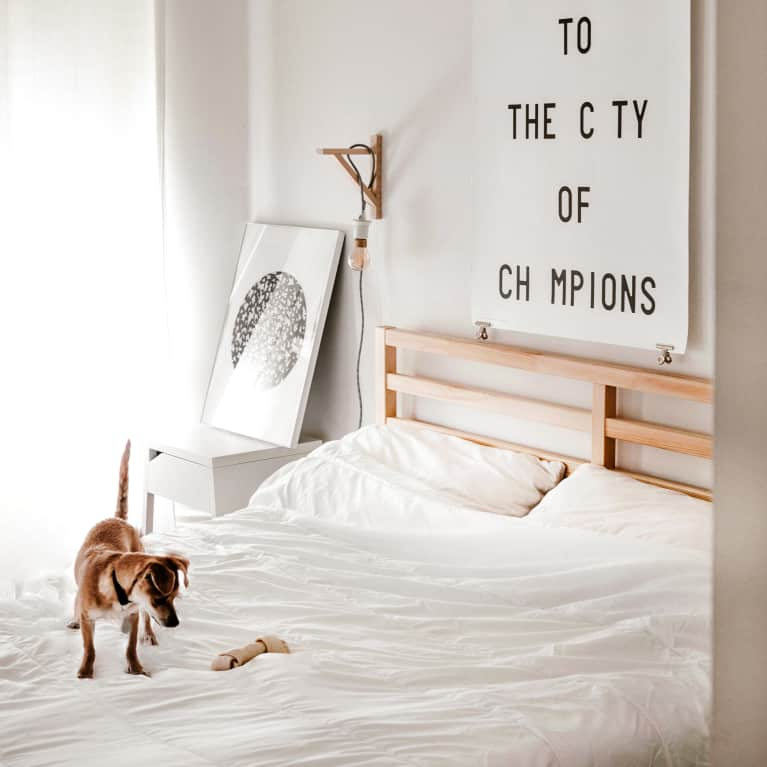 I like to anchor every day, no matter how hectic, with a simple routine. At the moment, it's making my bed. I do so religiously every day, and on the occasional day I forget, I can feel the difference. In past years, my routine has been taking a run before work or stretching on my floor before bed. My daily routine changes with different seasons and life stages, but all that matters is the fact that I do it.
Small rituals present a moment to ground the body, clear the mind, and physically and mentally prepare for whatever lies ahead. Whatever you choose, keep it sweet and simple.
4. I build in time for pick-up.
You know that feeling when you get home from vacation and have to work the next day? There's no time to settle in, and before you know it a week has gone by and you haven't unpacked your bags. Whether it's a trip away or a project at home, it's important to slow your roll and build in time for pickup. As you go about your life, start to train your brain to think about not only how much time something will take but how much time you need to get your home back in order afterward.
5. I put things in their respective homes.
The most important lesson I teach my organization clients is that everything has a home. Simply put, to get organized in life we must assign a place for everything to live. Even if some things don't make it back to home base during busy weeks, I'll take a few minutes to restore order on weekends. I put on a little music and just start picking things up then dropping them one-two-three back in their homes.
Check this out to see what Maeve and other professional organizers really think of the world-famous Kondo method.