Beauty Breakdown: How To Color Your Hair Without Damaging It, According To Top Colorists
mbg Beauty Director
By Alexandra Engler
mbg Beauty Director
Alexandra Engler is the beauty director at mindbodygreen and host of the beauty podcast Clean Beauty School. Previously, she's held beauty roles at Harper's Bazaar, Marie Claire, SELF, and Cosmopolitan; her byline has appeared in Esquire, Sports Illustrated, and Allure.com.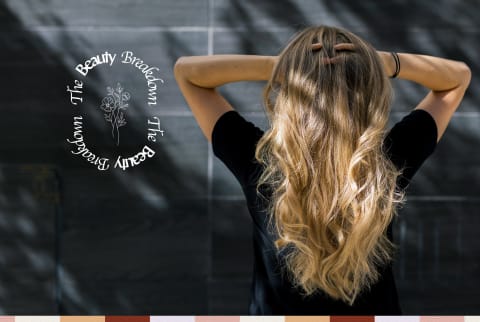 Image by Javier Pardina x mbg creative
August 21, 2023
We carefully vet all products and services featured on mindbodygreen using our
commerce guidelines.
Our selections are never influenced by the commissions earned from our links.
Welcome to the Beauty Breakdown, our series that dives into today's buzziest beauty topics. In each, we focus on a different theme and highlight all the need-to-know basics, common mistakes, and the best products to get your hands on.
I've been coloring my hair since I was a preteen, which means I've been doing so for close to two decades. It all started with a few honeyed highlights I begged my mom to let me get. I first experimented with some at-home boxed bleach that promised ribbons of golden blonde. When that didn't seem to work, she took me to see a colorist whose salon was in a strip mall just off the highway. A few foils later, I emerged with a few face-framing strips. I was so happy.
And thus started my decades-long journey with hair color. I've been everything from auburn (in high school) to icy dark brunette (just moved to New York City and landed my first gig at a major magazine) to strips of turquoise blue (for fun in college). At about 25 I started going lighter after a hair appointment in Los Angeles with a top colorist who worked with some of the most iconic blondes in Hollywood. And for the most part, that was my look for years.
But then, about a year and a half ago I stopped dyeing it altogether. The upkeep was starting to get on my nerves. I couldn't stomach sitting in the chair for the several hours it took to highlight my long strands. The strength of my hair was starting to majorly suffer. And honestly, I just needed a break. So I let my roots grow in naturally, revealing a medium-hued brunette with a few wisps of gray. It's now almost fully my natural hair, with the exception of the remaining highlights at the ends.
After my much-needed break, I'm ready to start again. I'm keeping the look low-key and minimal fuss—so I can go months between appointments. Blending in grays would be ideal, but they don't yet bother me enough to make it a priority. Most of all, the health of my hair is the primary focus.
So this is a full breakdown of everything I've learned about dyeing your hair—and how you can get the color of your dreams, without sacrificing the health of your hair.
The 101 on hair color
Hair coloring works by penetrating the hair shaft with ingredients that either remove or deposit pigment. As a first step, an alkaline subsistence (usually ammonia, but not always) is applied. The cuticle is the hair fiber's outermost protective layer. It has overlapping "shingles" that lift up—or what beauty folks refer to as "opening up the cuticle." When the cuticle is "open," other ingredients can penetrate the hair shaft.
To lighten hair, a bleaching agent (such as peroxide) is used to remove naturally occurring pigment in the hair, resulting in a lighter appearance. To darken or otherwise change the color, pigments are deposited into the hair shaft. These molecules are fairly large, so they get trapped and therefore are harder to wash out once the cuticle is closed. Then an acidic conditioner is applied to seal the cuticle shut.
There are many ingredients used in this process. And while hair dyes can certainly be harsh on the hair, modern-day formulas have come a long way. They're not perfect, but they're also not as problematic as they're sometimes made out to be. "The hardest part of hair color is the balance between limiting the chemicals that have been found to be problematic and still making sure it's effective," colorist Christine Thompson, co-founder of the hair salon Spoke&Weal, once told me.
She notes that hair dye formulas have gotten much smarter by eliminating or reducing the amount of questionable ingredients1 (such as p-Phenylenediamine [PPD], formaldehyde and formaldehyde-releasing products, and ammonia) so that if they are being used, it's done so at much lower concentrations.
And there are many different techniques colorists employ when tending to a client. While this is not exhaustive, these are the most common:
All-over single process: This involves using one shade of hair dye all over the head.
Foils: This is one way to accomplish highlights or lowlights, in which hair is placed in foil, dye is applied, and then wrapped up to process.
Balayage (or freehand): In this technique, the colorist paints on the highlight by hand without the use of foils.
7 things we're getting wrong
As anyone who's colored their hair knows, there's a lot that can contribute to a less than ideal outcome. Here, some of the most common.
Not preparing properly. You should come to the appointment with freshly washed hair, styled as you typically wear it. The styled part is important as it will help your colorist understand how the overall look will come to life once you leave the salon. Sure, color may look great when it's given a professional blowout—but will it look just as good when wearing natural texture? This will help your colorist make decisions that will give you your best look day-to-day.
Skipping a pre-appointment shampoo. As for washing the hair, famed celebrity colorist Abby Haliti notes that it's a myth that you should come to the appointment with oily strands. "There's a lack of information for the consumer about how to prep for coloring. People are stuck in the past when you used to want the hair to be oily because the ammonia used was so harsh. New formulas are so much more gentle, so they don't need that protection. So it's important to shampoo before your appointment—especially if you use styling products and powders," she says. Actress Molly Sims once told me that she uses a clarifying shampoo before her appointments, which Haliti notes doesn't have to be clarified—but it should definitely be clean.
Not having a real convo with your colorist. It can be hard to ask for exactly what you want—but if there's ever a time to practice voicing your needs, concerns, and wants, the colorists' chair is the perfect place to do it. "I believe in collaboration," says Haliti. "I do a lot of education with my client while they're sitting in the chair to help them. The details matter a great deal." Not only should you discuss the desired outcome, but you should be honest with the colorist (and yourself) about how much upkeep you can commit to.
Using a photo as the only point of reference. Lots of folks bring in Instagram photos to their appointments—and visuals are a great place to start. But you need to take it a step further. Explain why you like the example, what elements you'd most like to see in your hair, what colors you see, and so on. Two people may look at the same photo and see different elements. It's important to actually talk about the visual reference so you're on the same page.
Neglecting aftercare. Spending time and money on professional color only to damage it later with improper care and styling is a waste. For example, harsh shampoos can strip the hair fiber of the deposited pigment, leading to more rapid fading. In addition, if you're not nurturing the hair with hydrating and protective ingredients, you run the risk of further eroding the cuticle. And excessive hot tool use can not only burn the cuticle, but it can literally singe the color—resulting in brassy or orange tones.
Not taking breaks when you need it. Lots of folks feel that once they've started dyeing their hair, they can't stop. But it's more than OK to take breaks when you need it, says celebrity colorist extraordinaire Tracey Cunningham. A few signs your hair is begging for a break: brittle strands, excessive breakage, and all-over thinning. "If you're losing hair, I'm a huge advocate for not coloring it. I'd rather you go to the doctor to see what you can do to strengthen the hair. Let's wait three or four months. Just take the time to nurture yourself. Hair color is not a conditioning treatment," she says. You can also discuss how to soften the grow-out process with your colorist so they can make the transition easier.
Jumping around to different colorists. Thanks to social media, Haliti says she's seen more and more instances of people using a new colorist practically every appointment. The only way a stylist can get to know your hair—and therefore, how to best support it—is by working with it consistently.
3 must-know tips for hair color
Hair color is very personal, but these tips can be useful no matter your desired outcome!
1.
Find a colorist & salon you can trust
The most important step of them all: finding the right colorist for you.
This starts with doing research on salons and artists in your area. Google and social media can be search tools to help broaden your scope and let you see what's available to you, but as Haliti notes, the best recommendations will always be word-of-mouth.
"I get a few clients from Instagram, but mostly I come recommended from trusted sources," she says (worthy of note: her regular clients include Olivia Palermo, Sigourney Weaver, and scores of beauty editors, myself included). Don't be afraid to ask folks who does their color—most are very willing to spill, and at the very least it is a huge compliment.
Once you find an artist you're excited about, have an open and honest conversation during your consultation. A colorist that's invested in your happiness will be able to educate you on proper technique and care, talk through dye ingredient or formula questions you might have, explain what's realistic for outcomes, and help you establish a consistent cadence that will be kind to your strands.
"You have to build a relationship with your colorist," says Haliti. "We are licensed to touch people, and that's a very sensitive relationship. Even the stylists themselves want to feel like they have a relationship with you: that they trust you and you trust them."
2.
Utilize a technique that fits your needs and upkeep
Ultimately, the technique and what's used will be decided by the colorist. (As it should, they're the professionals, after all.) However, being an informed client can help you understand why certain decisions are made and how you can better work with your colorist.
For example, if ingredients are a point of concern for you (be it for health, a sensitive scalp, or whatever reason), talk to your colorist about what formulas they have available at the salon. As I've noted, modern options are much better for you—and there are many types that use natural extracts, are less irritating, and skip questionable ingredients.
Your colorist can also use specific painting techniques to avoid touching your scalp too much if you'd prefer no skin contact altogether. "Foils can help keep the color of the scalp," says Cunningham. "I have a client who is allergic to color, and I've done a whole head of color using foils so it never touches the skin."
Or, if you know you're someone who stretches time between appointments or wants to be as low maintenance as possible, find a look that allows for a longer grow-out phase, such as balayage, notes Haliti. "I always aim for less is more," she says. "My client is someone who wants to look clean, but she doesn't wanna look like she's colored. So how do we make this woman look like she's not officially dyed?"
Another important thing to remember is that hair ages, just like the skin, muscles, and body as a whole. This is a natural part of life! With age, hair might become more dry, the scalp more sensitive, and of course, you might see more grays.
When you start to experience age-related changes to your hair, chat with your colorist about how you should be adjusting your color accordingly. There are many options available for those with graying hair, so don't be afraid to change and evolve your look as you get older.
3.
Revamp your hair care & styling routine
Chemically processed hair needs to be treated differently than virgin hair—that's just the hard truth of it. That is because chemical processes (such as color) damage the hair cuticle and alter the cortex, which ultimately makes the hair fiber weaker. So you want to adjust your style and care routine so as not to add insult to injury.
The first thing you'll want to do is switch to non-stripping color-safe shampoos. Shampoos are alkaline, which lifts the cuticle. This can allow for deeper cleaning but also fade the color faster or otherwise alter its vibrant hue. Switching to gentle washes will help preserve the color.
And while you're at it, try to limit the amount of shampooing you're doing in general: "Some people have been taught to shampoo every time they step into the shower, but you don't have to do that. Shampoo should be a treat," top celebrity colorist Justin Anderson once told me.
It's also important that you keep the hair fiber hydrated with deep conditioning masks. Even if you've never had "dry" hair before, you may notice it feels a bit more crispy post-color. That's because color processing limits the hair's ability to hold on to water. Find yourself a rich mask and slather it on at least once a week.
Along with replenishing hydration, you'll use a bond-restoring treatment to help restore and rejuvenate the hair fiber. "If you are putting highlights in your hair, you need to relink the bonds," says Cunningham, who says her go-to is Olaplex No. 3 (we feature it below in the product section, so check it out there for more info.)
Last, but certainly not least, protect the strands from environmental stressors. Find a leave-in conditioner with antioxidant properties to help neutralize free radicals and create a protective buffer around the fibers. This is especially important if you do heat styling of any kind, from blowouts to curling wands. Always coat the hair with a heat protectant, which will help keep the hair from turning brassy.
3 bonus steps
Hair color care isn't just about the in-salon color—it's about how you care for your hair as a whole, in and out of the chair. Here, how to make sure your color looks its best between visits and beyond:
Tone or gloss at home: "Hair toner" is more or less an umbrella term to encompass products like glosses, color-correcting shampoos, pigment-depositing treatments, and demi-permanent dyes. These will be able to bring vibrancy back to your hair or help blend harsh grow-out lines. They do not have the same long wear as hair color, but their low-stakes nature makes them perfect for at-home use.
Get regular trims: It's amazing what a fresh cut can do to revive color. Dusting off split ends and damage, two things that will dull color and shine, brings life back to your style.
Focus on nutrition: As Cunningham told me, fueling your body with plenty of nutrients is one of the best ways to ensure your hair remains healthy. A physician or nutritionist will be better suited to guide you on specifics, but here's a resource on the best nutrients for hair health to get you started.
5 products to try
Products that'll make your hair shine.
Advertisement
This ad is displayed using third party content and we do not control its accessibility features.
Advertisement
This ad is displayed using third party content and we do not control its accessibility features.
The beauty breakdown 
Hair color can be hard on strands—take it from someone who's done it all. But as I've gotten older, I've become smarter with what I do to my hair, what the risks are, how much work I'm realistically willing to put into it, and what makes me feel my best. Here's everything I've learned along the way—with some helpful tips from the best celebrity colorists around. For more full explainers on beauty's buzziest topics, check our other Beauty Breakdowns.
Meet The Experts
Alexandra Engler
is the beauty director at mindbodygreen and host of the beauty podcast Clean Beauty School. Previously, she's held beauty roles at Harper's Bazaar, Marie Claire, SELF, and Cosmopolitan; her byline has appeared in Esquire, Sports Illustrated, and Allure.com.