How Taking A Collagen Supplement Can Keep Lips Plump As You Age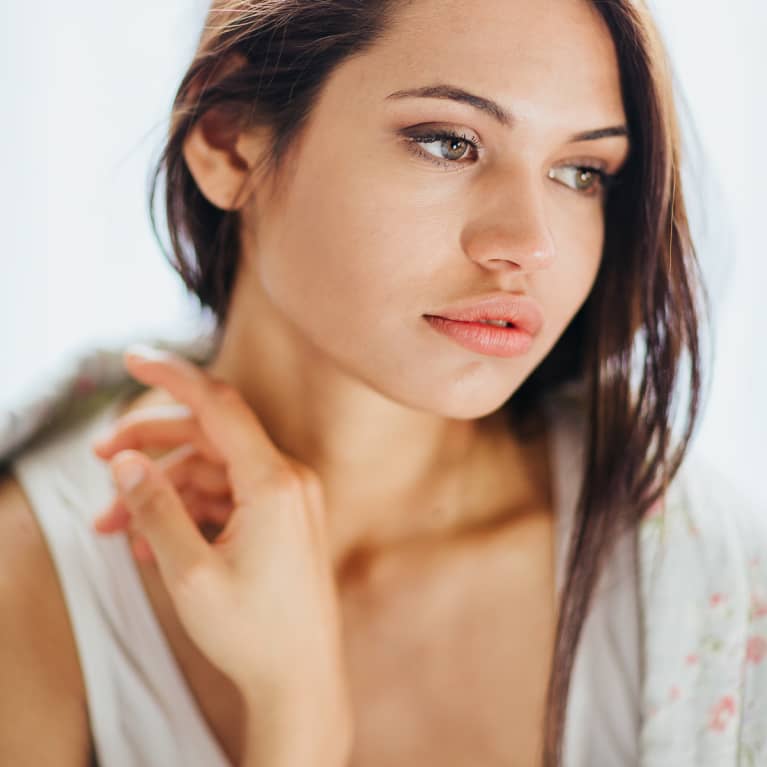 This article was produced to support the mindbodygreen supplements+ line. Our supplements adhere to the highest standards of ingredients and quality. We hope you enjoy these products, for more information
click here
.
When we think of things that "plump" lips, we tend to think of tingly glosses or even a visit to the derm's office. And while a makeup wand is an instant fix (as is a derm visit), they don't stand the test of time. This matters because, well, your lips literally deflate with age. (Cue the sighs.) Now, this is just a natural part of aging—as is developing fine lines or sagging in certain areas. And, like all signs of aging, some are more pronounced on certain people than others. Meaning, some may never notice their lips losing volume, while others will notice a thinning trend starting even in their 20s.
If that's you, there are ways to keep your lips appearing fuller for longer, and a collagen supplement is one easy way to do that.
Collagen and lips: Why it matters.
So collagen is a pretty important part of your skin structure: In fact, the protein makes up as much as 80% of our skin's structure. And as you age, and as early as your 20s, your skin starts producing less and less of it. "Our bodies always balance collagen production and degradation," board-certified dermatologist Gary Goldenberg, M.D., assistant clinical professor of dermatology at the Icahn School of Medicine at Mount Sinai in New York. "When we are young, our bodies produce more collagen than we break down. That balance tips the wrong way with age since tissue regeneration decreases."
You start to see this loss all over the face, from texture changes to dullness to fine lines. Naturally this happens with your lips, too. And when your lips lose collagen, you'll see volumen and plumpness start to decrease.
What a collagen supplement can do for your natural collagen levels. 
So, while there are more temporary measures to plump lips, one way to sustain collagen levels naturally is through supplementation. Collagen powders, like mindbodygreen's grass-fed collagen+, are made from hydrolyzed collagen peptides that are able to be absorbed easily by the body. From there, studies show that these peptides help promote your skin's fibroblasts, or the parts of the cells that create collagen and elastin.
This powder also contains a host of antioxidants, like vitamin C and vitamin E, to help fight off free radical damage. Free radicals go to town on our skin cells, further breaking down collagen and even harming our DNA. So ingesting high-quality, potent antioxidants is key for healthy skin.
Put this all together, and you have the recipe for healthy, plump skin long term, which, yes, includes those delicate lips. And from there, you can go ahead and toss on your favorite red lipstick or lip plumper—with a healthy base, why not?
As we age, we lose collagen. This affects all parts of our bodies, perhaps most noticeably in the face. And while collagen loss can contribute to many signs of premature aging, one often complained about is sagging and deflating lips. But a smart collagen supplement can help.