This Calming California Home Is A Daydreamer's Sanctuary
Our editors have independently chosen the products listed on this page. If you purchase something mentioned in this article, we may
earn a small commission
.
Lindsay Wallstrum (@leafandlolo on Instagram) loves bright colors—but you won't find any in her Petaluma, California, home. Instead, she sticks with cool, muted tones in the oh-so-tranquil space she shares with her husband, dog, and houseplants that—in addition to being gorgeous—have been known to fuel her quarantine workouts. Here, Wallstrum gives us a tour of her home and describes how it supports her family's health and well-being.
What are three words that describe your design philosophy at home?
Calming. Neutral. Plants.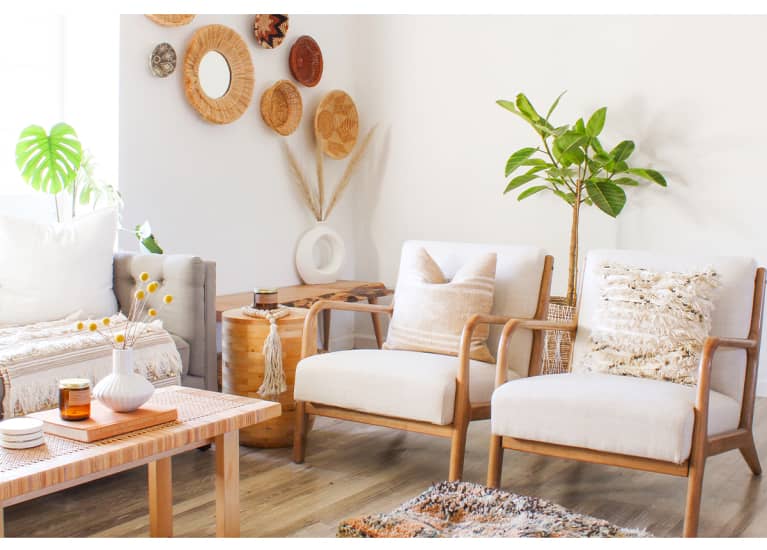 Any tips for keeping plants with dogs in the house?
I've been very fortunate that our dogs have never been interested in our plants. I always suggest slowly introducing plants into a space, starting with nontoxic ones. As you learn how your pets interact with plants, you can decide if it's time to bring other plants into your home. Another way to keep pets safe is to place plants on shelves or hang them from the ceiling.
I see lots of cute secondhand pieces in your space! Do you have any top tips on scoring thrifted finds?
Thank you! I love thrifting; it's such a rush when I find a special piece. My No. 1 tip would be to not have anything too specific in mind. It always seems that I find the best pieces when I'm simply browsing rather than on the hunt for a specific item. In addition to thrift stores, check out local estate sales.
What object in your home brings you the most joy, and why?
That would have to be our credenza. It originally belonged to my grandparents and is so timeless and beautiful. I love thinking of all of the special moments the credenza has witnessed in our family over the years. It makes me feel connected to my grandma in such a unique way.
What's the oldest thing in your home? Newest?
What noises can be heard in your home? What smells are there?
I love leaving our windows open in the morning, so we often hear birds chirping. We also get the sound of doggy paws trotting around, which might be one of my favorite sounds! When all the windows in the house are open, I also love to smudge with either Palo Santo or white sage. I also love to have candles lit at almost all times. I'm currently obsessed with Golden Coast by PF Candle Co.
How does your home support your health and well-being?
Having a serene space to unwind supports my mental health and well-being. While I absolutely love color in decor, whenever I have tried to add it into our home, it has been too energizing for me. It led me to realize that neutral tones are what soothe me.
Over the past year, we have also started to work out at home a lot more. I found that working out among my plants actually helps me through the workout! Focusing on our plants during certain poses seems to make the time fly, thankfully!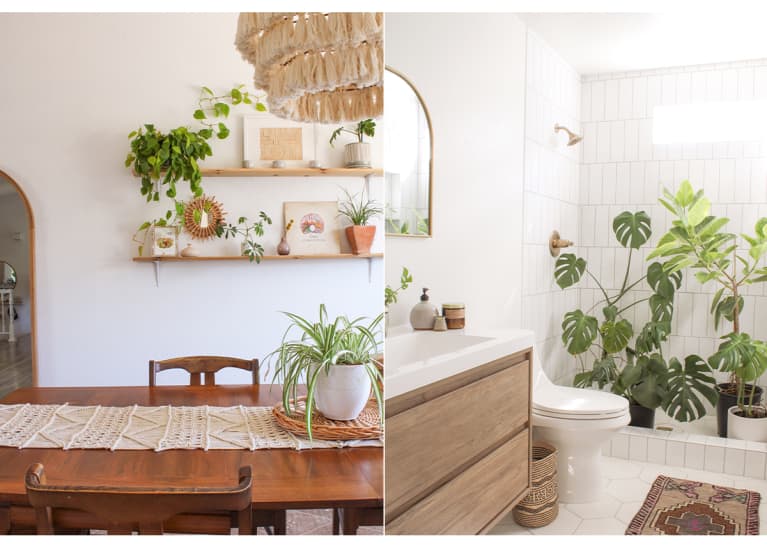 What's the most sentimental thing hanging on your walls, and what's the story behind it?
Our macramé mirror is probably the most sentimental thing hanging on our walls. I have had my great-grandparents' frameless circle for years, and I've never known what to do with it. Just last year, I was inspired to give it a refresh with macramé, and now it fits right in around here.
What does the word "home" mean to you?
I associate home with a comfortable feeling. So as long as I'm with my husband and pup, I feel a sense of home.