Justina Blakeney's Home Is Just As Fun & Fantastic As You'd Think

mbg Sustainability + Health Director
By Emma Loewe
mbg Sustainability + Health Director
Emma Loewe is the Senior Sustainability Editor at mindbodygreen and the author of "Return to Nature: The New Science of How Natural Landscapes Restore Us."
April 8, 2021
We carefully vet all products and services featured on mindbodygreen using our
commerce guidelines.
Our selections are never influenced by the commissions earned from our links.
Beyond dust and clutter, there's a lot of emotional debris that's built up all around us in the past year. mbg's Spring Cleanse series is here to help clear it away. Follow along for the first two weeks of April as we share nourishing, sustainable ways to embrace a lighter, brighter home—and toss any lingering heaviness into the (compost) bin.
Artist Justina Blakeney is known for her playful, lush approach to design—so it's no surprise her own Los Angeles home is downright wild. To celebrate Blakeney's brand-new book, Jungalow: Decorate Wild, today we're touring the space she shares with her husband, daughter, kitty (named Cous Cous!), and 52 happy houseplants. Major spring decor inspiration ahead:
What are three words that describe your design philosophy?
Colorful, wild, and jungalicious!
What home changes are you making as we head into spring?
While the weather in Los Angeles is pretty temperate year-round, our backyard does get a lot more use in the spring and summer months. Our outdoor shower and whirlpool bath are frequent hangout spots in those warmer months. And we love to see what is growing in the garden and dine al fresco any chance we get.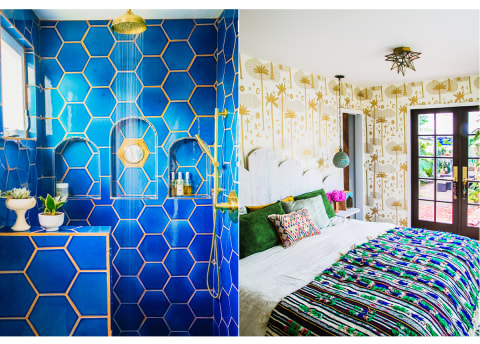 How have you kept your home feeling fresh through COVID times?
I have definitely been spending more time at home during COVID. I keep our space fresh by observing the flow of a space and switching things up if things are not unfolding naturally in a space.
I had my work-from-home zone set up in our casita at the beginning of the pandemic, and even though the light in there was great and the space was comfortable, colorful, and inspiring, I noticed that it was a high-traffic area that my whole family used for lots of purposes (Zoom school, hanging out, reading, jamming on our instruments, etc.), which made it a little difficult to focus during meetings, so I moved my office into one of the less frequently used rooms in our home. It is a room that my daughter occasionally watches TV in, but otherwise, it's a quiet place where I can focus and get work done more efficiently.
Switching things up also makes a space feel fresh because you get the energy in the room moving and flowing differently.
What object in your home brings you the most joy and why?
My daughter's art! She and I paint together pretty often, and she even helps me design patterns like the one on the cover of my new book.
What's the oldest thing in your home? Newest?
The oldest thing in our home is probably the home itself! Our home was built in 1926, and we've held on to so many of the original details from the old windows (I love the look of old glass!), and we restored the original floors. And as for the newest? Our cat, Cous Cous!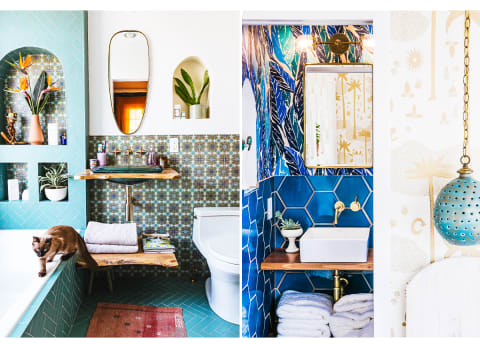 What noises can be heard in your home? What smells?
You can usually hear the sound of people jamming on instruments in our home. My daughter plays the drums and ukulele, I play the guitar, and my husband plays trumpet. The smell of coffee is always present in the mornings (and sometimes again in the afternoon, ha!).
What's the most sentimental thing hanging on your walls, and what's the story behind it?
My collection of hamsas. I've always been attracted to this amulet of protection and grew up seeing it in a lot of Judaica we had in our home. Once I started traveling, I noticed that the hamsa was present in many cultures, and I loved that, so I started collecting them.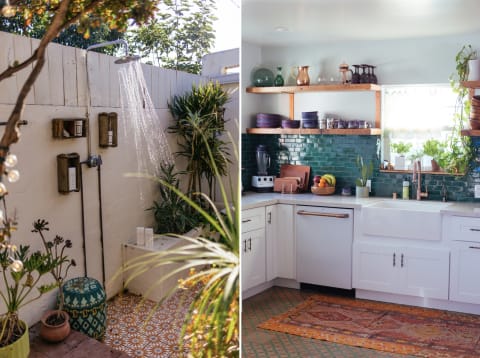 What's one home trend you're hoping to see take off this year?
I'm hoping to see more use of outdoor areas like patios, balconies, and yards as livable spaces. We all had to gather outdoors when we wanted to see our loved ones this past year, so I think that gave all of us a chance to reexamine our outdoor space as an extension of our homes.
It's amazing what a little seating (even a pouf or a blanket on the ground), a side table, some plants, and string lights can do to dress an outdoor space up and make it an inviting outdoor living space.
What does the word home mean to you?
Home is like a garden. It must be cultivated to create the conditions for healthy growth.
Recreate the look: