Diets Including Teas, Berries & Apples May Result In Lower Blood Pressure
mbg Nutrition & Health Writer
By Eliza Sullivan
mbg Nutrition & Health Writer
Eliza Sullivan is a food writer and SEO editor at mindbodygreen. She writes about food, recipes, and nutrition—among other things. She studied journalism at Boston University.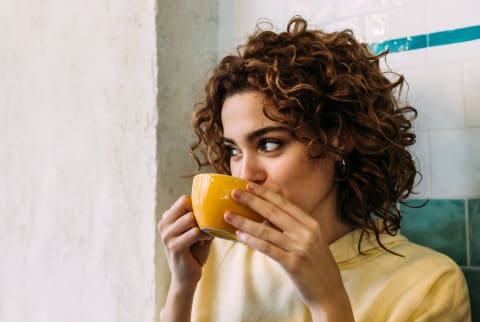 Image by VICTOR TORRES / Stocksy
October 21, 2020
Heart disease, in its many forms and severities, is one of the most common health problems in the United States, and in fact is currently the leading cause of death1 in the nation. According to reports, diet is one of the key risk factors for cardiovascular disease, making studies about the link between diet and indicators like blood pressure crucially important.
In a new study published today, researchers found a link between a higher dietary intake of flavanols and lower blood pressures in participants, offering a smaller shift that may be able to make a big difference.
Advertisement
This ad is displayed using third party content and we do not control its accessibility features.
The diet change that may help manage blood pressure.
The study, which was published in Scientific Reports, pulled from a group of over 25,000 participants. According to the researchers, the findings of this study suggest that an overall increase in flavanols may help to lower blood pressure.
They found that the key difference between participants with the highest versus the lowest intake was a difference of between 2 and 4 mmHg in blood pressure, with the lower group having higher flavanol intake. This was comparable to the difference made when people adopt a Mediterranean diet, which is consistently ranked as one of the best diets for overall health.
"What this study gives us is an objective finding about the association between flavanols—found in tea and some fruits—and blood pressure," explains professor Gunter Kuhnle, a nutritionist at the University of Reading, who led the study. "Previous studies of large populations have always relied on self-reported data to draw conclusions, but this is the first epidemiological study of this scale to objectively investigate the association between a specific bioactive compound and health."
Wait, what are flavanols, and why do these findings matter?
Flavanols are2 naturally occurring compounds, largely found in fruits and vegetables. They're a part of why foods from red wine to chocolate have been linked to health benefits, though they also occur in more traditionally "healthy" foods—like apples, berries, and teas. According to Kuhnle, "In the British diet, the main sources [of flavanols] are tea, cocoa, apples, and berries."
While previous studies have worked on establishing a link, they operated based on diet reports from participants. By contrast, this new study actually based their measures of flavanol intake on nutritional biomarkers for a more exact result.
"In contrast to self-reported dietary data, nutritional biomarkers can address the huge variability in food composition," he further explains. "We can therefore confidently attribute the associations we observed to flavanol intake." While foods such as the ones mentioned above are known to contain flavanols, natural variance in their composition means that studies that rely on self-reporting can't link the benefits to specific compounds as confidently as this study has.
The good news is there's plenty of amazing reasons to reach for flavanol-rich foods beyond their potential for helping prevent high blood pressure. Berries are super gut-health-friendly, apples are a good source of fiber, and certain teas can help with bloating, headaches, and more.
Want to turn your passion for wellbeing into a fulfilling career? Become a Certified Health Coach! Learn more here.
Advertisement
This ad is displayed using third party content and we do not control its accessibility features.
Eliza Sullivan
mbg Nutrition & Health Writer
Eliza Sullivan is an SEO Editor at mindbodygreen, where she writes about food, recipes, and nutrition—among other things. She received a B.S. in journalism and B.A. in english literature with honors from Boston University, and she has previously written for Boston Magazine, TheTaste.ie, and SUITCASE magazine.